Cet événement est terminé.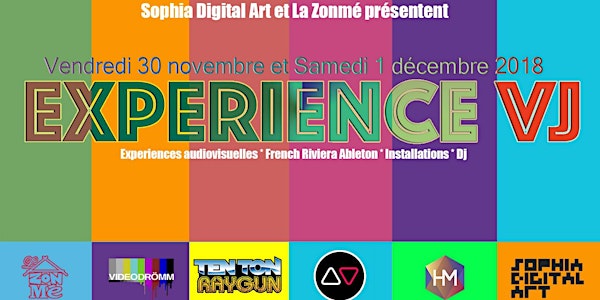 Experience VJ
Où et quand
Lieu
La Zonmé 7Bis Rue des Combattants en Afrique du Nord 06000 Nice France
Politique de remboursements
Pas de remboursements
Description
Sophia Digital Art et La Zonmé présentent Experience VJ
Expériences audiovisuelles
Sophia Digital Art revient sur la scène azuréenne en collaboration avec la Zonmé et propose un festival d'art multi media, sous la forme de projections vidéos interactives, le tout sur de la musique électronique. Cet événement inédit vous embarquera dans diverses expériences audiovisuelles avec plusieurs artistes internationaux et novateurs dans ce domaine : une immersion totale entre les performances, les ateliers et les installations artistiques numériques. Nous retrouverons les locaux Gunston et Reymenta, l'anglais Graham Dunning et son Mechanical Techno, quatre performances AV, avec les allemands XSICHT, Wijsneus, l'américain Eric Medine, le polonais Ari Dykier. Neil C Smith et Bruce Lane en live-coding, musique et visuels. Plusieurs ateliers vous seront proposés : du mapping avec le logiciel français HeavyM, Ableton live, Praxis live ainsi que l'installation de Selfberry avec sa création de selfies animés. Sophia Digital Art vous propose également un dimanche rempli de surprises, alors n'hésitez pas à passer cette expérience dominicale dans un univers geek !
Aurélie Kula pour Nouvelle Vague
★ Performances audio-visuelles ★
Graham Dunning (UK): Mechanical Techno
XSICHT (DE)
Wijsneus (DE)
Chirp (DE): Machine Learning Performance
Neil C Smith vs Bruce Lane (UK): Amen $ Mother function (live-coding music+visuals)
Ari Dykier (PL): AV performance
Batchass (FR): Electro-visual performance
Gunston vs Reymenta (UK): Immersions organiques
Furio Furioso vs Rey Mysterioso (US)
★ Ateliers ★
Mapping HeavyM: licences d'évaluation d'un mois
Ableton Live: French Riviera Ableton User Group
Praxis Live
Unity
★ Installations artistiques et numériques★
Création de selfies animés: Selfberry
Sophia Digital Art and La Zonmé present Experience VJ
★ Expériences audio-visuelles ★
Organized by Sophia Digital Art and La Zonmé, Experience VJ is a multimedia art festival located in Nice, France, featuring the newest and most innovative audio visual work, stage design, interactive visuals, and electronic music on the planet.
With workshops, hardware and software demos, and performances by 15 artists from over 5 countries, this two day event is guaranteed to amaze and delight professional artists and enthusiasts alike!
★ Audio-Visual Performances★
Graham Dunning: Mechanical Techno
Originally a studio project for making recordings, I now also perform live using the Mechanical Techno method. Several looping records spin on the same axle, ensuring they stay approximately in time with each other. I layer up locked groove records, audio triggers to analogue sytnhs, mechanically played percussion such as a cowbell or a cymbal, and mechanically triggered drum machines. I take all these inputs and perform a live dub, mixing down to two channels live in one take.
Robin Rabauke vs Tschänz : XSICHT
Over several weeks a neural network has been trained to match faces and audio. With a training batch of tens of thousands of frames the network has learned to construct a human face from any given audio input. With a mixture of House, Glitchpop and Schneckno robinrabauke interactively explores the work of tschänz in a audiovisual performance. The two artists are experimenting with questions, answers and the neural network participates in a dialogue about faces, machines, music and a new reality that connects the perceptions of one world, seen by different minds.
Wijsneus: The german AV-collective Wijsneus plays danceable electronic music from strictly irrational dub to unforeseeable linear house. The music is optically supported with cumulatively layered and distorted videos from all epochs.
Chirp: Machine Learning Performance
Sounds, Images and biometric Data of Birds is used to recreate their sound and behavior. Due to interpolation between different kinds and glitches in the learning algorithm the sounds start very natural and get more and more sorted and structured like in modern minimal or electronic music while the image are becoming more and more abstract and generalized. Similar to my other work every performance is very different from the others before. 3 different neural networks are interacting and used for the recreation of sound using supercollider and image using open Frameworks. Everything happens in realtime.
Neil C Smith vs Bruce Lane: Amen $ Mother function (live-coding music+visuals)
One sample, one function – a live-coded, single function demolition of the most ubiquitous sample in modern music.
Ari Dykier: AV performance
Visual artist based in Poland, Ari Dykier attended Camerimage Film School and most of his career works as filmmaker. With passion for animated works he focused on creating animated visuals and since 2013 frequently takes a part in festivals like Live Performers Meeting(Cape Town,Rome,Amsterdam), Visual Brasil (Barcelona),Generate!(Tübingen),Patchlab (Kraków),B-Seite (Mannheim),ROM (Budapest),Nokta Festival(Opole),Kyiv Lights Festival and others.
In 2017 he made a project creating visuals for concerts of renowned polish baroque orchestra Arte dei Suonatori.
His works refers to tradition of surreal animation and wide range of art genres. Through the visuals made from vintage illustrations he attempts to recreate experience of dream and oneiric reality taking inspiration from childhood fairytales,movies, paintings, books or music.
As a self-taught animator he uses digital technics to create his content but also gives a try to traditional , hand drawing animation.
1. Second Prize at Vj Battle Kyiv Lights Festival
2. Second Prize at Live Mapping Contest at LPM 2018 Rome
Batchass: Electro-visual performance
Original drawings, coded abstract animations, photos and video are combined with original electro-drum'n'bass music with improvised singing.
Gunston vs Rey Menta: Immersions organiques
Furio Furioso vs Rey Mysterioso: Lucha de Pantalla Azul
The FURY! The SOUND! The ULTRA-VIOLENCE!
Rey Mysterioso once again will meet Furio Furioso in the squared circle!
The titans of tinnitus, the vicelords of visuals, the sultans of sound face off with deep throbbing bass and generative visuals, evoking a grumbling id that squirms beneath psychedelic and epilepsy-inducing abstractions.
SEE! The passionate pugilism when the dreaded Pantalla de Azul makes an appearence during a set!
★ Ateliers / Workshops / Showcase ★
Mapping HeavyM: one month evaluation licences available, workshop on Olga Kit
Ableton Live: French Riviera Ableton User Group
Praxis Live: workshop
Unity: workshop
Generative visuals: Processing + Resolume
★ Digital Installations★
Animated selfies on Raspberry Pi: Selfberry
★ Partners★
La Zonmé | Videodrömm | Ten Ton Raygun | AVnode | HeavyM