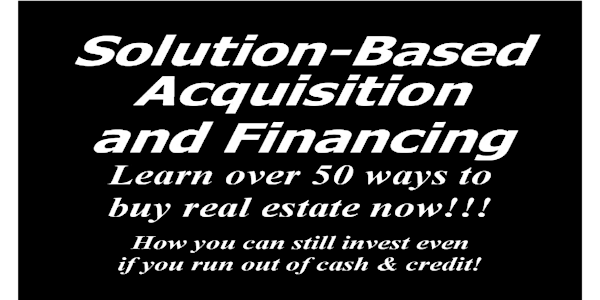 Bill Tan's Solution Based-Acquisition & Financing Workshop
When and where
Location
Holiday Inn SFO Airport 275 S. Airport Blvd So. San Francisco, CA 94080
Description

Bill Tan's Solution Based
Acquisition & Financing Workshop


All Day Saturday February 20th, 2016
Holiday Inn SFO - South SF

Registration starts at 8:00 AM and the workshop begins promptly at
9am and will run till 5:00pm
Buy Real Estate with Little or No money

Tap into little known alternatives to
conventional financing that allow deals to happen


Learn how to properly structure, buy & sell mortgages

Get paid NOT to buy
"Bill's Creative Financing seminar is an eye-opener for people that are stuck on FICO scores and down payments. After listening to Bill for two days I called my bank told them to forget about the re-fi (it felt great to tell the bank no before they probably would have told me no) and called the owner of the subject property and suggested collateral substitution. Now I own the other property free and clear and am able to make money with it however I want. Bill's Creative Financing seminar is a MUST sign-up for every investor. Thanks Bill!" - Lenska
You will learn:
■ Buying and controlling properties with little cash
■ Using IRAs for tax savings and financing
■ Down payment Techniques, Strategies and ways to get
funds If you don't have any
■ How to make houses break even (yes even in High Cost areas)

■ AITD's - what they are and more importantly how to make money with them!
■ How to buy for Nothing Down and the seller still gets cash
■ What to say get ZERO percent interest seller financing
■ How to get sellers to tell you their real motivations for "needing" cash
when YOU want owner financing
■ What to say to get approval when the seller balks at owner financing
and low down offers
■ Using partners; passive money, JV types, etc. and different structures
■ How to use options to control and resell bargains
BRING YOUR DEALS AND WE WILL BRAINSTORM
AND WORK ON THEM IN CLASS.
Bill regularly charges $1,000 for his similar TWO DAY workshop class – you get to come to this ONE Day event at a Fraction of that cost.

About Bill Tan:

Bill is a real estate investment expert with over 30 years experience in real estate and mortgage investments. His clients rely on his business insight and industry knowledge to buy and sell properties and identify secured investment opportunities which generate a substantial monthly income.
Bill Tan succeeds by understanding his clients' investment goals, thinking fast and creatively to develop effective strategies and deliver desired results. Tenacious, consistent, and professional, Bill brings his unparalleled market knowledge together with an extensive network of local, regional and national contacts.
He is a past president of the San Diego Creative Investors Association, a real estate investors group in San Diego, California, and the Los Angeles & Asian REIA (LAREIA) in Los Angeles. Bill is a featured speaker in the real estate and mortgage investment industry and has appeared on various radio and TV programs.
Discounted Tuition and VALUABLE FREE BONUSES for
you ONLY IF You PRE-REGISTER
You MUST Pre-Register By Midnight (11:59 pm) Tuesday Febuary 16th 2016
Valuable FREE BONUSES For PRE- Registering:
Report on 100+ Ways to Find Deals

Road Map to Creating your own Real Estate Business & Marketing Plan

Extensive and Unique Real Estate specific Glossary of Terms (way cool)

For the First 15 Who PRE-REGISTER a one hour schedule consultation with Bill
(normally $300.00)
WHERE:
Holiday Inn SFO Airport • 275 S. Airport Blvd - South San Francisco, CA 94080
Hotel Main # : 650-873-3550
LODGING:
Holiday Inn SFO Airport • 275 S. Airport Blvd, South SF, CA
• Phone # 650-873-3550 • Mention BAWB for Discount Room Rate
OR
Less Expensive Economy Rooms also available next door at:
Citi Garden Hotel – 245 S. Airport Blvd, S. San Francisco, CA 94080
• Phone # 650-589-7200
Ask for Grace Vargas • Grace@citigardenhotel.com
• Mention BAWB for Discount Room Rate
TIMES:
Registration starts at 8 AM, Class begins promptly at 9 AM and will run until 5 Pm
COST:
If PRE-Registered and a BAWB member – PLUS you Get FREE BONUSES $250.00* per person
If PRE- Registered and Non Member – PLUS you Get FREE BONUSES $280.00* per person
AFTER PRE-Registration Ends – NO BONUSES and No Discounted Tuition $325.00* per person
TO REGISTER:
Go to the following URL - http://billtanssolutionbasedfinancing.eventbrite.com
* A small additional event brite registration will apply
**********************************************************
PLEASE SUPPORT OUT EVENT SPONSORS!

uDirect IRA Services
Office: (714) 831-1866
website: www.uDirectIRA.com