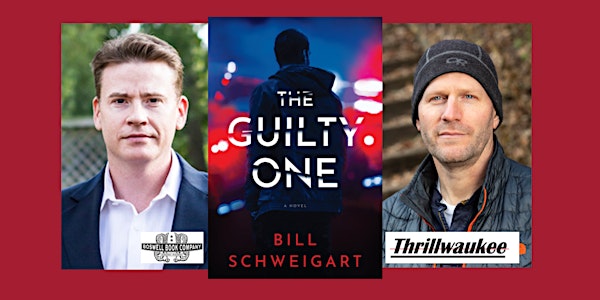 Bill Schweigart, author of THE GUILTY ONE - an in-person Boswell event
Bill Schweigart, author of THE GUILTY ONE - an in-person Boswell event
Date and time
Starts on Friday, April 14 · 6:30pm CDT
Location
Boswell Book Company 2559 North Downer Avenue Milwaukee, WI 53211
About this event
Boswell Book Company presents an evening with Bill Schweigart, author of The Guilty One. In conversation with Nick Petrie.
Every town needs a hero - and Detective Cal Farrell fits the bill. He stopped an active shooter six months earlier, and now he's become the darling of the Alexandria press. The problem is that Cal remembers nothing from that day. He's working with a psychiatrist to recover his memories, but hasn't had much luck. Then, on one of his morning runs, he is once again the first on scene for a grisly discovery - a body hanging impossibly high on a tree. Soon there's another victim, killed by a blade and dumped in a ravine. As the bodies begin to stack up, Cal learns that the only thing a city loves more than creating a hero is tearing one down. And if he can't get to the truth, this hometown hero might just be next in line for destruction.
From Lee Goldberg: "A raw, visceral, hard-charging police procedural and a relentless thriller packed into one explosive novel. You'll finish this book breathless."
Bill Schweigart is the author of The Fatal Folklore Trilogy, Running Light, and Slipping The Cable. He is a former Coast Guard officer and daylights as a branch chief with the Cybersecurity and Infrastructure Security Agency (CISA).
Click here to order your copy of The Guilty One from Boswell. Signed copies and personalization available on pre-orders. Please note that signed copies will not be shipped until after the event.