Event Information
Location
Bill Monroe Music Park & Campground
5163 North State Road 135
Morgantown, IN 46160
Bill Monroe Bluegrass Festival in Bean Blossom, Indiana is the oldest and longest running bluegrass festival in the country.
About this event
This annual event is held in beautiful Brown County, Indiana at the historic Bill Monroe Music Park & Campground. The event will be returning to it's original June dates in 2022 for 9 days of bluegrass music, jams around the campground and on stage, workshops and the traditional free Bean Dinner.
Camping has long been a tradition for bluegrass enthusiasts, with nightly jams held around the campsites. You don't have to camp to enjoy the festival. For those who like to camp, there are plenty of campsites available from primitive to water/electric hookup for any size camper. Camping reservations are separate from admission tickets, each person staying at the campsite is required to purchase their own admission ticket. Reserve your campsite online through our reservation system. If camping isn't your style, book a room at our host hotel. Make sure to arrive on Thursday to get settled in and set up.
Daily tickets are available for walk ups, come for a day, multi-days or purchase a 9-day ticket. Order your admission tickets, and don't forget to reserve your golf cart to get around the campground to listen to all of the music and great jam sessions! Purchase tickets online today!
Golf Cart Rentals: There are a limited number of golf carts available to rent. They must be rented in advance up to 2 weeks prior to the festival. Carts will not be available to rent day of festival. By renting the golf cart you agree to the Terms and Conditions. Only the ticket holder is permitted to pick up the golf cart. No refunds.
Every person entering the campground/festival grounds is required to purchase an admission ticket. Campers are required to purchase admission tickets equal to the number of days of their reservation. Children 12 & under are free and do not need an admission ticket.
The festival is held rain or shine, all tickets and camping are non-refundable.
Follow us on Instagram for regular updates....https://www.instagram.com/billmonroecampground/
Bill Monroe Music Park & Campground | 5163 N. State Road 135 | Morgantown, IN 46160
info@billmonroemusicpark.com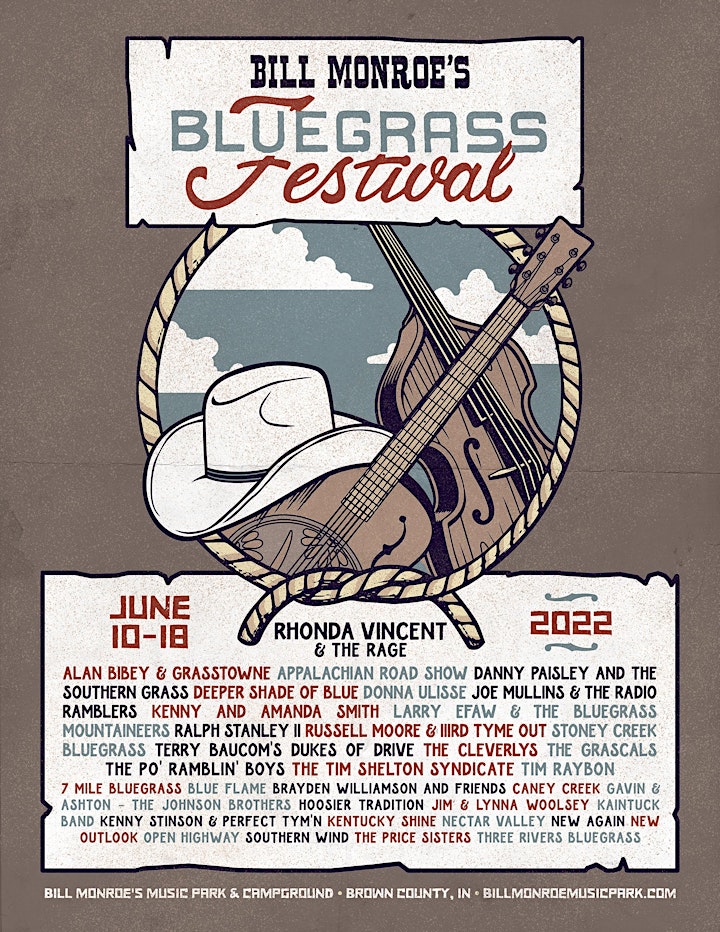 FRIDAY, JUNE 10
Rhonda Vincent & The Rage
Terry Baucom's Dukes of Drive
Southern Wind
Gavin & Ashton - The Johnson Brothers
Workshops
Jams
SATURDAY, JUNE 11
The Cleverlys
Joe Mullins & The Radio Ramblers
7 Mile Bluegrass
Caney Creek
Workshops
Jams
SUNDAY, JUNE 12 - BLUEGRASS JAMS
Deeper Shade of Blue
Blue Flame
Hoosier Tradition
Workshops
Jams
MONDAY, JUNE 13
The Po' Ramblin' Boys
Donna Ulisse
The Price Sisters
New Again
Workshops
Jams
TUESDAY, JUNE 14 - Free Bean Dinner
The Tim Shelton Syndicate
Stoney Creek Bluegrass
Kenny Stinson & Perfect Tym'n
Three Rivers Bluegrass Band
Workshops
Jams
WEDNESDAY, JUNE 15
Appalachian Road Show
Danny Paisley and the Southern Grass
Kentucky Shine
Brayden Williamson & Friends
Workshops
Jams
THURSDAY, JUNE 16
Russell Moore & IIIrd Tyme Out
Alan Bibey & Grasstowne
Open Highway
New Outlook
Workshops
Jams
FRIDAY, JUNE 17
Ralph Stanley II
Tim Raybon
Jim & Lynna Woolsey
Kaintuck Band
Workshops
Jams
SATURDAY, JUNE 18
The Grascals
Kenny and Amanda Smith
Larry Efaw & The Bluegrass Mountaineers
Nectar Valley
Workshops\
Jams
Date and time
Location
Bill Monroe Music Park & Campground
5163 North State Road 135
Morgantown, IN 46160
Refund policy