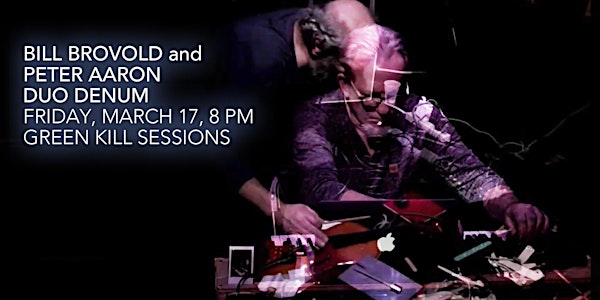 Bill Brovold and Peter Aaron, Duo Denum, March 17, 8 PM, Green Kill Session
Bill Brovold and Peter Aaron, Duo Denum, March 17, 8 PM, Green Kill Sessions
When and where
Date and time
Friday, March 17 · 5 - 6pm PDT
Refund Policy
Contact the organizer to request a refund.
Eventbrite's fee is nonrefundable.
About this event
Join Bill Brovold and Peter Aaron, Duo Denum, Friday, March 17, 8 PM, at Green Kill Sessions. See information below about the artists.
This event is a livestream production event open to a live audience of 30. The livestream is broadcast on YouTube Channel. Tickets are 5 dollars.
lease read the following information to insure your access to the livestream link and ticket reservation.
1. Please click "Tickets" button to access livestream or live audience ticket.
2. Select "Livestream Ticket" or "Live Audience Ticket". Audience members attending in person must be masked! Please choose the right ticket. A Livestream Ticket provides you with a link to the Green Kill Sessions livestream which can be accessed remotely on your own equipment. A Live Audience Ticket puts you on a list for a reserved set at the event, and also provides you a livestream link. If you are coming to the event, please arrive 15 minutes before starting time. There are no ticket sales at the door. All tickets must be reserved on Eventbrite.
3. Enter the number of tickets you would like to buy.
4. Enter your credit card information: Name, Number, Expiration Date, and CVV code. Double-check the info you entered. Make sure it's correct. It's easy to slip up!
5. Select "Place Order". You will then have access to the page which has a watch event link. Click on that link to see the YouTube event address. An email will also be sent to the email address you provided with the link.
Shortly before the event, you will receive a reminder link.
Please be advised that tickets are not transferable. If you wish to buy a ticket for someone else, you must use their email when buying a ticket for an event.
Because COVID is still a potential hazard guests attending the livestream in person must be masked and vaccinated. Artists organizing events can limit the number of a live audience or decline to invite any in-person attendance.
Bill Brovold and Peter Aaron
Bill Brovold
Bill Brovold is an educator, visual artist, and composer/musician. He has performed with Rhys Chatham, Arthur Russell, and Glenn Branca; and led the New York band Strange Farm (featuring Billy Ficca of Television and Ernie Brooks of the Modern Lovers) and the six-to-thirteen-member Detroit post rock band Larval, which features his twangy guitar alongside a wall-of-sound onslaught of horns and strings. He has released music on John Zorn's Avant and Tzadik imprints and the Cuneiform, Knitting Factory, and RareNoise labels (a duet with Jamie Saft for the latter). His most recent releases, for the Public Eyesore label, see him paring down his sound for more intimate surroundings—closer to what he might do with a few friends in someone's living room.
Peter Aaron
Peter Aaron is a rock/noise/free improvising musician and author. He is the founder, lead vocalist, and guitarist of the influential New York band the Chrome Cranks, who have released albums on Crypt, PCP Entertainment, Au Go Go, Sympathy for the Record Industry, Bang!, HoZac, Thick Syrup, and other labels. His past projects include the hardcore bands Sand in the Face and Sluggo;  the psychedelic guitar duo Avondale Airforce; and the garage punk trio Young Skulls. Currently, he performs with rock 'n' roll quintet the Stabbing Jabs and with Yeah Yeah Yeahs drummer Brian Chase in the free noise project Peter Aaron/Brian Chase Duo, whose debut album, Purges, appeared on the Public Eyesore label in 2016. The soundtrack he recorded with drummer Bobby Previte for the indie horror film The Furies Inside Me is set for release on Public Eyesore/Eh? in 2018.
Duo Denum
Duo Denum is Al Margolis (contact mics, violin, synths, things, etc.) and Tom Law (Max/MSP).  They began performing as a duo since 2021, and started hosting the "Double Duo" series at Green Kill in July 2022.
About the organizer
Website: https://greenkill.org/organizer/david-schell-2/