Description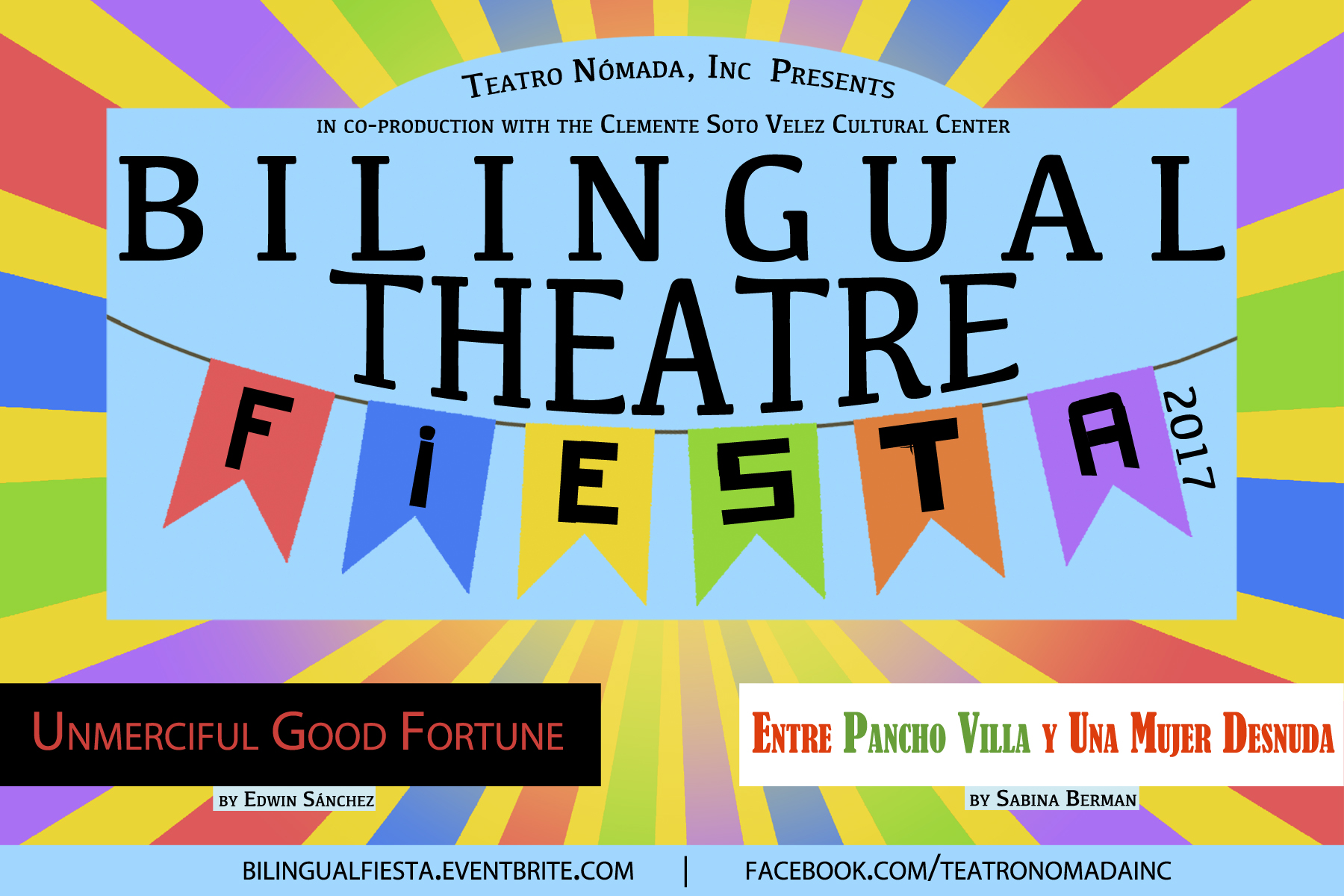 Presenting two productions, one in English & one Spanish, directed by Christopher Olsen and Rosalina Perales:
CLICK HERE FOR OFFICIAL POSTER

by Edwin Sánchez
May 25th – 28th

[Flamboyan Theater]
In UNMERCIFUL GOOD FORTUNE the audience is kept on the edge of their seats. While they cannot predict what will come next, each twist and turn of the plot seems exactly right as it unfolds. The play centers on two Latinas: Fatima, a clairvoyant, uneducated hourly wage earner-turned-murderer, and on a successful, highly educated assistant district attorney, a single parent caring for her dying mother. From this unlikely pairing, Sanchez builds a story that examines class, racial and gender conflicts, family and professional relationships, friendship, heterosexual and homosexual love, self-realization, personal worth, and the ethics of euthanasia. Directed by Christopher Olsen and Rosalina Perales.
Thursday, May 25th, 2017 - 8:00pm
Friday, May 26th, 2017 - 8:00pm
Saturday, May 27th, 2017 - 8:00pm
Saturday, May 27th, 2017 -2:00pm Spanish translation READING, followed by a conversatory with the author: Edwin Sánchez
Sunday, May 28th, 2017 - 4:00pm

---

by Sabina Berman
June 1st – 4th

[Flamboyan Theater]
A feeling of deep commitment to the struggle of women carries this comedy into the unexpected conflicts between reality and fantasy. The struggle is seen as women not against man, but rather against the caricature in which man has converted himself. Man, in his misguided attempt to justify the unjustifiable, trying to be democratic, but unable not to be "phallocratic". Directed by Christopher Olsen and Rosalina Perales.
Thursday, June 1st, 2017 - 8:00pm
Friday, June 2nd, 2017 - 8:00pm
Saturday, June 3rd, 2017 -2:00pm English translation READING
Saturday, June 3rd, 2017 - 8:00pm
Sunday, June 4th, 2017 - 4:00pm
---
ABOUT THE FESTIVAL (CLICK FOR POSTER)
As its main purpose, Teatro Nómada, Inc. aims to translate theatre texts, particularly Puerto Rican and Latin American ones, for production in New York City. We have planned our first bilingual theatre festival, titled Teatro Nómada Bilingual Theatre Festival, for presentation in June 2017. The festival will comprise the presentation of two plays—one Nuyorican and one Mexican—in both Spanish and English, directed by Rosalina Perales and Christopher Olsen. Unmerciful Good Fortune by Nuyorican playwright Edwin Sánchez has been selected for the festival and translated from its original English into Spanish as one of his best and most recognized works. Our second festival selection is from Mexico, the celebrated piece titledEntre Villa y una mujer desnuda, by the internationally renowned playwright, Sabina Berman. It is worth noting that this play was made into a film and submitted as the nominee from Mexico in the Academy Awards category of Best Foreign Film.
Unmerciful Good Fortune deals with themes of euthanasia, spiritualism, and female sexuality to explore how human beings confront difficult life and death decisions. Entre Villa y una mujer desnuda deconstructs Mexican history using feminist satire.
In addition to the staging of these plays, conversations with the playwrights and critics about the presented plays will also be scheduled with the public.
The project will be a co-production between Teatro Nómada and the Clemente Soto Velez Educational and Cultural Center. The Festival will take place from May 25th to June 4th, at 8:00 pm. on weekdays and at 4:00 pm on Sundays. The actors, from Puerto Rico and New York, will perform the plays in English and Spanish during the Festival.
---
ABOUT TEATRO NÓMADA
Teatro Nómada, Inc. works from the premise that simply translating plays into English (or any language) is insufficient. Dramatic texts move beyond the written word as they transcend the page through performance. Staging and production are additional layers of translation—all too often overlooked. This is where our festival comes in. We believe that plays need more than mere translation into English. They must also be produced, staged and presented; in our case as part of a theatre festival for contemporary Latino/a plays from the Americas. By promoting and producing first-ever translations of international plays and then producing them at the Clemente Soto Velez Center, we would be providing an unparalleled opportunity for theatre audiences in New York to experience these new works. In addition, the festival will provide a unique vantage point for promoting a particular cultural heritage and introducing it to an expanded audience which includes not only the Latino/a community, but also the general public in the New York City area. FACEBOOK.COM/TEATRONOMADAINC
---
---
POLICIES
All sales are final.
Food & Electronic Devices: Food, cameras, recorders, phones, tablets, laser pointers, etc. are prohibited inside the theaters. Turn off all electronic devices.
In Case of Bad Weather: If bad weather prevents you from attending, call the Box Office as soon as possible and no later than half an hour prior to performance, to make alternative arrangements, excluding a refund.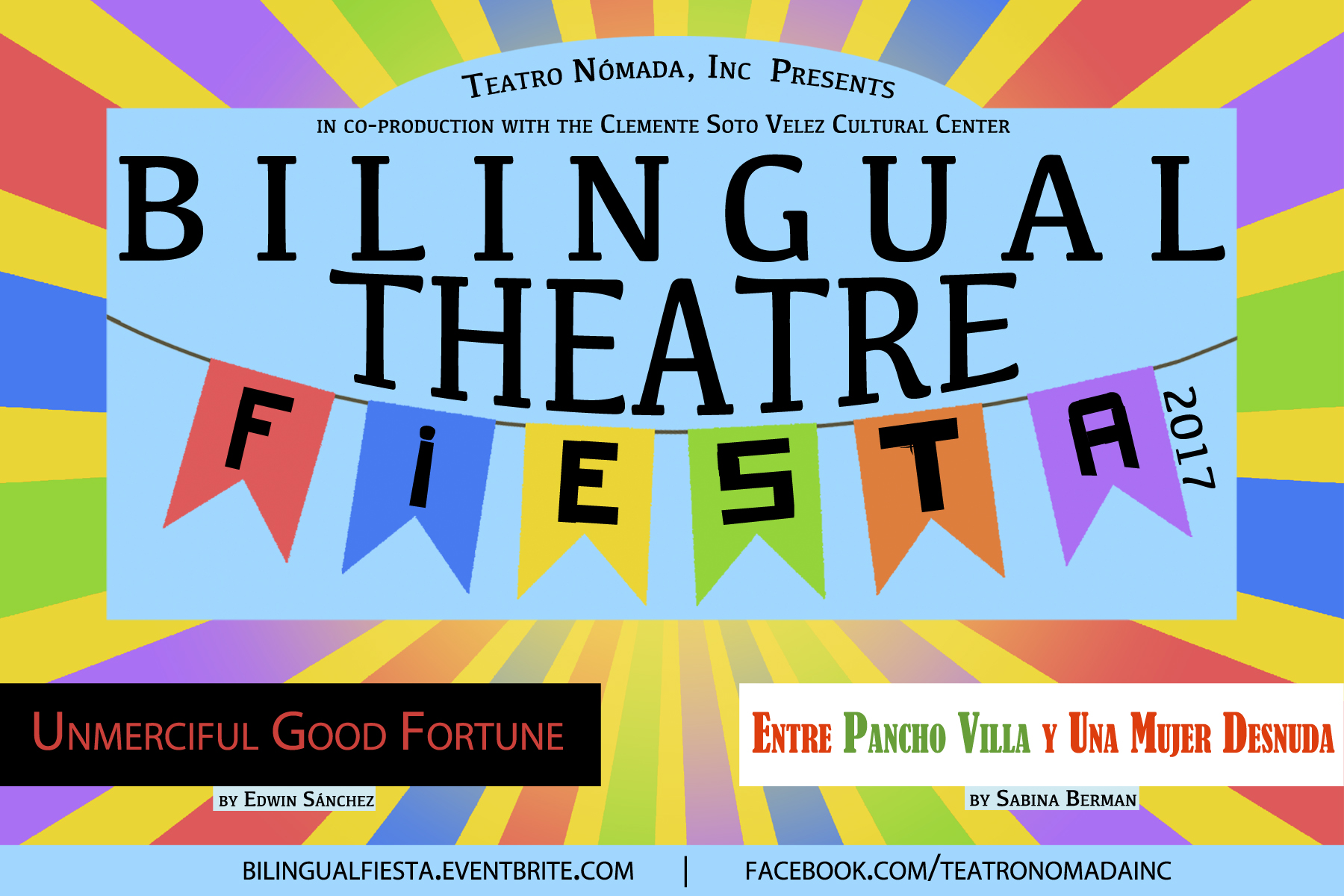 Artworks by ELVIN OMAR MORALES
Date and Time
Location
The Clemente Soto Velez Cultural & Educational Center
107 Suffolk St
New York, NY 10002