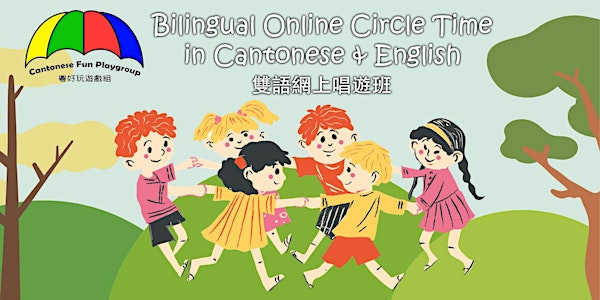 Bilingual Online Circle Time (Cantonese & Eng) with Cantonese Fun Playgroup
Filled with movement songs, story times, and number songs - this is perfect for kids ages 0-5 years old! Let's learn Cantonese in a FUN way!
By Cantonese Fun Playgroup
About this event
Let's learn and practice Cantonese in a fun way!
Class Descriptions:
In this "Bilingual Online Circle Time" series, you will have access to 4 pre-recorded classes (each is approx. 30-minute long) and will also have worksheets available to download too! Through Cantonese children's songs, stories, and counting, your child will find it fun and easy to take in the language while still be able to understand what's going on because everything is said in both English and Cantonese.
All 4 videos will stay online until March 31, 2023 at 11:59pm Pacific Time, giving you plenty of time to watch them or even re-watch them as many times as you'd like. Afterall, learning a language is all about repetition.  Your child might even ask you to put the songs on repeat! :-)
Free worksheets will include activities like crafts, tracing exercises, counting exercises, and coloring sheets. You can also make these as great  bonding time too by doing them with your child together!
Class Format:
The 4 pre-recorded videos will be accessible by logging into your child's Seesaw account on the free Seesaw app. (You can use Seesaw on a web-browser, iOS, and Android. Download the app here: https://web.seesaw.me/platforms)
As soon as you've successfully registered with us, you will receive emails with instructions on how to login to your child's Seesaw account with their own unique student code. Once Seesaw login is done, you can access the class materials right away and start learning. Yay!
Recommended Age Group:
0 to 5 years old and their grownups. All fluency levels OK.
Depending on your child's age and fluency level, adult assistance will be needed for some activities and games.
Note: If your child is older than 5 years old but they are new to Cantonese or just at beginner's level, these classes will be great as a starting point.
In each class, we will:
Welcome and Hello song
Sing and dance to some Cantonese children's songs
Story time
Learn how to count
Sing a numbers song
Goodbye song
*Note: Worksheets will be available on the Seesaw app. Once you have registered for the series, you will receive an email with instructions on how to log in to Seesaw. For worksheets, you can choose to print them out or to work on them digitally on Seesaw. For crafts, please find and prepare the supplies at home for your child. 
Other Important Info:
Class Fee: USD $35.00 per family
Last day to register: Friday March 17, 2023 at 9:00am Pacific Time
All 4 pre-recorded classes will be on Seesaw app (Videos will stay online until March 31, 2023 at 11:59pm Pacific Time.)
Worksheets for each class will be on Seesaw app
To Sign Up...
Click the "Tickets" button on this Eventbrite page to register now!
Questions? Please email me at cantonesefunseattle@gmail.com. :-)