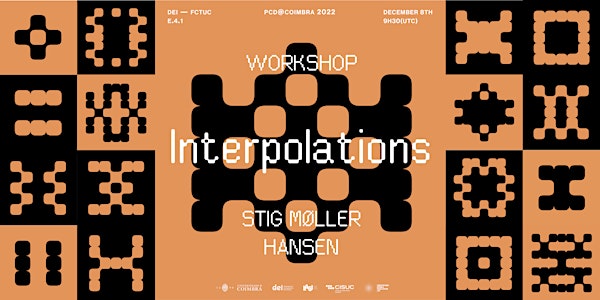 PCD@Coimbra 2022 — Workshop Interpolations by Stig Møller Hansen
The second day of PCD@Coimbra 2022 will include a Workshop by our keynote presenter, Stig Møller Hansen!
Quando e onde
Localização
DEI - Departamento de Engenharia Informática - FCTUC, Room E.4.1 Universidade de Coimbra, Pólo II - Pinhal de Marrocos 3030-290 Coimbra Portugal
Acerca deste evento
The Processing Community Day initiative is supported by the Processing Foundation and has the goal of celebrating art, code and diversity while promoting creative coding and computational thinking as tools for creative students, researchers and professionals. PCD@Coimbra aims at being a showcase for what is currently being developed in Portugal, especially in Coimbra, and also a place for stimulating discussion and initiating future collaborations.
The second day of PCD@Coimbra 2022 will include a Workshop — Interpolation — by our keynote presenter, Stig Møller Hansen.
Keynote bio and presentation abstract:
Stig Møller Hansen bought his first computer in 1989 and quickly developed a passion for mixing design and code. Thirty years later, Stig has turned his childhood excitement into his professional career as a Senior Associate Professor, Ph.D., and Head of Center for Design and Visual Communication at the Danish School of Media and Journalism (DMJX). As a researcher and teacher, Stig works at the intersection of design and programming, empowering designers to create their own custom tools using code, while also prompting them to reimagine their creative practices within a computational context. Follow Stig's activities here: https://linktr.ee/stigmollerhansen
Workshop Interpolation. This intermediate-level workshop explores the concept of interpolation. What is interpolation? How have interpolations been used throughout design history? How can we use interpolation today to create eye-catching visual designs? Taking existing design products as its starting point, the workshop will explore and teach new techniques that participants can personalize and use in their work. The workshop assumes a basic prior knowledge of Processing. Bring your own laptop (Win/Mac/Linux) with the latest version of Processing 4.0 installed (download it for free here: https://processing.org/download/)
Level: Intermediate
Audience: Designers who want to code, and programmers who want to design.
Platform: Processing 4.0 (but users who prefer other coding environments, e.g. p5.js, can easily follow along)