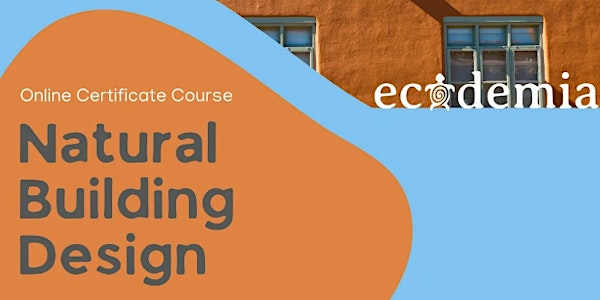 Natural Building Design
NATURAL BUILDING DESIGN - ECODEMIA ONLINE COURSE in partnership with LIVE WITH EARTH
Política de reembolsos
Entre em contato com o organizador para solicitar um reembolso.
A taxa de Eventbrite não é reembolsável.
Acerca deste evento
Natural Building Design
Online Certificate Course
Online Course with Synchronous Sessions
Applications & Registrations
(EN) (contact us for portuguese version / participation)
NATURAL BUILDING DESIGN course is collaboratively designed and run with LIVE WITH EARTH and offers knowledge and skills on building with local, natural and sustainable materials that Earth provides for free.
Course Outline
NBC01 / 2022
From 28 August to 18 September every Sunday
2:00h PM - 6:00h PM U.K TIME
WEEK 1 – INTRODUCTION
Introduction to Natural Building
The Natural Patterns
Legal & Construction Licenses and Permits
WEEK 2 – EARTH-BASED TECHNIQUES
Earth Construction Introduction
Cob Technique
Cordwood Technique
Superadobe & Hiperadobe Techniques
WEEK 3 – ECO-CONSTRUCTION TECHNIQUES
Straw & Lightstraw Construction
Stone Construction
Wood Construction
Cane & Bamboo Construction
Limestone Cycle
Fire Systems
Earthship, PinhoPalha, EcoCubo, LegoHemp
Green Energy & Technologies
WEEK 4 – PROJECT DEVELOPMENT
Project Methodology
Interior Design
Financial Plan
Implementation Project
Instructor : Rui Vasques
He studied Design, and MA in Product Design at IADE, Lisbon. He is a certified teacher and in addition to the natural building and permaculture, he teaches "Design for Society" at IADE – UNVERSIDADE EUROPEIA. He is the founder and President of the Live With Earth Association.
Frequently Asked Questions
How Does The Course Work?
The course is an online course including synchronous sessions, team collaborations and discussions, and life-term access to self-paced asynchronous study materials and sessions.
What is the Total Duration of The Course?
4 Weeks (We recommend 18 hours of study per week)
16 hours synchronous sessions. These sessions will be held on a weekend day (Saturday or Sunday) 2:00-6:00 PM UK time for 4 weeks.
24 hours and above self-paced, asynchronous study sessions
32 hours of collaborative teamwork with the community of participants
What will you get out of it?
In addition to a hugely valuable set of knowledge, skills, and experiences which you will get from this course, you will also have the opportunity to closely collaborate with the other participants with similar motivations and interests from all around the world and develop your network. More importantly, you will have life-term access to the learning materials and self-paced sessions which are consistently updated. By successfully completing this course you will also receive a Certificate of Completion.