LUÍS VICENTE | MOSTAFA ANWAR in Concert. Art Loft Lisbon - Concert Dinner...
Informações do evento
Política de reembolsos
Reembolsos até 1 dia antes do evento
A taxa da Eventbrite não é reembolsável.
Descrição
Welcome to Art in Action House!
Enjoy an Exclusive and Private CONCERT followed by DINNER in our ART LOFT in Lisbon center - Príncipe Real.
"For the purpose of bringing true SOUND experiences to people PRIVATELY! ... ...from the gallery to the NEW FORM OF GALLERY through common gathering and eating together!"
For Jazz and Art Lovers. PRIVATE CONCERT Dinner WITH:
LUÍS VICENTE | MOSTAFA ANWAR

It's a TRUE PRIVILEGE for ART LOFT LISBON to share this performance privately with YOU!
Come to our Private Art Loft and enjoy a PRIVATE CONCERT folowed by DINNER in a unique and intimate artistic experience!!! Dive into over 200 original contemporary art pieces in our gallery.
JAZZ CONCERT DINNER events curated by LUÍS VICENTE, presenting some of best jazz, avant-garde and contemporary music played in Europe.
TICKETS INCLUDE:
The CONCERT, the Portuguese beverages - craft beer, wines, ginginha and the always surprising DINNER. Please drink in moderation.

In respect to the musicians and to the public. DOOR CLOSES AT 9pm and the bell is turned off.

ART & CONCERT EVENTS are limited to just 40 people.
---


LUÍS VICENTE - trumpet | MOSTAFA ANWAR - voice, tambura, harmonium.
MOSTAFA ANWAR and LUÍS VICENTE have been playing together since 2015 all over the country in several venues and festivals, they performed at Gaia Todo Um Mundo and in Serralves at Festa do Outono just to mention few.
This evening they will meet again for a very special moment, inviting the audience to get in a spiritual and magical journey, a musical gathering where orient and occident get together, sacred music from India alongside with the jazz/impro speech on the trumpet, a unique and unforgettable moment at our Art Loft Lisbon.
MOSTAFA ANWAR SWAPAN
Mostafa Anwar Swapan a singer, composer, poet, music director, actor, theatre worker and an analytical scientist as a mature student presently pursuing his Doctoral studies at NOVA IMS Universidade Nova de Lisboa, Portugal originally from Bangladesh born on 02 December 1967 is instrumental to accumulate his humble efforts to lead a spiritual musical journey for attaining universal peace and harmony in response to the calls from the soul transcending boundaries.
From his very childhood through numerous trainings, practices as well as appearing on stage Mostafa has been traversing the musical paths in different languages Urdu, Persian, Portuguese and French including his own mother language Bangla...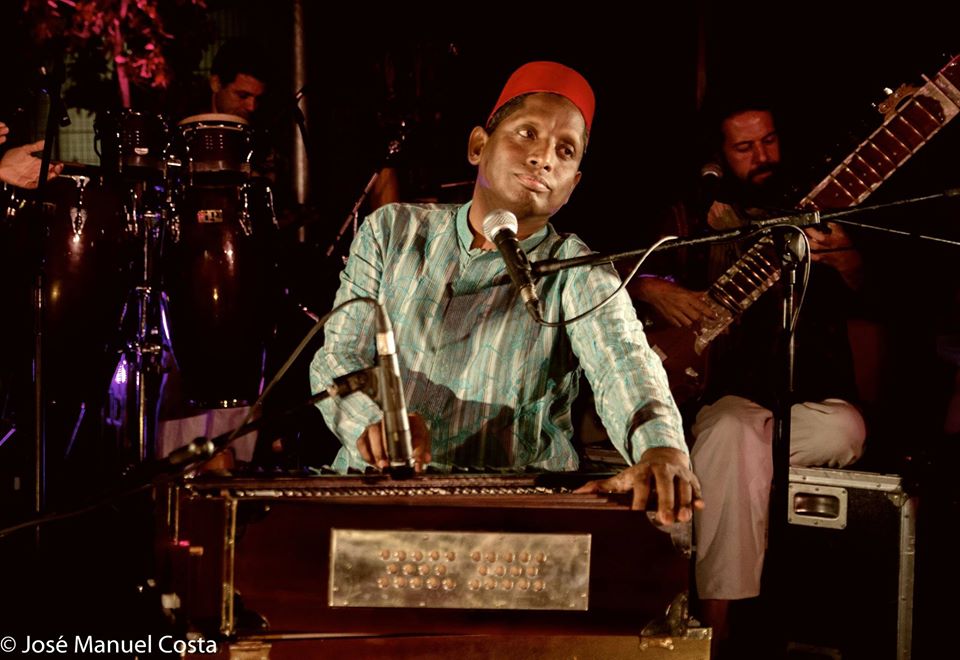 ---
LUÍS VICENTE
"Luis Vicente became veritable 'Who's Who' of leading improvisers impressing us with his Trumpet".
Ken Waxman - New York City Jazz Record.
The Free Jazz Collective Reviews of Free Jazz and Improvised Music. Reflecting upon last decade's musical influencers (The 10 BEST)
"We could have reviewed them separately, but the Portuguese guitarist Marcelo dos Reis and trumpeter Luis Vicente have created their own sound of modern improvised music, and this in various ensembles with different approaches and line-ups: free, cohesive, hypnotic and sensitive. With Chamber 4, they won our Happy New Ears Award for 2017, and they were runner-up in 2015. I could and maybe should also have added the brothers Théo and Valentin Ceccaldi, who also played with the two Portuguese in various ensembles.
The first album of CHAMBER 4 (Luís Vicente - trumpet, Théo Ceccaldi - violin and voice, Valentin Ceccaldi - cello and voice , Marcelo dos Reis - acoustic guitar, prepared guitar and voice) was considered: One of The Free Jazz Blog Collective's Top 101 Recordings of 2010S!"
Free Jazz Blog, Stef Gijssels, JAN1st, 2020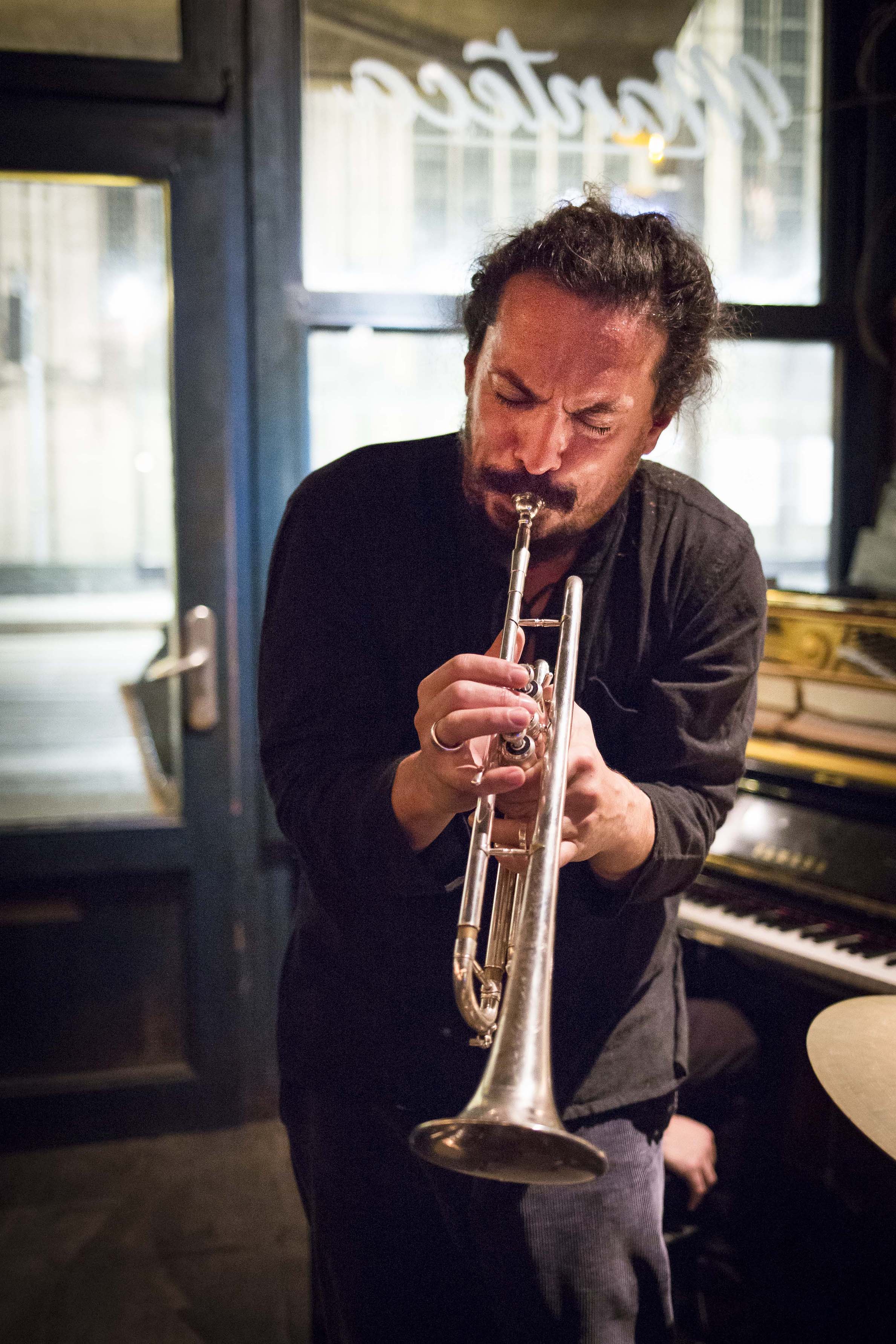 ---


This is a ONE-OF-A-KIND experience ...

... ART IN ACTION gives YOU the amazing opportunity to

listen/watch/eat/drink/gather with them PRIVATELY !!!
---
How it started... our hidden museum
An old stable converted into a house/studio by an artist couple as a jewel/ sculpture.
The artistic adventure started in 1996 creating the architectural solutions.
In almost 3 years enthusiastically the contemporary art collection climbed its walls, took its ceilings, spread all over the floor filling up these 230m² x 5 high and 15 x 2m sculpture garden.
Discover a private loft house/gallery, full of stories and history from the past 20 years.
The full address will be provided after your BOOK IN.

Just like you, we prefer intimate moments: ART & CONCERT DINNER events are limited to 40 people (subject to availability).
Our idea is really to keep the intimacy, so ONLY 40 people.
We'll EAT, DRINK, MEET THE ARTISTS in a comfortable inspiring environment and above all... LISTEN TO THE BEST MUSIC. If you're vegan, don't worry. If you have any other food restriction, just let us know.
- Don't miss it !!!
-Let's celebrate. With ART MUSIC… It's ALL WE NEED!
---

FAQ

-Are there any ID or minimum age requirements to access your event?
NO, but we don't serve alcohol to minors.
- What's included in the price?
The Concert, the Portuguese bevarages: craft beer, red/ white wine, ginginha and the DINNER are INCLUDED in the event's price. We are here to share good moments with best of music while admiring beautiful painting and sculpture works. Please drink in moderation.
-What are my transportation/parking options to get to and from the event?
Easier is TAXI or UBER, Underground METRO RATO. Parking should be in the street behind, or nearby but it's NOT easy to find.
-What can I bring to the event?
Open mind, JOY and Happiness.
-How can I contact the organizer if I have questions?
You will receive the email address and the phone number of the organizer after buying your ticket.
-What is the refund policy?
Full refund until the day before 12am.
-Should I bring my printed ticket to the event?
YES please or on your smartphone.
-Can I update my registration information?
YES
-Is my registration, fee or ticket transferable?
NO
-Is it okay if the name on my ticket or registration does not match the participant?
NO.
We speak Catalan, English, French, German, Italian, Portuguese and Spanish.