LUÍS VICENTE | HUGO ANTUNES | PEDRO MELO ALVES IN CONCERT - ART LOFT LISBON...
Descrição
Welcome to Art in Action House!!!
Enjoy an Exclusive and Private CONCERT DINNER in our ART LOFT in Lisbon's Center!!!
"For the purpose of bringing true SOUND experiences to people... PRIVATELY!!! ... from the gallery to the NEW FORM OF GALLERY through common gathering and eating!!!"

For Jazz and Art Lovers. PRIVATE CONCERT Dinner WITH:

LUÍS VICENTE - trumpet | HUGO ANTUNES - doublebass |PEDRO MELO ALVES - drums
It's a TRUE PRIVILEGE for ART LOFT LISBON to share this performance privately with YOU!
Come to our P
rivate Loft
and enjoy
a PRIVATE CONCERT Dinner in a unique and intimate artistic experience!!!
Dive into over 200 original contemporary art pieces while enjoying your favorite drink.
TICKETS INCLUDE: Portuguese beverages: craft beer, wine, ginginha AND a always surprising hearted DINNER. Please drink in moderation.
DOOR CLOSES AT 9pm. In respect to the musicians we do not open any exceptions. ART & CONCERT EVENTS are limited to just 40 people.
---
What they said about them.
To two of the most experienced and active musicians of the European improvised music scene, Luís Vicente and Hugo Antunes join in the drums of the young promising talent, Pedro Melo Alves, one of the last revelations of the Portuguese music scene.
The TRIO who has played in Lisbon's Legendary Jazz "Cathedral" HOT CLUB, will now give us the amazing opportunity to listen/watch/eat/drink/gather with them PRIVATELY.
---
"LUIS VICENT became veritable 'Who's Who' of leading improvisers impressing us with his Trumpet... one of the rising stars of not just Portuguese, not just European, but world jazz". New Castle GatesHead.
"His brass sensibility calls upon the free playing of Don Cherry and the free bop of Freddie Hubbard in equal measure." Ken Waxman - New York City Jazz Record.
"The component manifests most obviously in Vicente's trumpet, (...) Of course, the trumpeter also splutters and exclaims explosively. But whatever he does packs charge." John Sharpe, All About Jazz
"... one of the joys of listening to him play: he's got an undeniable ear for melody, but he's also not afraid to draw all of the primal physicality out of his horn - sometimes he sputters, sometimes he spits out lines with acerbic intensity, but he always keeps your attention." Derek Stone, The Free Jazz Collective
With over 20 discography, If it is true that free improvisation music has lived particularly rich times in Portugal, Vicente manages to stand out as one of the most notable improvisers, exhibiting technique and versatility. Nuno Catarino.
---
Hugo Antunes
Doublebassit beyond bop and post-bop, capturing the complexity, the improvisational power, the freedom and the emotional depth that are so the essence of jazz.... the lush unhurried bass stylings of Hugo Antunes.
All About Jazz
Portuguese Doublebass player Hugo Antunes after years in Brussels playing with Giovanni Di Domenico and João Lobo in the Band Cornettada is now back with a new electroacoustic project by Pedro Melo Alves, Symph. His versatility led to collaboratins with Agustí Fernández, Roger Turner, Nate Wooley, Paul Lovens, Gabriel Ferrandini, John Dikeman and with national musicians such as Carlos "Zíngaro", Miguel Mira, Rodrigo Amado and João Lencastre, among others. Jazz.pt
---
Pedro Melo Alves
Drummer of The Rite of Trio, in 2017 gained, the Composition Prize Bernardo Sassetti in praise of the writing he dedicated to the Omniae Ensemble. Then came his solo electroacoustic project "O", The Rite of Trio (Carimbo Porta- Jazz 2015), Symph trio and Catacombe (Raging Planet 2014) as a drummer and composer. Colaborates with several ensembles of improvised music such as Splatter (Noel Taylor), Gabriel's Cosmic Messengers or Luís Vicente trio. Explores multidisciplinarity on his collective Caos and on the music written for theatre, cinema and dance since 2014, working with Carlota Lagido (Jungle Red) and Peter Kleinert (The Good Person of Szechwan).
"twenty-six year old drummer/pianist Pedro Melo Alves from Oporto is the

vigorous shining wunderkind
of portuguese jazz."
Henning Bolte, All About Jazz, 2018
"today, the names on the minds of portuguese fans are those of accordionist joão barradas and drummer pedro melo alves (the rite of trio, omniae ensemble), both unanimously acclaimed by the critics." Julien Aunos, Citizen Jazz, 2018.

---
This is a ONE-OF-A-KIND experience ...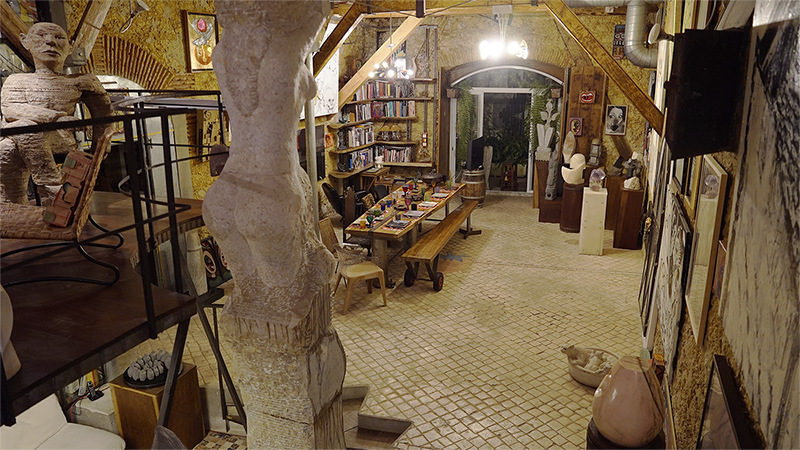 How it started... our hidden museum
An old stable converted into a house/studio by an artist couple as a jewel/ sculpture.
The artistic adventure started in 1996 creating the architectural solutions.
In almost 3 years enthusiastically the contemporary art collection climbed its walls, took its ceilings, spread all over the floor filling up these 230m² x 5 high and 15 x 2m sculpture garden.
Discover a private loft house/gallery, full of stories and history from the past 20 years.
The full address will be provided after your BOOK IN
.



Just like you, we prefer intimate moments: "ART & CONCERT DINNER" events are limited to 40 people (subject to availability).
Our idea is really to keep the intimacy so ONLY 40 people.
We'll EAT, DRINK, MEET the ARTISTS in a comfortable inspiring environment and above all... LISTEN TO THE BEST MUSIC.
If you're vegan, don't worry. If you have any other food restriction, just let us know.
- Don't miss it !!!
-Let's celebrate. With ART MUSIC… It's ALL WE NEED!
---

FAQ
-Are there any ID or minimum age requirements to access your event?
NO, but we don't serve alcohol to minors.
- What's included in the price?
Portuguese bevarages: Craft beer, red/ white wine, ginginha AND dinner are INCLUDED in the event's price. We are here to share good moments with best of music admiring beautiful paintings and sculptures. Please drink in moderation.

-What are my transportation/parking options to get to and from the event?
Easier is TAXI or UBER, Underground METRO RATO. Parking should be in the street behind, or nearby but it's not easy to find.
-What can I bring to the event?
Open mind, JOY and Happiness.
-How can I contact the organizer if I have questions?
You will receive the email address and the phone number of the organizer after buying your ticket.
-What is the refund policy?
Full refund until the day before 12am.
-Should I bring my printed ticket to the event?
YES please or on your smartphone.
-Can I update my registration information?
YES
-Is my registration, fee or ticket transferable?
NO
-Is it okay if the name on my ticket or registration does not match the participant?
NO.
. We speak English, Spanish, Catalan, Italian, Portuguese, German and little French.