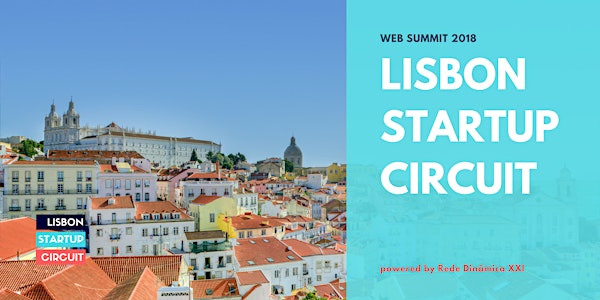 Lisbon Startup Circuit - Web Summit
Quando e onde
Localização
Lisboa Pavilhão Multiusos, Centro de Negócios e Inovação de Rio Maior, Avenida Dr. Mário Soares 2040-063 Rio Maior Portugal
Política de reembolsos
Sem reembolsos
Descrição
There will be 8 intense days of activities - morning, afternoon and evening. Besides access to the Web Summit ticket (you need to pay an extra ), the largest Technology event in the world (70,000 people expected this year), you will have access to the Acceleration Program "Portugal- Europe´s best gateway", visits to incubators, unicorns, Mentors, Business Angels, access to a Pitch competition. Goal: everything you need to know to create your startup in Portugal.
At night, networking with people from all over the world. Amazing places and inspiring stories that will make a difference.
The 2nd and 3rd of November will be dedicated to the Acceleration Program- "Portugal- Europe´s best gateway". During two days you will have great workshops on how to open up your startup in Portugal with free consulting from our local experts. All great government-grants incentives-free will be detailed. Great content available. Don´t miss it!
This is the moment dedicated to relaxing making contacts with other startups, investors while enjoying the "imperial" and other great spices of the Lisbon gastronomy. Every night we will enjoy great moments, together!
The 4th of November will be dedicated to a visit to a culture visit in Lisbon (tuk-tuk experience) , Sintra, Cabo da Roca (the most western point in Europe), Cascais.
Days 6, 7 and 8 of November will be dedicated to Web Summit. Considered to be the largest technology, entrepreneurship and innovation event in the world, the Web Summit is back in Lisbon in 2018. Last year, this technology conference brought together 50,000 participants, over 1200 speakers and more than 2,600 international journalists (not included in this price, but if you wish we can provide you with a ticket - let us know).
ASTROLABE INVESTMENT FUND
Day 9th, investors interested will participate in the Investment Fund Latin America launch meeting, where they will get to know all the information regarding the fund. One of the goals of the Fund is intended to back the investment of Latin-American startups by using Portugal as a gateway to Europe. On the same day, we will have the Fund take-off with a pitch competition for those startups looking for money. Astrolabe (Astrolábio in Portuguese) scaleups competition will be launched.
On the same day, scaleups will participate in a pitches competition at the "Casa da América Latina", competing for a prize competition and have the chance to present themselves to investors.
VISITS TO LOCAL ECOSYSTEM
Will be dedicated to visits to important players in the Portuguese ecosystem, listening to success stories of startups, accelerators, incubators and venture capitals. Besides you will get to know the ecosystems of the cities outside of Lisbon (60-80km), with emphasis on the Óbidos, Caldas and Rio Maior (these are becoming great alternatives, since Lisbon is becoming quite expensive nowadays).
The Lisbon Startup Circuit will transform "Hans Brinker" in the Startups meetup in Lisbon: Participants will have a basic, single, double or shared room in the center of Lisbon with breakfast included. (not included in this price- let us know if you are looking for cheap accomodation).