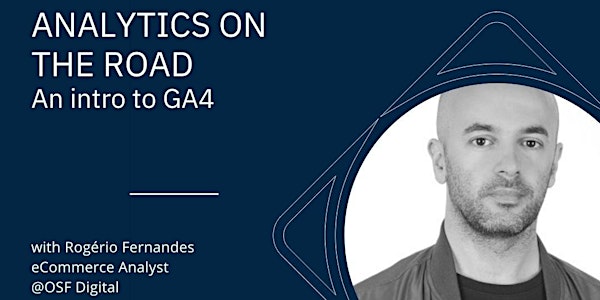 Learning Session - Analytics on the road: An intro to GA4
Tracking user behavior using Google Analytics 4 and Google Tag manager (with e-commerce examples)
Data e hora
Sex, 16 de jun de 2023 17:00 - 20:00 WEST
Localização
Sangha Cowork Funchal 98 Rua da Casa Branca 9004-535 Funchal Portugal
Acerca deste evento
Are you ready to unlock the power of data analytics? Join us for an immersive learning experience where we delve into the world of GA4 (Google Analytics 4) and explore the immense possibilities it offers.
🔎 In this informative session, our expert speakers will guide you through the fundamentals of GA4, the latest iteration of Google Analytics. Whether you're a marketer, business owner, or data enthusiast, this event is designed to provide you with valuable insights and equip you with the skills to leverage GA4 effectively.
📚 Key Topics Covered:
✅ Introduction to GA4: Understand the key features and differences from previous versions.
✅ Data Collection and Tracking: Learn how to set up GA4 and effectively track user interactions via Google Tag Manager.
✅ Enhanced Analysis: Discover advanced analysis techniques to uncover actionable insights.
✅ Audience Engagement: Explore ways to engage your audience and optimize user experiences.
✅ Case Studies: Gain inspiration from real-world examples of successful GA4 implementations.
🎓 This event is suitable for both beginners and those with some familiarity with Google Analytics. Don't miss this opportunity to expand your knowledge and gain a competitive edge!
📢 Spread the word and invite your friends and colleagues who are eager to explore the fascinating world of GA4. Let's embark on this analytics journey together!
We look forward to seeing you there!