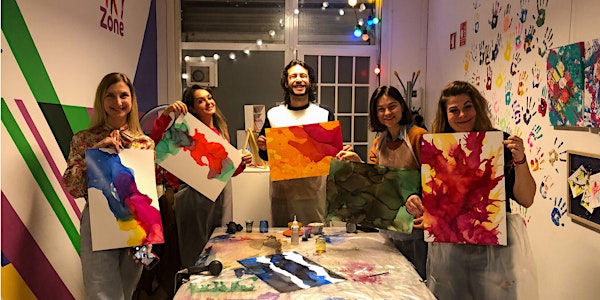 Alcohol Ink painting workshop
Localização
ArtZone Global
18B Rua Reinaldo Ferreira
1700-323 Lisboa
Portugal
Política de reembolso
Entre em contato com o organizador para solicitar um reembolso.
A taxa de Eventbrite não é reembolsável.
Try a new trend in abstract art and create an amazing unique artwork using alcohol inks!
Acerca deste evento
☆ Bright and bold patterns, deep abstraction and graceful shimmers! ☆
★ Combine your favorite colors, experiment with techniques and textures, create new extravagant forms - in your hands a whole infinity of creative possibilities!
★ Alcohol Ink technique is a pretty new trend in abstract art. The process of creating such paintings is fascinating in itself, and the result is simply a delight!
★ And the most impressive thing is that everyone will succeed, not a single chance to make a mistake!
❥ At the end of the workshop you will have two amazing artworks that can become a bright addition to your interior and also an original present for your loved one ❥
🟡Duration: 3 hours
🟡Language: English, Portuguese, Russian
✨OUR PROMOTIONS✨
*Visit ANY 3 WORKSHOPS and come to the 4th one FOR FREE!
*If you attend the workshop with someone else we give 20% discount
Online participation is available!
If you are not in Lisbon; but still want to join our regular events in the moment, this option can be perfect for you. After the booking, you will receive all instructions on how to join the event.
🛒To find more information and reserve your place you can here:
https://artzone-global.com/alcoholink