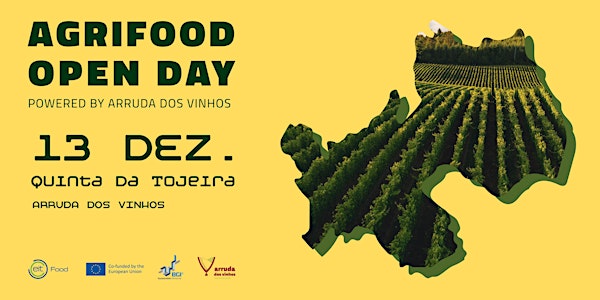 Agrifood Open Day powered by Arruda dos Vinhos
Let's debate the status of agrifood innovation in the main event of EIT Food Portugal Hub, together with Arruda dos Vinhos municipality!
Quando e onde
Localização
Quinta Da Tojeira Estrada do Lapão, N.º 16 2630-184 Arruda dos Vinhos Portugal
Acerca deste evento
About the event / Sobre o Evento:
Agrifood Open Day 2022 is the first edition of EIT Food Portugal Hub annual event. Delivered in partnership with Arruda dos Vinhos Municipality, the event aims at debating the status of the agrifood sector in 3 different levels (regional, national and european), as well as discussing the role that innovation and entrepreneurship can play as catalysers and promoters of resilience.
This will be a full day dedicated at fostering potential synergies between agrifood players (whether startups, corporates, SMEs, research institutions or public entities) and at exploring how the collaboration between these different stakeholders can contribute to a more sustainable, trusted and resilient agrifood value chain.
Agrifood Open Day is organised by BGI Sustainable Ventures, with the support of EIT Food and Arruda dos Vinhos Municipality.
-------------------
O Agrifood Open Day 2022 é a primeira edição do evento anual do Hub português do EIT Food. Organizado em parceria com a Câmara Municipal de Arruda dos Vinhos, o evento pretende debater o estado do setor agroalimentar em 3 diferentes níveis (regional, nacional e europeu), assim como discutir o papel que a inovação e o empreendedorismo podem vir a desempenhar como catalisadores e promotores da resiliência do setor.
Este será um dia dedicado a fomentar potenciais sinergias entre vários players do setor agroalimentar (sejam eles startups, grandes empresas, PMEs, instituições científicas ou entidades públicas) e a explorar novas formas de colaboração entre estes stakeholders, com vista a contribuir para uma cadeia de valor agroalimentar mais sustentável, confiável e resiliente.
O Agrifood Open Day é organizado pela BGI Sustainable Ventures (ponto de contacto do EIT Food em Portugal), com o apoio do EIT Food e da Câmara Municipal de Arruda dos Vinhos.
Agenda* / Agenda*
09H00 - 09H30: Welcome and registration / Boas-vindas e registo
09H30 - 09H45: Opening Session / Sessão de Abertura
André Rijo, Mayor at / Presidente da Câmara Municipal de Arruda dos Vinhos
09H45 - 10H45: Agrifood innovation in Portuguese Municipalities: success stories / Inovação agroalimentar nos Municípios portugueses: casos de sucesso
Laura Rodrigues, Mayor at / Presidente da Câmara Municipal de Torres Vedras
Armindo Jacinto, Mayor at / Presidente da Câmara Municipal de Idanha-a-Nova
Pedro Neto, City Councilor / Vereador da Câmara Municipal do Fundão
10H45 - 11H00: The role of innovation towards a more sustainable and inclusive society / O papel da inovação rumo a uma sociedade mais sustentável e inclusiva
Graça Fonseca, CEO at /CEO na Because Impacts
11H00 - 11H15: Coffee Break / Pausa para café
11H15 - 12H00: Parallel sessions / Sessões paralelas
Case Studies: emerging low-carbon models of multitrophic aquaculture / Estudos de caso: modelos emergentes e de baixo carbono de aquacultura multitrófica
João Cotter, Aquatic Production Specialist / Especialista em Produção Aquática no Food4Sustainability CoLAB
Pedro Pousão, Chairman of the Administration / Presidente da Administração do S2Aqua CoLAB
Rui Miranda Rocha, CEO at / Diretor Executivo da Riasearch
João Rabaça, Director of Operations at / Diretor de Operações da BGI (moderator / moderador)
Case Studies: contribution of alternative proteins to agrifood sustainability/ Estudos de caso: a contribuição das proteínas alternativas para a sustentabilidade do setor agroalimentar
Vinh Ly, Founder and CEO at / Fundador e Diretor Executivo Kyanos Biotechnologies
Kate Bekers, CEO at / Diretor Executivo da MicroHarvest
Joana Rosa, Researcher at / Investigadora do S2Aqua CoLAB
Cecília Franco, Health and wellbeing specialist at / Especialista em Saúde e bem-estar no Food4Sustainability (moderator / moderador)
12H00 - 12H45: Emerging challenges for the agrifood sector and the role of entrepreneurship in solving them / Desafios emergentes no setor agroalimentar e contributo do empreendedorismo para os ultrapassar
Juliet Bray, Accelerator Programme Manager at / Gestora de Programa de Aceleração da EIT Food
Luís Suarez-Llanos, Reforestation Project Manager at / Gestor de Projetos de Reflorestamento da Life Terra Foundation
Lukas Friedemann, Co-founder of / Co-fundador da Equal Food Co.
Cátia Pinto, Executive Secretary at / Secretária Executiva do Smart Farm CoLab (moderator / moderador)
12H45 - 14H00: Networking lunch / Almoço de convívio
14H00 - 14H30: How innovation is shaping the European agrifood sector / Como a inovação está a moldar o setor agroalimentar na Europa
Kristina Sermuksnyte-Alesiuniene, Director at / Diretora da Agrifood Lithuania
14H30 - 15H00: How to implement and scale regenerative agriculture practices across Europe/ Como implementar e escalar práticas de agricultura regenerativa por toda a Europa
Esther Dalkmann, CMO at / Diretora de Marketing da Climate Farmers
15H00 - 15H45: Emerging models that promote agrifood resilience / Modelos emergentes impulsionadores da resiliência do setor agroalimentar
Pedro Assude, Innovation Manager at / Gestor de Inovação da Delta
Nuno Canada, Director at / Diretor do INIAV
Francisco Alves, Farm Manager at / Gestor Agricola da Herdade de São Luís Porcus Natura
Ricardo Chagas, Scientific Director at / Diretor Científico do Food4Sustainability (moderator / moderador)
15H45 - 16H00: Coffee Break / Pausa para café
16H00 - 16H45: Innovation ecosystem in Portugal / Ecossistema de inovação em Portugal
Diogo Martins, Gestor de Projetos da BGI
Cláudia Godinho, Investigadora de Operações no Food4Sustainability
16H45 - 17H00: EIT Food opportunities to foster innovation in Portugal / Oportunidades no EIT Food para potenciar a inovação em Portugal
Diogo Ramalho, Sustainability & Food Projects Manager
17H00 - 17H40: How to structure open innovation efforts / Como estruturar esforços de inovação aberta
Maria João Fernandes, National Contact Point of Horizon Europe at / Ponto de Contato do Horizonte Europe da ANI
Ana Sofia Martins, Open Innovation Manager at / Gestora de Inovação Aberta da Nestlé
Carla Rodrigues, Head of Business Development at / Coordenadora da área de Desenvolvimento de Negócios Delta Ventures
Gonçalo Amorim, CEO at / Diretor Executivo da BGI (moderator / moderador)
17H40 - 17H50: BioLog presentation / Apresentação BioLog
Joana Grácio, Operations Manager at / Gestora de Operações do Food4Sustainability
17H50 - 18H00: Closing Session / Sessão de Encerramento
18H00: Networking Cocktail / Cocktail de Networking