Description
❤TICKETS AVAILABLE AT THE DOOR❤
Grand Opening of Lovage Rooftop | SPICE NYC's Bikini Brunch
Saturday, April 29th 2017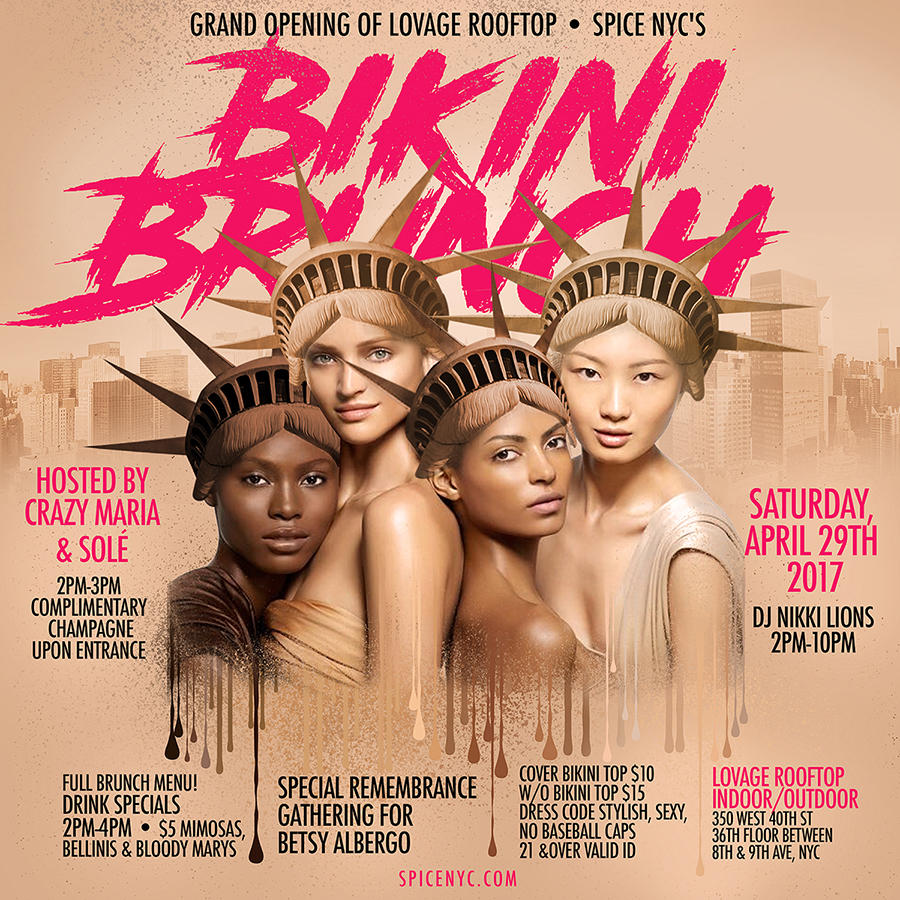 Watch the sun set with friends, party as the moon rises high in the sky at a 4,000 square foot venue with 17-foot floor-to-ceiling windows and a glass roof, Lovage is truly a sight to behold.
?…But it's the sights outside that will take your breath away. 360-degree views put on a "couldn't ask for more" display ?of the best of New York City: the Empire State Building, Times Square, the Freedom Tower, the Statue of Liberty,? the Hudson River, and more.
Resident DJ Nikki Lions
Run Time: 2pm-10pm
Complimentary Champagne from 2pm-3pm Upon entrance
Hosted by Crazy Maria of Cherry Lips & Girly of Sole'
Full Brunch Menu!
Drink Specials 2pm-4pm $5 Mimosas, Bellinis & Bloody Marys,
Lovage Rooftop
Indoor/Outdoor
350 West 40th st 36th Floor
Between 8th & 9th Ave
NYC
Cover Bikini Top $10 | W/o Bikini Top $15
Dress Code Stylish, Sexy, NO Baseball Caps | 21 & Over valid id
*Special remembrance gathering for Betsy Albergo*
*SORRY, ABSOLUTELY NO REFUNDS*
SPICENYC.com
Organizer of BIKINI BRUNCH: Grand Opening of Lovage Rooftop
SPICE NYC is an events company based out of New York City that caters to women who have a deep appreciation for nightlife and music. We provide our patrons with an opportunity to dance and mingle with each other and with up and coming talented dj's, artists & other entertainers. Our events are hosted at various chic and trendy venues in Manhattan and we have extended to Jersey City. Nikki Hill, founder of SPICE NYC states, "We are an events company with a purpose. We represent everything that New York City stands for, music,art,fashion and individuality. We encourage creative expression via socialization and it all begins with lesbian nightlife".
You can find updated event info on our website SPICENYC.com
Instagram @SPICENYC
Facebook/SPICENYC