About this Event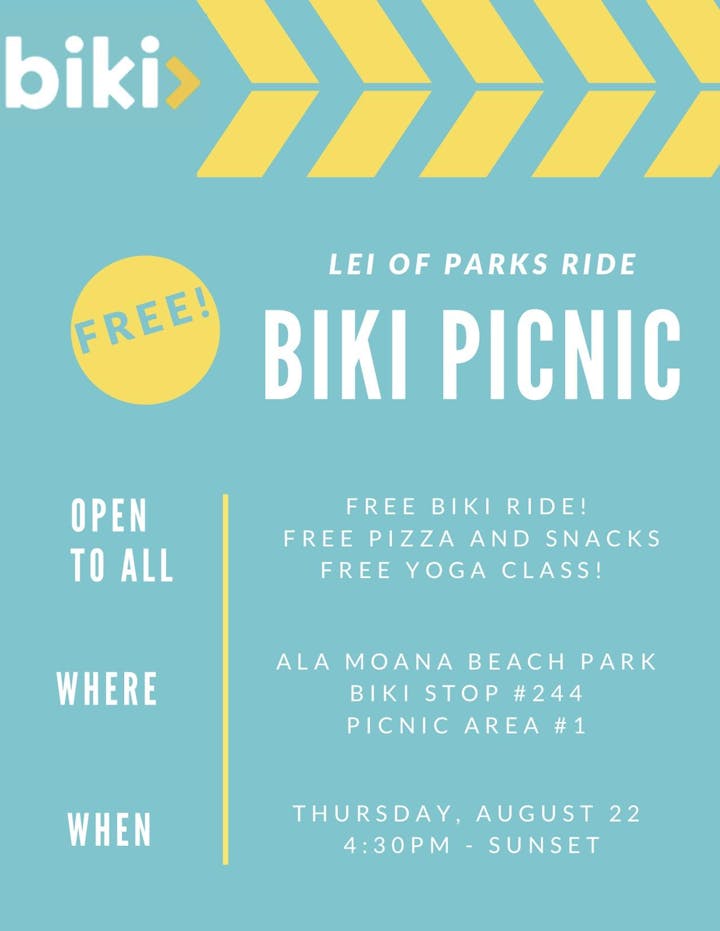 Learn about the shared-use paths on Oahu, on a free guided Biki tour along the Ala Moana Beach Park portion of the Lei of the Parks.
Help support the mission of the South Shore Trail Group in advocating for the connection of our state parks.
Join in a community yoga class offered by CorePower Yoga.
More information can be found on our website at: GoBiki.org/Biki-Leaks/BikiPicnic
Questions? Contact Mike@bikesharehawaii.org. For more info about Biki, visit GoBiki.org.
Biki is Honolulu's bikeshare program, managed by the not-for-profit 501(c)3 Bikeshare Hawaii, and operated by Secure Bike Share. Launched June 28, 2017, Biki offers 135 conveniently located self-service "Biki Stops" from Iwilei to Diamond Head and 1,300 Biki bikes. Biki's team of dedicated local employees are on board to interact with the community, answer questions and resolve issues, keep Biki Stops well maintained and stocked, and ensure bikes are all set to ride. For more information, visit gobiki.org and follow Biki on Facebook, Instagram and Twitter.