Description
The Bike/Walk Tampa Bay (BWTB) Board of Directors invite you to the Fall Summit on Thursday, November 8, 2018 at the St. Petersburg College campus located in Clearwater, Florida. We will be located in room ES104. See map for location: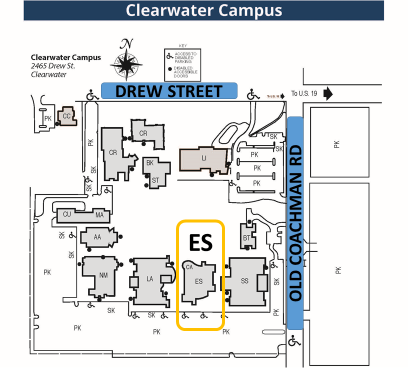 Learn about Complete Streets
Complete Streets is a movement the transportation community has been talking about in Tampa Bay for quite a while; BWTB has published a few stories on the topic along the way. The Fall Summit is an opportunity to hear in-depth details about what is happening in both the cities of Clearwater and St. Petersburg.
Know about what happens after a crash
Safety has always been a key focus of BWTB and a topic presented at previous Summits. This particular Summit is highlighting safety from a little different perspective: what to do if you are a pedestrian or a bicyclist involved in a crash with a motor vehicle. BWTB board member J. Steele Olmstead is an attorney who specializes in bicycle laws. He will share his insights about the legal aspects you should be aware of if ever you find yourself in that situation.
Find out how YOU can be involved!
Enforcement and Engineering efforts are key aspects of increasing safety, but we need your help to spread the word as well. At the Fall Summit, BWTB will be introducing a new set of tools to help spread awareness about safety.
Come early for more great activities!
Prior to the summit, bring your bicycles for a group ride on the Ream Wilson Trail with an option to ride across the Courtney Campbell Trail. The 16-foot wide bridge on the Courtney Campbell Trail provides a dedicated motorless trail just for walking and bicycling. Enjoy breathtaking views of the bay from the trail! Helmets Required. Participants must sign a waiver. Ride begins at 4pm.
SCHEDULE
4:00 p.m. - 5:00 p.m. Bicycle Ride
5:00 p.m. - 5:30 p.m. Refreshments and Networking
5:30 p.m. - 8:00 p.m. Summit.
Organizer of Bike/Walk Tampa Bay Fall Summit
Bike/Walk Tampa Bay

 is a regional coalition of citizens, advocates, professionals and allied organizations

created to make walking and bicycling the preferred modes of transportation in the Tampa Bay region. The Coalition was formed by a partnership between the New North Transportation Alliance, Tampa Downtown Partnership, Westshore Alliance, and St. Petersburg Downtown Partnership, the Florida Department of Transportation and the Community Traffic Safety Teams of Tampa Bay. To accomplish this goal, we engage and empower local communities and stakeholders to achieve our region's vision for a better transportation future. To learn more go to bikewalktampabay.org