Description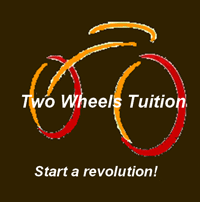 PLEASE READ ALL DETAILS ON THIS PAGE CAREFULLY BEFORE BOOKING AND MAKE A NOTE OF HOW TO PAY FOR THE COURSE. YOUR BOOKING IS ONLY VALID WHEN PAYMENT HAS BEEN RECEIVED.
Two Wheels Tuition deliver the Bikeability Level 1 qualification, on behalf of Torbay Council, for Children of 6 yrs and above, who are able to ride independently ie. without stabilisers or any other form of aid. The session is group based and children will be expected to be fully self sufficient.
These highly popular sessions are subsidised by Torbay Council and so cost just £6. The cost includes the 2 hour Level 1 session and the Bikeability Level 1 Certificate and badge.
Bikeability Level 1 teaches bike handling skills through games and prepares them for when they are in year 5 and will be offered Bikeability Level 2 at their school by Torbay Council.
The fee for the session is payable directly to Two Wheels Tuition and your booking will only be valid once the payment has been received. The payment is non-refundable.
The amount of £6 per child needs to be paid into the following bank account.
Account Name: Mr P J Edwards
Account Number: 00003605
Sort Code 11 87 51
These details will also be at the bottom of your confirmation email when you have booked.
All children receive the Bikeability Level 1 certificate just for completing the session and if they can successfully complete all the outcomes, they are also awarded the Level 1 badge
The sessions will take place at Torbay Velopark, a purpose built facility next to Torbay Leisure Centre.

To register your child, please select a date and time by clicking on the red button at the top of this page.
Then click the green button and follow the on-screen instructions to register your child.

To take part in the training, your child must have a bike in good working order and cycle helmet.
If your child does not have their own bike and helmet, these can be hired at the Velopark