Description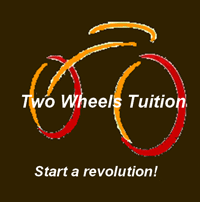 PLEASE READ ALL DETAILS ON THIS PAGE CAREFULLY BEFORE BOOKING AND MAKE A NOTE OF HOW TO PAY FOR THE COURSE. YOUR BOOKING IS ONLY VALID WHEN PAYMENT HAS BEEN RECEIVED.
Two Wheels Tuition deliver Learn to Ride sessions, on behalf of Torbay Council, for Children of 6 yrs and above. This session is designed for children who cannot ride without support eg. stabilisers. If they are already riding independently it is likely that Bikeability Level One is the more suitable session.
These highly popular sessions are subsidised by Torbay Council and so cost just £10 for children who live or attend school in Torbay. The cost includes the 2 hour Learn to Ride Session and the Bikeability Learn to Ride Certificate.
Although we can accept your child if they are not from Torbay, we are unable to subsidise their place, and the cost will be £20 per child in these cases.
The fee for the session is payable directly to Two Wheels Tuition and your booking will only be valid once payment has been received.
The amount of £10 per child (£20 for children not residing or attending school in Torbay) needs to be paid into the following bank account. Please note payments are non-refundable.
Account Name: Mr P J Edwards
Account Number: 00003605
Sort Code 11 87 51
These details will also be at the bottom of your confirmation email when you have booked.
We can't give you an absolute guarantee that they will be riding independently at the end of the session, but we have a very high success rate.
The sessions will take place at Torbay Velopark, a purpose built facility next to Torbay Leisure Centre, with 2 children to one instructor.

To register your child, please select a date and time by clicking on the red button at the top of this page.
Then click the green button and follow the on-screen instructions to register your child.

To take part in the training, your child must have a bike in good working order (stabilisers removed) and a helmet. Your child must be able to put their feet flat on the floor when they are sat on the saddle for our method of training to be successful.
If your child does not have their own bike and helmet, these can be hired for a small charge, on the day at the Velopark.