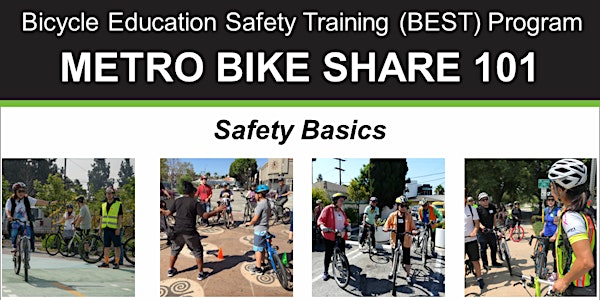 Bike Share 101: Safety Basics @ UCLA Sustainable Transportation Day
Learn about the Bike Share system and important safety guidance, including basic bike safety skills, rules of the road, and traffic laws.
When and where
Location
UCLA Bunche Hall Lawn (between Bunche Hall and Campbell Hall) 335 Portola Plaza Los Angeles, CA 90095
About this event
Are you interested in using Metro Bike Share to get around campus? Interested in learning more about staying safe on the road? The BEST Bike Share 101: Bike Safety Basics class presented by Metro, Metro Bike Share, LA County Bicycle Coalition, and UCLA Transportation, is a 1.5-hour class designed to introduce the Bike Share system and important safety guidance.
All new attendees who complete this course will receive a code for a FREE 30-Day Metro Bike Share Pass redeemable at any time. You can redeem this code online at metro.net/bikeshare or in the Metro Bike Share app. Participants will also receive a FREE helmet and a set of bike lights!
Pre-registration and attendance confirmation is required for all participants. Once you are registered, we will send you an email to confirm your attendance. If you are attending with other family members, each person must be registered in order to attend. Register now to guarantee your spot!
Who Should Sign-Up:
If you know how to ride a bike, but may be uncomfortable using a bike for everyday travel or recreation, this class may be for you. This class covers bike safety basics and route planning with an engaging and interactive presentation. This class is ideal for students and faculty at UCLA who want to feel more confident riding in and out of campus.
What You'll Learn:
What I Need to Bike: Helmet Fit / Lights / Locks
Intro to Bike Share System: Using the App / Finding Docks and Stations / Locking and Returning
Staying Safe: ABC Quick Check / Maintenance and Repairs
Biking on City Streets: Navigating Common Hazards / Bikes and Transit
Bike Services / Online Events Offered by Metro, Bike Share, and LACBC: Self-Guided Rides / Metro Bike Map
EVENT INFO
Date: Thursday, October 6th
Duration: 1.5 Hours
Time: 2-3:30 p.m.
Location: UCLA - Bunche Hall Lawn
*** PLEASE NOTE: All ride participants must sign this waiver to participate. A parent or legal guardian is required to sign for and accompany any minors under 18 participating in the ride. ***
**RAIN POLICY: In the event of a rain forecast, we will contact you 24 hours in advance to confirm or cancel the ride**
Safety Protocols
We will be observing strict protocols during class to ensure safety and comfort for all participants and instructors. All instruction will be conducted outdoors to maximize physical distancing. Please keep in mind the following rules while attending class:
You must confirm your attendance in advance of class so we know to expect you and hold your spot. Every attendee must sign-in.
If you are feeling sick or unwell, please stay home.
Even if you are fully vaccinated, please bring a mask or face covering to wear at all times.
Staff and ride marshals reserve the right to refuse service to anyone who does not follow these protocols.
Check out these other class options:
Virtual Classes (English)
Choosing an E-bike – Wednesday, October 5
Cleaning Your Bike – Wednesday, October 19
Preparing to ride at Night – Wednesday, October 26
In-Person Classes
Bicycling 101: Bike Safety Check-Up - El Monte – Saturday, October 1
Learn to Bike - El Monte – Saturday, October 8
Learn to Bike - El Monte – Saturday, October 22
Bike Share 101 Power Up: Intro to E-bikes with Seniors – Friday, October 28
Community Rides
E-bike 101 Ride - Emerald Necklace – Saturday, October 15
Spooktacular E-bike Ride – Pasadena – Friday, October 28
Spooky Spokes Senior Ride with Metro Bike Share – Friday, October 28
This event is made possible by Metro Los Angeles and LACBC.
Metro's Bicycle Education Safety Training (BEST) Program currently offers bike classes at 4 different levels—Bicycling 101 and Bike 1, 2, & 3. The Bicycling 101 off-bike presentation is offered to organizations, businesses, and public agencies to provide a brief overview of bike basics. After this class, participants are encouraged to seek out additional BEST classes with on-bike instruction when they become available.
Metro Bike Share system makes bikes available 24/7, 365 days a year in Downtown LA, Central LA, North Hollywood, and on the Westside. Metro Bike Share offers convenient round-the-clock access to a fleet of bicycles for short trips. Metro Bike Share is one of LA Metro's multiple public transportation options for Angelenos and visitors to get around. Metro Bike Share is a fast, easy, and fun way to ride, anytime. Get a bike from any Metro Bike Share station, go for a ride, and properly return it. It's easy — just like riding a bike!
The Los Angeles County Bicycle Coalition (LACBC) is a membership-based nonprofit organization that works to make all communities in LA County healthy, safe, and fun places to ride a bike through advocacy, education, and outreach.