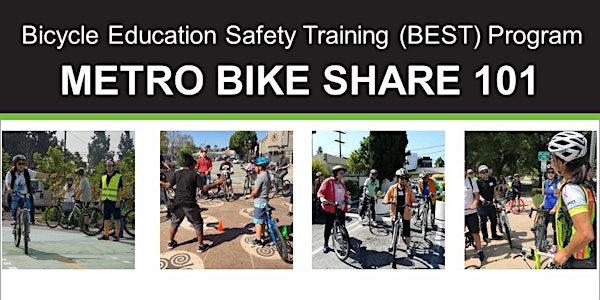 Bike Share 101 Power Up: Intro to Electric Bikes - Online Video Class
Learn more about Electric Metro Bikes, where to ride e-bikes safely, and how to purchase and maintain your own e-bike!
About this event
Are you interested in using Metro Electric Bikes and learning more about e-bike safety, rules of the road, and how to purchase and maintain an e-bike? Join us for a class on all things e-bikes, presented by Metro, Metro Bike Share, and LA County Bicycle Coalition is a 1.5-hour virtual session (via Zoom) designed to teach us how to best take advantage of E-Bikes, whether we use personal or Metro Bike Share e-bikes. All attendees who complete this course will receive a code for a FREE 30-minute ride with Metro Bike Share redeemable at any time. You can redeem this code online at metro.net/bikeshare or in the Metro Bike Share app.
Participants who complete a class feedback survey will be mailed a FREE pre-loaded single trip TAP card and additional Metro-branded goodies (shipping limited to addresses in LA County) within 90 days of the event.
Attendees are encouraged to participate from the comfort and safety of your own homes while we are all doing our part to practice social distancing and stay connected to one another.
Class size is limited. Pre-registration is required to guarantee a minimum number of participants. Register now to guarantee your spot! Once you are registered, we will send you a confirmation email and more info on how to join the class online.
Check out these other class options:
Community Rides
BEST Ride: Africatown (Leimert Park) to Biddy Mason Park - Friday, August 26
Bicycling 101: Principles of Traffic Law - Tuesday, August 30
Who Should Sign-Up:
If you know how to ride a bike, but may be uncomfortable using a bike for everyday travel or recreation. This class covers bike safety basics with an engaging and interactive presentation.
What You'll Learn:
Why electric bikes? Learn about the many reasons e-bikes are booming!
Where to ride an e-bike and courtesy; e-bike tips: General bicycle safety and where e-bikes can (and can't) go!
Power Up with Metro Electric Bikes: Electric Metro Bikes are a low barrier & easy way to try an e-bike; Electric Metro Bike pricing and how to locate
Purchasing/maintaining e-bikes: Personal e-bikes on bus and rail; Accessibility and e-bikes; Where to purchase and schedule maintenance for your e-bike
Bike Services / Online Events Offered by Metro, Bike Share, and LACBC: Self-Guided Rides / Metro Bike Map
This event is made possible by Metro Los Angeles and LACBC.
Metro's Bicycle Education Safety Training (BEST) Program currently offers bike classes at 4 different levels—Bicycling 101 and Bike 1, 2, & 3. The Bicycling 101 off-bike presentation is offered to organizations, businesses, and public agencies to provide a brief overview of bike basics. After this class, participants are encouraged to seek out additional BEST classes with on-bike instruction when they become available.
Metro Bike Share system makes bikes available 24/7, 365 days a year in Downtown LA, Central LA, North Hollywood, and on the Westside. Metro Bike Share offers convenient round-the-clock access to a fleet of bicycles for short trips. Metro Bike Share is one of LA Metro's multiple public transportation options for Angelenos and visitors to get around. Metro Bike Share is a fast, easy, and fun way to ride, anytime. Get a bike from any Metro Bike Share station, go for a ride, and properly return it. It's easy — just like riding a bike!
The Los Angeles County Bicycle Coalition (LACBC) is a membership-based nonprofit organization that works to make all communities in LA County healthy, safe, and fun places to ride a bike through advocacy, education, and outreach.