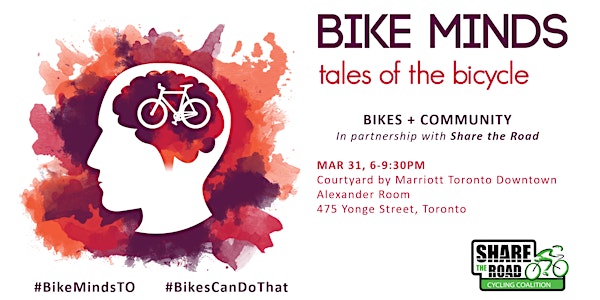 BIKE MINDS Episode #7: Bikes+Community
When and where
Location
Courtyard by Marriott Toronto Downtown 475 Yonge Street Alexander Room Toronto, ON M4Y 1X7 Canada
Description
***
This event is SOLD OUT. Join our mailing list to be notified of future BIKE MINDS events.
***
Picture a cyclist, and what do you see – a well-to-do downtowner riding a "fixie", or a sporty suburbanite clad in Lycra? Look a little deeper though, and you may be surprised by what you find.
BIKE MINDS is Toronto's bicycle-themed storytelling event, where guests share personal, positive, and inspiring stories related to cycling.
Over its first four sold-out events from January to April 2018, BIKE MINDS explored cycling through four themes: Belonging, Lifestyle, Discovery, and Identity. We heard stories from a wide range of backgrounds, including newcomers, neighbours, civil servants, and community leaders, who've all had unique and powerful experiences related to cycling.
BIKE MINDS continues on March 31st with our seventh episode, Bikes+Community, in partnership with Share the Road. Join us to hear inspiring and amazing stories from people who have found community through cycling, or created entirely new communities altogether.
Note: registration for BIKE MINDS is separate from the Ontario Bike Summit. You do not need to be registered for the Ontario Bike Summit to attend BIKE MINDS.
The event will take place at 6:00 PM on March 31, 2019 at the Courtyard by Marriott Toronto Downtown.
6:00PM - Doors open, mix & mingle (cash bar)
7:00PM - Event starts
FEATURING STORIES FROM:
Sabat Ismail (headliner), student, city rider, and year-round cyclist

Justin Jones, Share the Road

Janet Joy Wilson, The Reading Line
James Hetmanek, Tune Your Ride
Sarah Bradley, Cycle Toronto
David Shellnutt, Pro-Bike Lawyer
Caitlin Lee, civil engineering student and suburban bike rider
The bicycle supports the first steps of newcomers to the city, brings us closer to friends and family, and teaches us more about ourselves than we ever could have imagined. Whether you're a casual rider, a passionate advocate, or simply a fan of great storytelling, we hope you'll join us in celebration of all the bicycle has to offer, at this positive and inclusive event.
BIKE MINDS is co-hosted by Matt Pinder, author of the blog Beyond the Automobile, and Michelle Kearns, transportation professional and cycling researcher at the University of Toronto.
To find out more, visit www.beyondtheautomobile.ca/bikeminds.
This episode of BIKE MINDS is made possible through the support of Share the Road, Cycle Toronto, and our volunteers.