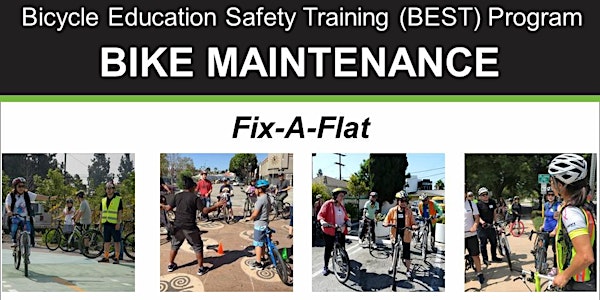 Bike Maintenance: Fix-A-Flat - Online Video Class
Learn how to perform basic maintenance on your bike and how to fix a flat tire through online instruction.
About this event
Do you want to learn bike maintenance basics and how to fix a flat tire to ensure a smooth and safe ride? The BEST Basic Bike Maintenance class, presented by Metro and People for Mobility Justice, is a 1-hour online session (via Zoom) that will provide an overview of basic bike maintenance. You are welcome to have your bike ready for questions for a Q&A session at the end of class.
Participants who complete a class feedback survey will be mailed a FREE pre-loaded single trip TAP card and additional Metro-branded goodies (shipping limited to addresses in LA County).
Attendees are encouraged to participate from the comfort and safety of your own homes while we are all doing our part to practice social distancing while staying connected to one another. Once you are registered, we will be sending you information on how to join the class online.
Class size is limited. Pre-registration is required to guarantee a minimum number of participants. Register now to guarantee your spot! Once you are registered, we will send you a confirmation email and more info on how to join the class online.
Check out these other Bike Month events:
Virtual Classes (English)
Bike Maintenance: Fix-A-Flat (May 12)
Bike Share 101: Safety Basics (May 13)
Bicycling 101: Rules of the Road for Night Riding (May 26)
In-Person Classes
Bike Share 101: Safety Basics (May 18) - UCLA Bike Week Pit Stop
Community Rides
Experience the El Monte Emerald Necklace (May 7)
Walk Bike Glendale Ride with Mayor Kassakhian (May 14)
Bike Share to the Beach - Santa Monica/Venice (May 14)
Bike to Work Day Lunch Ride - Chinatown (May 19)
Green Book History in South LA (May 22)
E-Bike 101 Ride - El Monte (May 22)
Who Should Sign-Up:
If you are a novice rider who is interested in learning about basic bike maintenance and repair, and how to seek out additional help from a local bike shop or co-op.
What You'll Learn:
Getting Your Bike Road Ready: ABC Quick Check
Bike Maintenance Overview: Bike Safety Check-Up / Essential Tools
Fix-A-Flat Demonstration: Removing a Tire / Repairing a Flat
Bike Services / Events Offered by Metro and PMJ: Self-Guided Rides / Metro Bike Map
Metro's Bicycle Education Safety Training (BEST) Program currently offers bike classes at 4 different levels—Bicycling 101 and Bike 1, 2, & 3. If you are interested in taking classes at the next level or joining a community bike ride, check out the full event calendar. For more info on how to ride a bike in LA County, visit metro.net/gobike.
As Black Indigenous People of Color, we at People for Mobility Justice seed critical consciousness about mobility justice in all communities. Our vision is that people have the freedom and resources to move in public spaces with love and dignity.