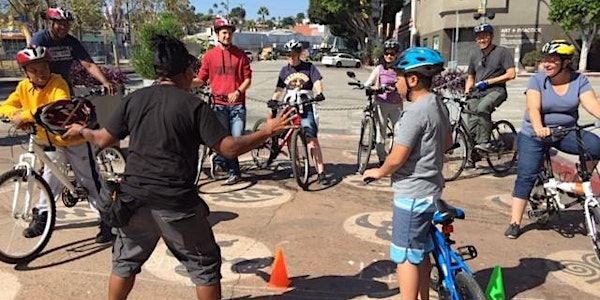 Bike Maintenance: Fix-A-Flat - In-Person Class
Learn how to perform basic maintenance and how to repair a flat repair through in-person, small group instruction.
By Metro Bicycle Education Safety Training (BEST) Program
When and where
Date and time
Saturday, April 30, 2022 · 10:30 - 11:45am PDT
Location
Leimert Park Location Info with Confirmation Leimert Park, CA 90008
About this event
**REGISTRATIONS WILL BE CAPPED AT 20 PEOPLE TO ENSURE LIMITED IN-PERSON ATTENDANCE**
Do you want to learn bike maintenance basics and how to repair a flat tire to ensure a smooth and safe ride? The BEST Bike Maintenance: Fix-A-Flat class, presented by Metro and People for Mobility Justice is an in-person class that will provide an overview of basic bike maintenance and how to make tire repairs on your own. You are encouraged to bring your bike for specific questions. Participants will receive a FREE helmet and a set of bike lights!
Pre-registration and attendance confirmation is required for all participants. Once you are registered, we will send you a waiver and location information to confirm your attendance. If you are attending with other family members, each person must be registered in order to attend. Register now to guarantee your spot!
Safety Protocols
We will be observing strict protocols during the ride to ensure safety and comfort for all participants and instructors. All instruction will be conducted outdoors to maximize physical distancing. We understand that official mask mandates and guidance has changed recently, but as this is an event hosted by Metro's community partners, we ask that you help to make it as safe as possible by wearing a mask. Please keep in mind the following rules while attending this event:
You must confirm your attendance in advance of class so we know to expect you and hold your spot. Every attendee must sign-in and complete a waiver.
If you are feeling sick or unwell, please stay home. There are many virtual class and self-guided ride options still available.
Even if you are fully vaccinated, please wear a mask or face covering at all times, even while outdoors, when you are not actively eating or drinking.
Staff and instructors reserve the right to refuse service to anyone who does not follow these protocols (e.g., arrives without prior registration, does not complete waiver, refuses to wear a mask).
Check out these other class options:
Virtual Classes (English)
Bicycling 101: Rules of the Road - April 14
Bike Maintenance: Fix-A-Flat - April 21
In-person Classes
Bike Maintenance: Fix-A-Flat - April 30
Community Rides
BEST Ride: Leimert Park to Biddy Mason Park - April 16
Commerce Moving Forward: Community Ride - April 23
Who should Sign-Up:
If you are a novice rider who is interested in learning about basic bike maintenance and repair, and how to seek out additional help from a local bike shop or co-op.
What You'll Learn:
Getting Your Bike Road Ready: ABC Quick Check
Bike Maintenance Overview: Bike Safety Check-Up / Essential Tools
Fix-A-Flat Demonstration: Removing a Tire / Repairing a Flat
Bike Services / Events Offered by Metro
What You'll Need:
Mask or face covering (even if you are fully vaccinated)
A bike
All participants will get a free helmet and a set of bike lights.
Registration & Waivers:
Participants ages 16 and up may participate in this class. All participants must sign a waiver to participate; if the participant is under 18 years of age, a parent or legal guardian must accompany the minor. 
Metro's Bicycle Education Safety Training (BEST) Program currently offers bike classes at 4 different levels—Bicycling 101 and Bike 1, 2, & 3. If you are interested in taking classes at the next level or joining a community bike ride, check out the full event calendar. For more info on how to ride a bike in LA County, visit metro.net/gobike.
As Black Indigenous People of Color, we at People for Mobility Justice seed critical consciousness about mobility justice in all communities. Our vision is that people have the freedom and resources to move in public spaces with love and dignity.