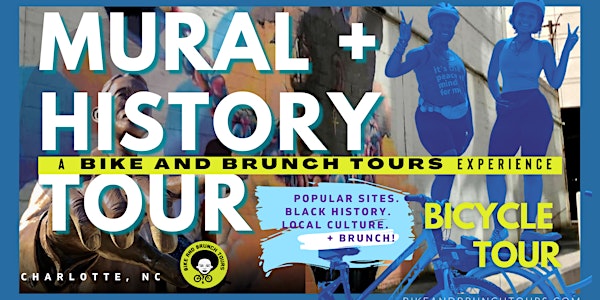 Bike & Brunch Tours: Charlotte!
Bike. Brunch. See Charlotte!
When and where
Location
7th St Public Market (Entrance) 224 E 7th St Charlotte, NC 28202
Refund Policy
Refunds up to 7 days before event
About this event
This tour will touch your mind, heart, and belly.  Ride with Bike and Brunch Tours through neighborhoods steeped in culture and history, see the vibrant city center, and stop to take in murals and unique experiences along the way. Whether you are on a weekend getaway, local and looking for a new activity with friends, considering moving to the city, or just want to get out this is the activity for you. You will be sure to leave satisfied, with a new friend or two, and stories to tell. Don't forget your camera. The tour stops at some of Charlotte's best spots to take a selfie or photo with friends. Dress accordingly. 
Concerned about the pace, your cycling skills, or owning a bike? This one of a kind, easy pace, casual tour. Good vibes and good times only, it's all about respect and fun for each other and the communities and spaces we visit.  Don't have a bike? We have rentals.  Have a bike? Great, feel free to ride your own.  Ride, see Charlotte, have fun….and of course have brunch!
NOTE: Ticket sales close 24 hours before each tour or once all spaces are full. The average tour size is 10 people.
FAQs:
Group tour registration is open to the public April - October. Private tours are available by request all year. For additional dates and times email info@BikeandBrunchTours.com.
The Tour: First, we will meet at the start point to allow those who need a rental to pick up their bikes. We will then do a few introductions and jump on our bikes for the tour. Afterward, we will move on to brunch. Our brunch location is located near the start point.
Start Time: The ride will start at the time on your ticket. NO REFUNDS will be provided for late arrivals.
Tour Length: Tour lengths are based on the tour and city. Tours in Baltimore, Richmond, and Charlotte are slightly less than 10 miles and should take no more than 3 hours.
If you have registered for the "Baltimore! Harbor Loop & Douglass Tour" the ride is slightly less than 5 miles and should take no more than 2 hours. All options have several stops along the way.
What to Wear: Feel free to be stylish as long as your fashions are bicycle ready and safe. Long scarves or fabrics that might easily tangle in the wheels or fall off are discouraged. Closed toe shoes are encouraged.
What to Bring: Pack your phone, water, a lock if you bring your personal bicycle, helmet, and a mask.
Bicycle Rentals and Helmet Rentals: If you did not request a bicycle when you purchased your ticket please email us before your tour. Both bicycles and helmets are available on a first come first serve basis. Limited quantities are available. We recommend making bicycle rental requests at least 48 hours in advance. Our bicycles are basic hybrids.
For all bicycle rental requests (click here):
- Provide the number of bicycle rentals.
- Confirm if you need to rent a helmet or lock.
- Provide your height
If you did not pay when you purchased your ticket,
Request a bicycle (via email or click here) and pay for your rental at least 24 HOURS BEFORE the ride start time. If you do not receive it within 24 hours of your request please email us and check your spam box.
External Bicycle Rentals + Electric bikes. You have the option to use local bike share programs and retailers. If you choose these options we do not have control over availability and do not coordinate any aspect of these rentals. We do not issue refunds due to issues due to problems you may encounter using a bike not rented from us. If you have trouble with bikes not rented from us during your tour you may request a credit to join us on a later tour. Retail stores may cost slightly more but offer higher end bicycle models, a wider range of bicycle types, and e-bikes.
Delivery. You must coordinate delivery, pick up, and return of bicycles if you use a retail bicycle rental from a local bike shop. If you use our bicycle rentals we will deliver it to the ride start point.
Brunch + COVID 19: We reward ourselves at the end with brunch. Due to the coronavirus and our commitment to keeping you safe we ask that you wear your mask when entering all venues and at any time when you are in the venue and not dining. On special occassion and evening rides we end at happy hour or a late brunch. We will opt to dine outdoors when:
- Required by local jurisdictions,
- Tables are available, and
- Weather permitting.
COVID 19 Precautions: All guests should bring a mask and wear it where required. If local jurisdictions require outdoor dining and tables are not available at the venue, we may dine on the lawn in a nearby green space. Please let us know before the start of the tour.
Price. The average price of brunch with a non-alcoholic beverage is $22.00. At some venues we offer a special rate fixed price menu. You also have the option to order from the full menu at a regular price. The price of brunch is NOT INCLUDED.
Rain date: We typically do not issue refunds but instead transfer the purchase to future rides. If the chance of rain is 40% or more between the first three hours of your tour the day of the ride, we will approve refunds to anyone who requests one in writing (via email to bikeandbrunchtours@gmail.com) by 8:00am the day of the ride. We will also allow you to credit your payment to another ride.
Waiver: All riders must sign a liability waiver before the ride departs. 
Reservation/ advance purchase: This is a reservation only ride. If others wish to join you on the ride please ask them to register separately via Eventbrite.
Can't Get Enough: Join us for community events, rides, and more. Follow us on Instagram , Twitter , or Facebook for more about us and our other activities.
Are there ID or minimum age requirements to enter the event?  All minors must be accompanied by an adult. Minors are the responsibility of the adult participant. Note no alcohol consumption is allowed by anyone under the age of 21 under any circumstance.
What are my transportation/parking options for getting to and from the event? Parking is available on street and in a paid parking garages adjacent to the start address. Public transportation stops are within one block of the start address.
What's the refund policy? Refunds are allowed up to 7 days before the bike tour. Do not purchase tickets from third parties or solicitors on social media. Please contact us directly via email or messenger with questions. You may cancel your ticket and get refunds using the link in your ticket.
Is it ok if the name on my ticket or registration doesn't match the person who attends? All participants must have a ticket with a name that matches a state or federal ID. Contact us with questions about transferring tickets. Do not purchase tickets from 3rd parties.