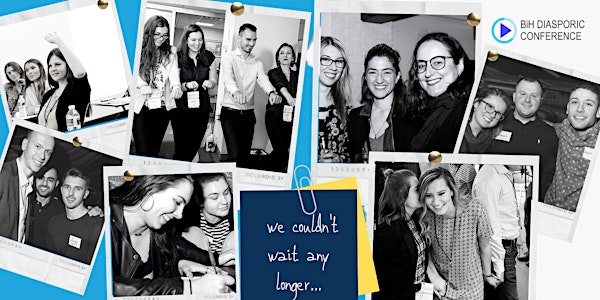 BiH Diasporic Conference 2021
Connecting. Innovating. Inspiring.
Refund Policy
Contact the organizer to request a refund.
Eventbrite's fee is nonrefundable.
About this event
Our theme this year, Vivid Visions: A Decade of Diaspora Development, looks toward the future of what the 20's will bring for the Bosnian and Herzegovinian diaspora. This year, we are in search of your ideas and lessons from the past while proposing specific plans for the future.
Here are some of the questions that will guide our conference day on May 22nd.
How do you envision our community in the next decade?
What goals have you set for the next decade with regards to your work?
What goals have you set in regards to communication within the next decade?
What have you learned over the last decade that will inform your goals?
Who will you work with over the next decade to accomplish these goals?
What resources do you need for these goals?
What inspired you to achieve what you have at this point?
What challenges do you think you will face?
We are not asking for submissions for this year's conference but we are asking you to bring your thinking caps. So bring your expertise, from figuring out how to apply for school funding to ...running your nonprofit ...to starting your own HVAC company, we want to hear your ideas.
We want to collaborate with YOU this year to create goals for the next decade for the diaspora. We are stronger together and we can't make positive changes unless we all do our part and step forward.
So here's what this year will look like:
May 21, 2021
8pm EST/5pm PST (2hrs) - Networking Event
During this time you'll get a chance to meet the other attendees and network a bit to get more comfortable.
May 22, 2021
2pm EST/ 11amPST (4hrs) - Conference Day
2:00 – 2:30 Welcome
2:30 – 3:15 KEYNOTE : ReStart - Presenter: Emina Zahirovic-Pintaric
3:30-4:30 Workshops
Intergenerational Healing for Thriving Futures: A workshop on emotional wellness and healing trauma
Selma Bacevac, MA, LMHC – Balkan Mama Therapy
Tea Sefer – Breathe with Tea
A New Decade of Evolving BiH Business in the Diaspora
Armin Vlajcic and Lamija Silajdzic – Codecta
Arijana Ramic – Bosnian Business Directory
Fundraising for the Future in the BiH Diaspora
Azra Jakupovic – Project 1948 and Most Mira
Senita Slipac – Bosana Foundation
Additional experts include: Brad Mazon from War Childhood Museum
BiH Diaspora Voting in Homeland Elections
Aida Ibričević, Ph.D. and Senada Zatagić, Ph.D.
Additional experts include representatives from JABIH: Asja Omeralovic and from Bosnian American Institute: Adem Mirza
5:00-5:45 KEYNOTE: Bosnia and Herzegovina Futures Foundation - Presenters: Eddie Custovic and Vernisa Rejhan-Icindic
5:45-6:00 Closing and Wrap up