Location
Renberg Theatre - The Los Angeles LGBT Center's Village at Ed Gould Plaza
1125 N. McCadden Pl.
Los Angeles , CA 90038
Description
Los Angeles LGBT Center Presents: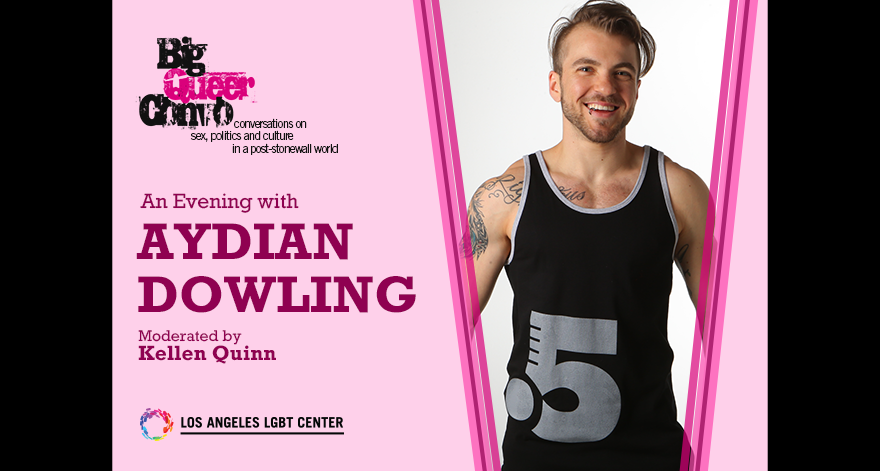 Trans Pride LA 2017 kicks off, Friday, June 16th with one of our most inspiring BigQueerConvo events to date…
Aydian Dowling is a man of MANY talents. He is a Trans* Activist, Entrepreneur/Owner Point5cc.com, Fitness Enthusiast and Motivational Speaker. He is an inspiration to tens of thousands of trans folks all over the world and he is bringing his message of self-care, self-love, self-acceptance and believing in yourself to the Los Angeles LGBT Center to kick off Trans Pride LA 2017.
Aydian came to prominence in 2015 when he garnered over 72,000 votes in an on-line poll to crown Men's Health magazine's "Ultimate Guy". He made it to the finals of the competition to win the chance to appear on the cover of Men's Health, after coming in first in the opening stage of the competition with those 72,000 votes but lost in the finals. He did appear on a special edition of Men's Health but more than that, he brought a new visibility to the trans community, especially to those who identify as trans masculine.

Aydian documented his own transition on YouTube as a way to voice his thoughts, fears, and successes; as well as offer a support mechanism for others looking to transition. Videos on his YouTube channel, ALionsFears have been viewed over 4.5 million times and the channel has over 46,000 subscribers.

In 2011, Aydian Launched Point5cc, the first of its kind, stealth clothing company designed to highlight transgender pride. Point5cc also supply free binders to those in need throughout the community and offers $1,000 scholarships, annually, for individual surgery funds. Point5cc is the first binder exchange program that has been adopted by LGBT centers around the USA. Point5cc is also a special feature on the Matthew Shepard Foundation youth website called Matthews Place.
FREE EVENT (Reservations required)
Friday, June 16 at 7 p.m.
The Renberg Theatre
The Village at Ed Gould Plaza
During construction of the Center's new facility directly across the street from The Village, free parking is limited. Limited parking is available at our Highland Annex located at 1220 Highland Ave. Los Angeles, CA 90038 (one block north of The Village). Please allow extra time to find parking or choose public transportation or a ride service such as Lyft.