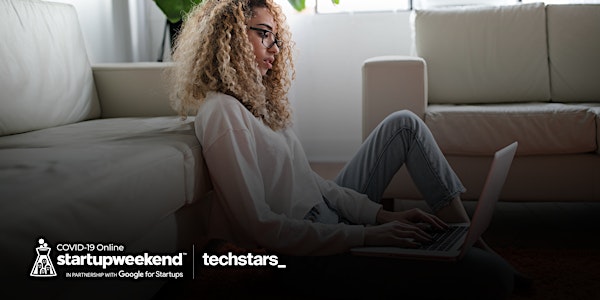 Techstars Global Online Startup Weekend Unite to Fight Covid-19 | Italy 04/20
Politica di rimborso
Rimborsi fino a 1 giorno prima dell'evento
Descrizione
Dall'idea all'impresa in 54 ore!
Al via il Techstars Startup Weekend COVID-19 Online
In questo momento di emergenza inaspettato, l'Italia degli innovatori, dei creativi e degli imprenditori si unisce per dare slancio positivo per affrontare le problematiche derivanti dal coronavirus e immaginare soluzioni ed opportunità per la vita dopo l'isolamento.

Il mondo intero è cambiato in pochi mesi, 196 paesi sono stati colpiti dal COVID-19 e la routine di tutti è stata stravolta. Il network di Techstars ha deciso di rispondere alla chiamata: organizzatori, partner e mentor di tutto il mondo si sono uniti per sfruttare l'isolamento forzato e dar vita ad una nuovo format digitale: il Techstars Startup Weekend COVID-19 Online.


Techstars Startup Weekend COVID-19: in Italia dal 17 al 19 Aprile
Un evento online senza precedenti che rilancia il concetto di "54 ore per passare dall'idea all'impresa" in un'opportunità per unire tutte le città, in eventi di livello nazionale, per pensare a soluzioni fuori dagli schemi.

Come molte nazioni anche l'Italia si impegna a riunire centinaia, se non migliaia, di partecipanti pronti a mettersi in gioco e realizzare prototipi interessanti in tre intense giornate. L'obiettivo non è soltanto individuare soluzioni per l'emergenza attuale ma immaginare prodotti o servizi per il futuro.

Salute e sanità, cultura ed educazione, opportunità di business e inclusione: questi sono solo alcuni dei temi che potranno essere affrontati dalle idee proposte. Da nuove soluzioni per la telemedicina ad innovativi approcci per garantire sostegno ai soggetti indigenti, da nuovi modelli di business per le imprese a nuovi strumenti per favorire lo smart working e le scambio di competenze. Non c'è giusto o sbagliato, è il momento di riunirsi (almeno digitalmente) ed essere creativi!

L'evento sarà principalmente in italiano ma i pitch finali dovranno essere consegnati e presentati in inglese per poter partecipare alla competizione internazionale. Mentor e organizzatori saranno pronti a fornire assistenza sia in italiano che in inglese.

Cosa si vincerà?
Le 3 idee d'impresa italiane vincitrici avranno la possibilità di competere con le migliori idee delle altre nazioni che stanno partecipando all'iniziativa. I 20 migliori team di tutto il mondo parteciperanno ad un Innovation Bootcamp organizzato da Techstars, nonché l'opportunità di incontrare investitori del network internazionale pronti a scommettere sulle loro idee d'impresa.

Come facciamo a fare tutto questo in sole 54 ore?
Global Startup Weekend Italia può vantare il supporto di organizzatori e mentor di tutta Italia (Roma, Milano, Catania, Caserta, Firenze, Messina, Napoli, Pavia, Potenza, Reggio Emilia, Lecce, Brindisi, Salerno) pronti a condividere le loro competenze e il loro know-how con tutti i team per l'intera durata dell'evento. Ogni gruppo sarà supportato da mentor esperti e avrà modo di assistere a 3 webinar utili a concettualizzare e validare la propria idea d'impresa.

Come faccio a partecipare?
Per riservare il tuo posto al Global Startup Weekend in Italia devi registrarti.

Il biglietto è gratuito ma, se vorrai, durante la fase di iscrizione potrai decidere di acquistare un biglietto "con donazione". I soldi raccolti in questo modo saranno donati all'OMS (Organizzazione Mondiale della Sanità) per affrontare l'emergenza.

Ti servirà un computer, una connessione ad internet, tanta voglia di metterti in gioco e poi caffè (tanto caffè).


Ho un'idea, che faccio?
Dopo aver preso il biglietto, se hai un'idea da proporre descrivila brevemente al seguente link entro mercoledì 15 aprile alle ore 23:59.
PROPONI LA TUA IDEA (compila il form)
La tua idea sarà valutata da mentor ed organizzatori, giovedì pomeriggio sarà comunicato la lista delle idee che potranno procedere alla formazione dei team.

Non ho un'idea ma voglio partecipare, che faccio?
Se hai preso il biglietto sei già a buon punto, se non lo hai fatto che aspetti? Dopo aver preso il biglietto, attendi giovedì 16 aprile per scoprire quali idee avranno passato la selezione così da scegliere quella alla quale vorrai contribuire.


---
ENGLISH VERSION

About Techstars Global Online Startup Weekend Unite to Fight Covid-19
This series of online Techstars Startup Weekends are run at a country level, focused on developing solutions that directly tackle COVID-19-related challenges. They are 54-hour online events designed to provide superior experiential education for technical and non-technical entrepreneurs - you'll connect with amazing mentors, industry experts, founders, and partners who are ready to help you get started.
Each country will bring together hundreds or even thousands of participants that will work on prototypes for three days. This event is not only about bringing together developers who can work on software-based solutions for the crisis. It's an opportunity for everyone interested in the topic to inspire and be inspired and to work together on developing inclusive solutions. Here is the website for more details https://covid.startupweekend.org/
Tickets to register your place for the event are completely free but you are able to make a donation. Your donation will go directly to the World Health Organization, who has been at the forefront in the fight against the COVID-19 pandemic. If you prefer not to donate to the WHO, please select the 'free ticket' option. If you wish to make a donation, simply add any amount you wish to donate to the 'Donation' ticket option or select a predefined amount. You don't need to get a 'free ticket' in addition to your 'donation ticket' since making a donation will register you as a participant.
Please note, because Techstars makes the donation on behalf of the event attendees, individuals will not be able to claim this as a charitable donation in personal tax returns and no charitable contribution forms can be issued.
**Please note: Have an idea for a pitch? Before the event starts, you'll have an opportunity to submit your idea using this form. The deadline for submitting ideas is on Wednesday at 11:59 pm (in your local timezone). After all the ideas have been submitted, the mentors will review all submissions to choose the best ideas. On Thursday, the best ideas will then be published for all participants to see, giving participants 24 hours to form teams.
Refund Policy: All donations will be going directly to the World Health Organization. Attendees can receive refunds up to 1 day before your event start date.
Terms of Participation Agreement: It is our job to provide you with an incredible networking and learning opportunity. Our intention is that you meet some amazing people that you might actually start a company with, build relationships with coaches, and learn from your peers.
The event is intended to be a collaborative forum for sharing, learning, building, and having fun. As such, by registering as a participant, you acknowledge that any ideas shared by you or anyone else over the course of the event are contributions to the overall experience and community. If you as a participant are worried about someone stealing your ideas, please reconsider your participation in the event itself or simply refrain from sharing specifics about your idea.
As a member of your startup community, you agree to be inclusive of any and all people and their ideas. You agree to act professionally, treat everyone with respect, and treat the event facilities with proper care. You agree that you are responsible for any accidents or damages that you cause. You also agree to not hold Techstars Startup Weekend, your local volunteer team, or any of the event supporters liable for any loss, damage, injury, or any other unforeseeable incident.
By Participating at the event, you grant Techstars Startup Weekend permission to capture photo/video of the event.
For the Online TSW Covid19 edition, you also grant Techstars Startup Weekend permission to add you to discordapp.com in order that you can participate with your event organising team and participants. You can find the exact legal terms on our FAQ Page but to summarize, we want to share your success with the world.
By purchasing a ticket to a Techstars Startup Weekend event, you are agreeing to our Terms of Use and Privacy Policy. If you have questions please reach out to privacy@techstars.com.