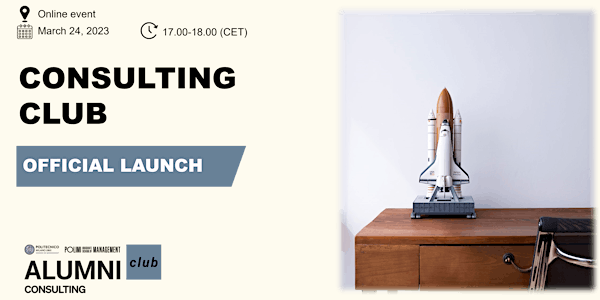 LAUNCH: Consulting Club | POLIMI GSoM + Special Guests
Empowering MBA students & GSOM Alumni to join and excel in the consulting industry
Data e ora
ven 24 mar 2023 09:00 - 10:00 PDT
Informazioni sull'evento
Welcome to the launch event for our consulting club! Today marks the beginning of a new era in which we will work together to help career in consulting succeed and grow.
Our club is made up of a diverse group of talented individuals who have a passion for consulting. We come from various backgrounds and we have a wide range of skills and expertise.
During today's launch event, we will introduce you to our club and its founders. You will have the opportunity to network with us and learn more about what we do. We will also provide a brief overview of how we want to support students and alumni during the upcoming appointments
We are excited to share our vision for the future of our club and hear your feedback on how we can make it even better and better.
So come join us online and get ready to learn more about our consulting club and how we can help you succeed in the world of consulting!