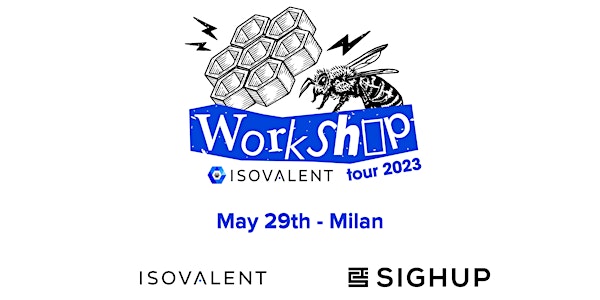 Isovalent Workshop Tour - Milano - SIGHUP
Il Workshop tour di Isovalent si ferma a Milano! Non perderti il Workshop gratuito su Cilium che si terrà il 29 Maggio a Milano.
Data e ora
lun 29 mag 2023 13:00 - 18:00 CEST
Località
Viale Monte Grappa, 3 3 Viale Monte Grappa 20124 Milano Italy
Informazioni sull'evento
SIGHUP, Isovalent e AWS portano in Italia il Workshop Tour 2023 di Isovalent per dare impulso alla community italiana attraverso una mezza giornata dedicata all'approfondimento di Cilium, Kubernetes, networking, observability e sicurezza.


Partecipa al workshop gratuito in lingua inglese che si terrà il 29 maggio a Milano, ti aspettano talk, dimostrazioni e laboratori pratici su Cilium.


Non perdere questa straordinaria opportunità per scoprire come Cilium può potenziare il tuo ambiente Cloud Native. 


Concluderemo la giornata con un meetup organizzato insieme alla Kubernetes & Cloud Native Milano Community per approfondire argomenti tecnologici e conoscerci meglio davanti a birre e pizza.
Ti aspettimo!
---------------------------------------------------------------------------------
ENG
The Isovalent Workshop tour stops in Milan!
Join us in Milan on May 29th for an in-person workshop about Cilium.
SIGHUP, Isovalent and AWS joined forces to empower the Italian community with a half-day dedicated to deep-diving Cilium, Kubernetes, networking, observability, and security.


Join us in Milan on May 29th for an in-person workshop about Cilium with presentations, demos, and hands-on labs.


Don't miss out on this outstanding opportunity to learn how Cilium can empower your Cloud Native environment. 


We will wrap up the day by hosting a meetup with the Kubernetes & Cloud Native Milano Community to explore more tech topics and get to know each other in front of beers and pizza!

Programma
1:00 PM - 1:30 PM
Registration
1:30 PM - 2:00 PM
Introduction by AWS
2:00 PM - 2:30 PM
Introduction by SIGHUP
2:45 PM - 3:15 PM
Cilium - eBPF Powered Networking, Security & Observability
---
Cilium is the next generation, eBPF powered open-source Cloud Native Networking solution, providing security, observability, scalability, and superior performance. Cilium has joined the CNCF as an in...

3:15 PM - 4:00 PM
Lab 1 - Getting Started with Cilium
---
In this lab, we provide you a fully fledged Cilium installation on a small cluster, together with a few challenges to solve. See yourself how Cilium works, and how it can help you securing your moon-...

4:15 PM - 5:00 PM
Lab 2: Security Observability with eBPF and Cilium Tetragon
---
Cilium Tetragon is an open source Security Observability and Runtime Enforcement tool from the makers of Cilium. It captures different process and network event types through a user-supplied configur...

4:15 PM - 5:00 PM
Lab 2: Cilium Service Mesh
---
You already know that Cilium accelerates networking, and provides security and observability in Kubernetes, using the power of eBPF. Now Cilium is bringing those eBPF strengths to the world of Servic...

Domande frequenti
In che lingua sarà tenuto il Workshop?
Info sull'organizzatore
SIGHUP focuses on the automation of IT infrastructure based on Open Source Cloud Native tech stack and has created Fury, an Open Source Kubernetes Distribution. SIGHUP is Cloud Native Computing Foundation (CNCF) certified Training Partner and offers training courses to help with the preparation for Linux Foundation certifications.