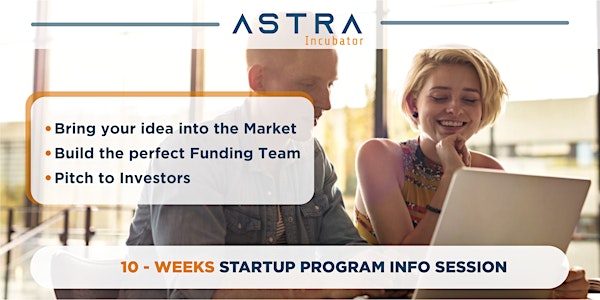 ASTRA Incubator - Info Session
Applications for the third edition of Astra Incubator are now open! Register to the online info session to know more about the program.
Informazioni sull'evento
Astra is the first Italian incubation program designed to connect aspiring innovators and build multidisciplinary teams. Through our proprietary matching engine, our purpose is to form founding teams with brilliant student founders and recent graduates to bring new Italian startups into the world.
Astra targets university students and recent graduates, who are currently working on their business idea or want to join a new founding team. Selected teams will be guided through a 10-week journey, grounded in the principles of the Lean Startup Approach, from customer discovery through MVP development to pitching in front of a panel of investors during our ShowCase Day. Teams will have access to 20+ hours of exclusive video content, weekly coaching sessions, a pool of successful mentors, founders, and leaders in the Italian and International innovation scene.
Applications will be open from October 2nd until October 31st, 2022, at apply.astraincubator.com. For more information regarding Astra and its incubation program, visit astraincubator.com.