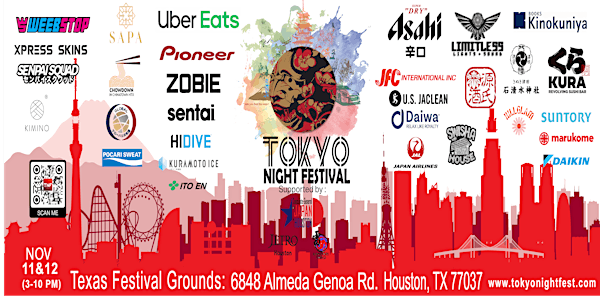 BIGGEST Japanese Event in Texas - TOKYO NIGHT FESTIVAL 2022
Don't miss your chance to attend the largest Japanese Festival in Texas! Culture, cars, food, live concerts, art, sumo, and so much more!
When and where
Location
Texas Festival Grounds 6848 Almeda Genoa Rd Houston, TX 77075
About this event
Food Vendors:
• Shun Japanese Kitchen
• Tokyo Maid Cafe
• ONIGIRI (Gourmet Japanese rice balls)
• Tatsunoya Ramen
• Hako Bento Box Company
• Ramen Tatsuya
• Japan Bites
• Japanese Association of Greater Houston (Takoyaki)
• Aqua S
• Burger Chan
• Cao Bao
• Click Virtual Food Hall
• Crawfish and Noodles
• Dumpling Haus
• The Fattest Cow
• Teagu Cafe
• Oh My Gogi
• Marukome
• Kuramoto Ice
Special Guest Vendors:
• Global Republic
Drink Vendors:
• Atcha
• Hella Bubble
• BB Concessions
• Dream Eaters Coffee
• Asahi
• Genji Sake
Special Guest Vendors:
• Kimino Juice
• AND MORE TO BE ANNOUNCED!
Live Performance Artists:
• Zeebra - Japanese Hip Hop Artist
• G Yamazawa - Nisei Japanese Hip hop Artist
• Kaminari Taiko Houston
• Takumi Kato - World Wadaiko Champion
• Hiromi Onoe - Onoe-Ryu Traditional Japanese Dance
• Paida - American Japanese Idol
• Juju - British Dancer/Choreographer
• Nevos Tyler - Houston Hip Hop Artist
• Melancholiaaah! – Houston-based J-rock Artist
• Michael Martin –Kendama Performer
• Innerlux – Dark pop duo
• Aymi – Debuting solo artist from California
Special Guests:
• Japanese Consulate General - Murabayashi Hirofumi
• Swisha House
• Michael "5000" Watts
• JunePurrr - Webtoon Author of SubZero
• Zoey Lee - @miisopunny
• Cassimoon - @arts_cassimoon/@cassimoon
• Kyatorin
• Luximity
Voice Actors:
• Anthony Hunter
• Blake Shepard
• Bryson Baugus
• Christina Kelly
• Jay Hickman
• John Gremillion
• John Swasey
• Kyle Jones
• Olivia Swasey
Guest Vendors from Japan:
• Global Republic - Japanese artisan craft merchandise/souvenirs
Guest Vendors:
• Daiwa/US Jaclean
• Zobie Production - Charity Auction
• Oishii Imports - JDM Classic Car exhibit
Merchandise Vendors / Artist Alley Vendors
Featured Vendors:
• The Weeb Stop
• Xpress Skins
• Senpai Squad
• Tokyo Night Merch Booth
• Zobie Production
Vendor List:
• Agave Art• Anime Armory• Bizzy Being Lizzy• Chaotic Neutral• DecoJuku• Doki Duckie• Drag Candy• figmaWORLD• G.M. Anime• Habiteer Workshop LLC• Hellodawnco• Henpai Haven• Kumo Bunny Creations• LeLelacy Crafting• Moonlightz• Mya Accessories• Peachy Kitsu• Peanut Butter Pigs• Pop Resin• Random Smash• Ravenshire Hobby• Shakenbake Art• Sugar Skulls by Maggie DFW• The Smallest Giraffe• Tokyo Night Merch Booth• Venus Dreams of Art• Witchy Bitch Co• AND MORE TO BE ANNOUNCED!
Martial Arts
• Official Sumo Tournament
• Kendo Showcase
• Jiujutsu Demonstration
• AND MORE TO BE ANNOUNCED!
Tokyo Night Festival has UPGRADED!!!!
This year we have increased our hours and are now 2 DAYS! Our new venue TEXAS FESTIVAL GROUNDS is 20-acres large -- enough to occupy 10X the amount of last years capacity. We will be the largest Japanese Festival the nation has seen and will be breaking records!!
Additionally, Tokyo Night Festival has teamed up with Sky go Wifi, La La La Entertainment, Japan UP Magazine, and Japanese Association of Greater Houston -- all of which are Japanese-owned and operated organizations supporting Tokyo Night Festival to help represent and bring the Japanese community together in Houston.
Our goal is to:
"Bring a Piece of Japan to Houston"
This a party you don't want to miss!
Additional Info:
Children ages 5 and under will be FREE; children (ages 6-15) and seniors (60+) will have discounted options available at the door. Military/Service discount will be offered at door.