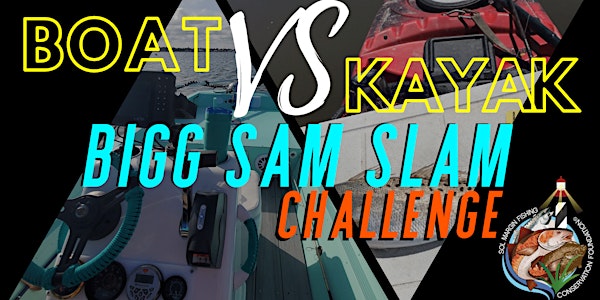 Bigg Sam Slam Challenge Charity Inshore Fishing Tournament
Location
The Willie Galimore Community Center
399 Riberia Street
St. Augustine, FL 32084
Bigg Sam Slam Challenge Charity Fishing Tournament (Team Edition)
About this event
BENEFITING
SOL MARGIN FISHING & CONSERVATION FOUNDATION
SMFCF is a 501(c)(3) non-profit that aims to educate the community and fellow anglers about habitat and wildlife conservation, as well as safe angling techniques.
SMFCF aim not only to educate others about the sport of fishing, but also wants the community to be educated on how they can be good stewards of their environment.
For more info about SMFCF visit https://www.solmarginfishing.org
The Bigg Sam Slam Challenge, is just that--a Challenge. This fishing tournament is inshore and is for both adult and youth anglers. In place of a weigh in, anglers must log their fish data via the iAngler app. This information helps conservation organizations collect data as to fish migrations, population locations, and sizes. Anglers aim to catch 3 species of fish: flounder, redfish, and trout. This is called a "slam". Their fish must be in-slot, meaning that the fish cannot be over a state regulated size. This makes The Bigg Sam Slam Challenge a very rare tournament as anglers are not just going for the "biggest catch", but must use skill and a little bit of luck to catch all three species.
Challenge: Boat and Kayak teams will all go head to head in one big free for all to see who is the best.
Note: Teams will be 2 person max for boats and kayaks. There can be 1 person teams as well but you compete against all teams. All logged catches counts as one team score.
MORE INFORMATION at BIGGSAMSLAM.COM
Bigg Sam Slam Challenge: Captain's Meeting
Date: Friday, Nov 6, 2020
Time: 7pm-8pm
(THIS MEETING IS MANDATORY)
Bigg Sam Slam Challenge: Awards
Date: Saturday, Nov 7, 2020
Time: 5pm-6:15pm
(ANGLERS MUST BE PRESENT FOR ENTRIES TO COUNT)