bigBANG! Conference

Friday, October 28, 2011 from 9:00 AM to 5:30 PM (EDT)
Event Details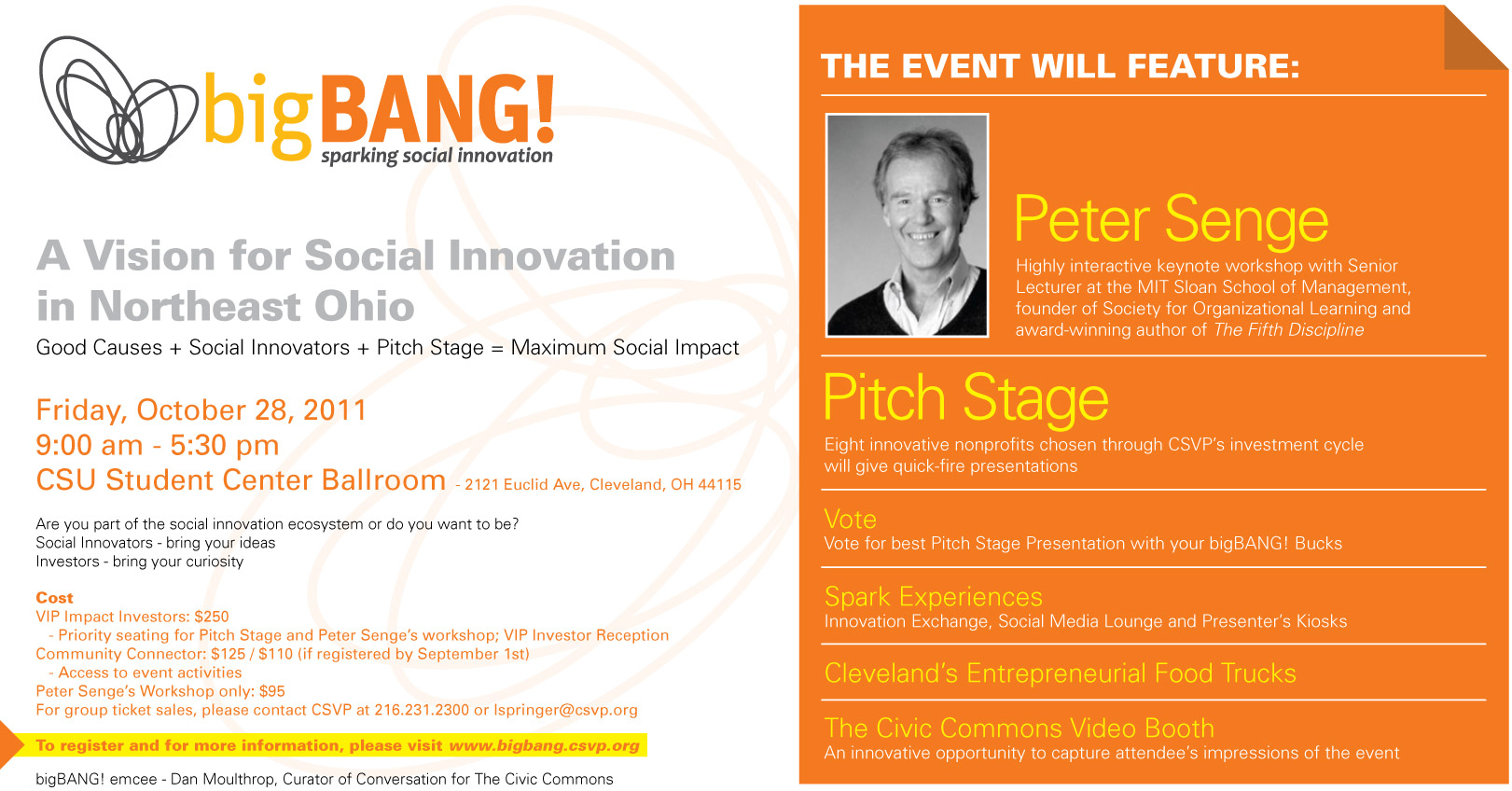 bigBANG! A Vision for Social Innovation in Northeast Ohio
CSU Student Center, October 28th, 2011 9:00am to 5:30pm
The BigBANG! Cleveland, a forum hosted by Cleveland Social Venture Partners, will convene investors, social entrepreneurs, nonprofit leaders and philanthropies for a day-long opportunity to catalyze positive impact. The event, emceed by Dan Moulthrop of the Civic Commons, will feature eight innovative nonprofits chosen through CSVP's investment cycle. Conference-goers will experience the Pitch Stage, Innovation Exchange, Spark Lounge, Presenters' Kiosks (collectively, Spark Experiences), and a highly interactive afternoon keynote workshop with renowned author, Peter Senge, of the MIT Sloan School of Management. Entrepreneurial Food Trucks and the Civic Commons Booth give Cleveland a new way to experience a conference. Conference participants will also have the opportunity to vote with their "bigBANG! bucks" for the best Pitch presentation.
bigBANG! 2011 will:
Establish Cleveland and Northeastern Ohio as a place where social innovation flourishes

Help individuals build capacity for innovation in the community

Convene impact investors with nonprofit innovators to identify good ideas to support

Showcase opportunities for individuals to learn how they can be part of socially innovative initiatives

Engage conference-goers in a keynote workshop with Peter Senge, renowned MIT author of The Fifth Discipline, and his new book, The Necessary Revolution. Senge is the founder of the Society for Organizational Learning.
---
bigBANG! Agenda
9:00 – 9:30am: Registration 
9:45am: Welcome from SVP
10:00am – 11:00am: Pitch Stage 
11:15-12:30am: Innovation Exchange
12:30–2:00pm: Open time for LUNCH 
Voting with your bigBANG! bucks
Spark Lounge – learn social media, get help setting up Twitter on your phone!
Civic Commons "Mobile Engagment Booth"

Visit Kiosks of Presenters
2:15–5:00pm: Keynote Workshop with Peter Senge
5:00pm: Announce winners, thanks for coming
5:30pm: VIP Igniters reception with Peter Senge – *Igniter sponsors, Fast Pitch Presenters, SVP Partners invited to attend*
---
Getting to bigBANG! 
We encourage conference-goers to take public transportation to bigBANG!, if possible. 
The CSU Student Center is readily accessible by the Blue, Green, and Red Lines via Tower City - Public Square Station. 
From Tower City - Public Square Station take the Healthline to the East 19th Street Stop on Euclid Avenue
Walk to East 21st Street
The CSU Student Center is located between East 21st Street and East 22nd Street
*For maps, schedules, fares, and connections check out the RTA Website*
Parking Information:
Parking will be $6 per car and is available in the garage underneath the CSU Student Center.  The entrance to the garage is off of E. 22nd Street, which is a one-way street north off of Euclid Ave. The CSU Student Center Garage is on the left (Lot 22). Overflow parking will be one block south off off E. 21st and Prospect - South Garage (SG).
*Click here to view a CSU campus map*
---
How to Become a CSVP Partner
If you would like to become a CSVP Partner find more information our website
Partner Contribution Levels:
$5000 to become a Partner
$2,500 to become an Associate Partner (Under 40 years old)
bigBANG! Cleveland is a project of:
with
When & Where

Student Center
Cleveland State University
Cleveland, OH 44115


Friday, October 28, 2011 from 9:00 AM to 5:30 PM (EDT)
Add to my calendar
Organizer
Social Venture Partners

Social Venture Partners (SVP) is the largest network of engaged donors in the world. We build powerful relationships among people and organizations committed to changing our world. With our collective power, we help individuals make a greater impact with their giving, we fund and strengthen nonprofits, and we equip our community to tackle our greatest social challenges.
SVP goes beyond philanthropy. Together, we unleash potential.