Description
Join us ten years after the epic walk that began it all.
Start: Metropark Station
Finish: NY Penn Station
Distance: 50mi
Return: train
Coordinator: Paul Kiczek
Transit: NJTransit train to Metropark. Return via NJTransit or Path from Jersey City with transfer to NJTransit at Newark.

Optional endpoints:

- Cranford Station 16mi
- Newark Penn Station 28mi
- Jersey City Path train 42mi
Join us for the tenth abnniversary of our first official walk! Our premier challenge event. Van support provided for most of walk.
As we have done in the past, our walk primarily follows the East Coast Greenway. And, the East Coast Greenway Alliance has promised outstanding support along the way. We walk from Metropark station in Iselin, NJ to Penn Station, NYC.
This is our most diverse walk, from tranquil parks and rivers to friendly communities to industrial parks and cities - this one has it all. The walk is conveniently near rail lines which makes using mass transit a big plus. If you prefer, create your own challenge by jumping on or off the walk at various schedule points.
Here are the 3 major segments of the walk. We suggest if you want to walk only part of the 50 mile total, join us that day roughly according to the scheduled time we expect to be there:
Segment 1 - Metropark to Cranford

- 6:00 a.m. to 9:30-10:30 a.m. (12 miles)

Segment 2 - Cranford to Newark

- 10:30 a.m. to 5:00 p.m. (16 miles)

Segment 3 - Newark to NYC Penn Station

- 5:30 - 11:00 (13 / 20 miles)
Visit NJ2NY50.org for more details
Guide for the Big Walk A handout with map and schedule will be provided at the event.
Highlights:
- Rahway River Park
- Nomahegan Park
- Weequahic Park
- Newark
- Intersection hell
- Jersey City
- Lincoln Park
- Liberty State Park
- Hudson waterfront

The FreeWalkers are tracking again the Cross-Jersey Walking Challenge, which sets a goal of walking the 100 miles of the East Coast Greenway across the entire State at any time during the year. This walk is part of the ECG trail from Trenton to New York City. We provide recognition of the accomplishment at the end of the year and you can subscirbe at any time.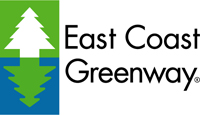 Partners:
The East Coast Greenway Alliance is a non-profit organization developing a public multi-use 3,000
mile trail from Canada to Key West through New Jersey and New York. Donations and memberships help make this dream trail a reality.