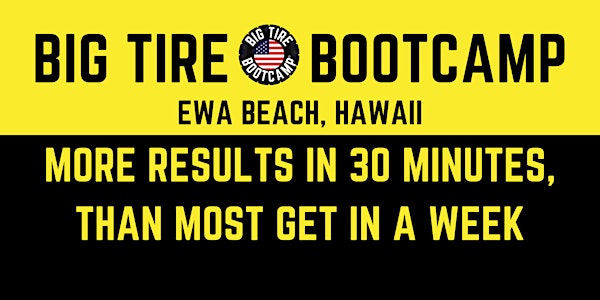 Big Tire Boot Camp - Outdoor Fitness - Ewa Beach, HI
Big Tire Outdoor Fitness Bootcamp - Building a STRONG Community You will get more results in 30 minutes here , than most get in a week.
When and where
Location
AMVETS west Oahu Veterans Center 5001 Iroquois Avenue Ewa Beach, HI 96706
Refund Policy
Contact the organizer to request a refund.
Eventbrite's fee is nonrefundable.
About this event
START Your Fitness Journey at the Big Tire Bootcamp.
The Big Tire Bootcamp is the perfect workout for anyone looking for a full body workout in just 30 minutes. Whether you're a beginner or an experienced exerciser, this bootcamp workout will challenge you and help you achieve your fitness goals.
If you're looking for a fun and unique way to get fit and back into shape, look no further than the Big Tire Outdoor Fitness Bootcamp! This bootcamp is held outdoors in a beautiful setting and is perfect for all fitness levels.
When you attend a big tire outdoor fitness bootcamp, you can expect a high-intensity, full-body workout. Each 30 minute Class incorporates a variety of functional exercises, including strength training, cardio, and plyometrics. You can expect to work up a good sweat, and you'll likely see results in just a few weeks.
Our bootcamp is designed to help you burn calories and sculpt your body while having a blast outdoors. We'll provide all of the equipment you need, and our experienced instructors will guide you through every workout.
We are locally owned and operated and are a proud affiliate of the West Oahu Veterans Center AMVETS Hawaii.
Classes are every week:
Tuesday 5:30pm
Wednesday 5:30pm
Thursday 5:30pm
Saturday 8:00am
Located at the West Oahu Veterans Center (AMVETS) 5001 Iroquois Ave., Ewa Beach, HI. On Warriors Field. Located just outside the Kapilina Beach Homes gate. Plenty of free parking, clean restrooms.
Here's how to join:
Purchase a ticket at www.bigtirebootcamp.com or you may pay at class with cash, venmo or online.
Contact:
💬Message me for more information
💻 Visit www.bigtirebootcamp.com
📲 Call or text 808-222-2205
📧 Email info@forfathersfitness.com
.
.
#outdoorfitness #fitness #fitnessmotivation #workout #bootcamp #outdoorworkout #outdoortraining #personaltrainer #personaltraining #training #fitfam #outdoor #motivation #fit #outdoors #healthylifestyle #gym #exercise #outdoorgym #groupfitness #cardio #functionaltraining #hiit #running #fitnessjourney #nature #sport #instafit #health
Located in beautiful Ewa Beach, HI at the west Oahu Veterans Center (AMVETS). The Big Tire Outdoor Fitness Bootcamp is the BEST and most effective way to:
Get Strong
Relieve Stress
Burn Fat
You will get more results in 30 minutes than most people get in 1 week! Come join the other Road Warriors and see why everyone is talking about the Big Tire Bootcamp.
Your class tickets NEVER Expire. Book the class date and time that works for you. We look forward to seeing you during that time. We know life happens, so if for any reason you cannot make your scheduled class, you may attend any future class (pending space availability). Classes do sellout quickly so by reserving your date and time you guarantee your spot in that class.
We guarantee results or your money back!
10 REASONS WHY THE BIG TIRE OUTDOOR FITNESS BOOTCAMP WILL GET YOU RESULTS
1. GET FASTER RESULTS IN 30 MINUTES
Burn more fat, lose more weight, have more energy than traditional boring and ineffective gym workouts. Let's face it, everyone is busy and time is very precious. You don't have hours to spend in the gym everyday only to not get the results that you want. We have taken the most time efficient and effective functional workouts and stacked them together to create the Big Tire Outdoor Fitness Bootcamp. In 30 minutes you will get more results and do more towards improving your health than most get in 1 week with traditional workouts.
2. GREAT FULL BODY WORKOUTS
We do things differently here. Burn up to 3x the calories as traditional workouts. When you experience how you can train in 30 minutes and the results you will get, you won't want to train anywhere else. Our high intensity interval training will push you to your limits. Enjoy a variety of workouts with energetic music and clear instructions.
3. STAY MOTIVATED AND ACCOUNTABLE
What do we mean by accountable? When was the last time your gym contacted you to ask where you have been if they have not seen you in a while? I am guessing probably never. We will reach out to you if we haven't seen you in a while or you missed a scheduled class. Why? Because we genuinely value and care about our clients and know from experience that consistency gets results and we are committed to your success and supporting your individual journey. Consistency is KEY to making RESULTS happen. Therefore, ACCOUNTABILITY is what makes the Big Tire Outdoor Fitness Bootcamp the best option for achieving the results you deserve.
4. BEST-IN-CLASS COACHES
Our coaches are attentive to proper form and technique and can adapt exercises for you. Let us know about physical limitations or injuries before you get started and we will set you up for personal success.
5. SCIENTIFICALLY PROVEN, REAL WORLD RESULTS
The Big Tire Bootcamp fitness system is based on REAL exercise science and is the result of over 20 years of development and testing. Scientifically designed to burn fat while maintaining muscle while making you strong and conditioned. You will build strength, endurance and agility to conquer your daily routine and help you meet the physical activity recommendations for healthy adults.
6. LEVEL UP
The Big Tire Outdoor Fitness Bootcamp uses our own proprietary levels system. A color-coded achievement system that members earn as they achieve new levels of fitness. This serves as a reminder to clients of the commitment they are making to themselves and demonstrates to the world the commitment they are making to health and fitness. It is NOT about competing with anyone else…it's all about being better than you were yesterday. You prove this to yourself by progressing through the level system. This is not a "get a participation" medal system, these levels are hard earned.
7. FAMILY FRIENDLY WORKOUT ENVIRONMENT
Work out in a challenging and supportive family friendly environment. Families with children over the age of 13 are welcome. The family that works out together, GETS STRONG TOGETHER! Bringing a new meaning to the phrase Generational Health! You become who you are surrounded by, therefore a Supportive Community of like-minded people will MOTIVATE and INSPIRE you!
8. STRENGTH WITHIN YOU AND IN NUMBERS
You will workout as part of a small rotating "unit". Each workout consists of 10 stations. Your small unit (4-6 members) rotates through each station where you will work continuously for 2 minutes, followed by a 1 minute rest/ transition to the next station. Go at your own pace and feed off the energy from the group.
9. FUN CHALLENGES AND COMMUNITY EVENTS
In addition to the fat burning, strength building Bootcamp classes. Members enjoy ongoing challenges and community events. Once a month members may "test" their level of fitness on the Big Tire Obstacle Course. A 22 Obstacle, go at your own pace, "O" Course. The goal is to test your fitness progression and conditioning.
10. THE AFTER BURN EFFECT - EPOC
EPOC stands for Excess Post-exercise Oxygen Consumption which is the increase in oxygen uptake your body experiences after exercise. As your body continues to consume oxygen at an elevated rate, your body continues to burn calories, even after you exercise. High-Intensity Interval Training (HIIT) is the most effective way to stimulate the EPOC effect. That extra burn can translate into more total calories burned, additional weight loss benefits and an enhanced performance during each session!
Please make sure to complete and sign the: