Sales Have Ended
Ticket sales have ended
Thank you for reserving your campsite for the upcoming Big Ticket Festival June 23-25, 2016. We will be contacting you within 14 days to confirm the details of your order.
Sales Have Ended
Ticket sales have ended
Thank you for reserving your campsite for the upcoming Big Ticket Festival June 23-25, 2016. We will be contacting you within 14 days to confirm the details of your order.
Description
Big Ticket Festival 2017 Camping
NEW Prime overnight Parking! $40 for whole full festival pass. Park your vehical and come and go as you please!
Stay right onsite at the Fairgrounds. Nearly 1000 sites to choose from. Both Utility and Primitive Sites are available, depending upon what your needs may be. Join thousands of other BTF fans in our Camping Village. Plently of Hot Showers and Restroom Facilities on Site. Camping sites are non-refundable.
Camping Layout: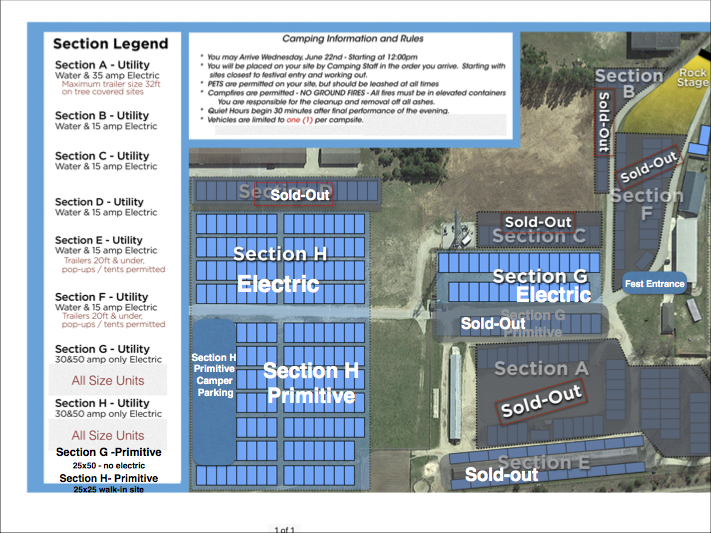 Camping Regulations:
Arrival & Check-In
Gates open for Check-in Wedensday, June 21nd at 12:00pm.
Gate Hours for Check-in are as follows: Wednesday, 6/21: 12:00pm-9:00pm. Thursday, 6/22, 7:00am-9:00pm, Friday 6/23, 7:00am-9:00pm. Campers arriving after this hour will have to wait until the next day to be placed onto their campsite. Schedule of hours may be subject to change, so please confirm before planning your arrival.
Upon your arrival you will be shown to your campsite by BTF2016 Camping Staff. Campers will be placed into their section and onto sites as they arrive, starting with the sites closest to the Festival Entry and working out to Fairview St. We will do our best to accommodate any requests we receive. Once assigned sites, changing location is not permitted. Campers wishing to be near each other should arrive at the same time.
Site Size and Restrictions

The majority of our Campsites are 25 ft. wide, The length of the site varies by section. Primitive sites are 25ft x 25ft and some Section A sites are up to 50 ft. long.
You are welcome to place as many units on your site as you wish provided you stay within its borders.
ONLY ONE CAR IS PERMITTED PER CAMPSITE! We ask that once you have settled into your site, you leave your car at the site until your departure from the Festival. Should you need to leave the festival grounds for supplies, vehicles may leave and re-enter between the hours of 6:00am-9:00am. For the safety of all pedestrians, we ask that you pay close attention as you drive. Additional vehicles may park in general festival parking, but overnight parking is not permitted in General Parking. Vehicles left overnight will be towed at owners expense.
Pets are allowed at your campsite if they are quiet, contained, and picked up after. Pets are not permitted into the General Festival Area.
Alcohol is not permitted on the Big Ticket Festival grounds or at the Campground. Individuals found in violation will be asked to leave the property.
No Smoking is Permitted at anytime on the festival grounds or in the campground.
Campfires are permitted in our onsite camping area. Fires must be in an above ground container and all ashes must be removed from your site when you leave.
Generators are permitted on your Primitive site. We ask that all generators be turned off during overnight quiet hours.
Trailers are permitted on Primitive Campsites. Your trailer must fit onto your 25x25 site with no part outside that border. Mutiple sites may be purchased to accommodate larger trailers. The Maximum Size Trailer on a single primitive site is 22ft, to provide for Fire Lanes.
.
Organizer of Big Ticket Festival 2017 Camping