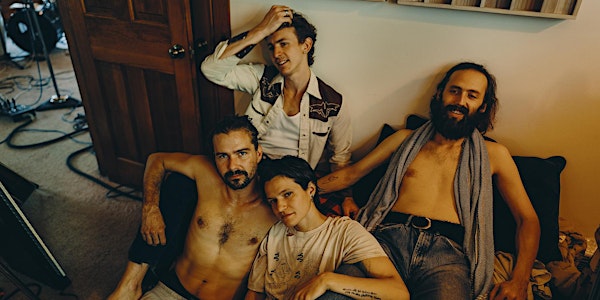 Location
Asbury Hall at Babeville
341 Delaware Avenue
Buffalo, NY 14202
Big Thief live in Asbury Hall with Buck Meek
About this event
Please Note: To ensure the safety of all concert goers, artists, and our staff, all patrons will be required to wear a mask (unless actively drinking) AND provide proof of full COVID-19 vaccination (two weeks past second shot) OR proof of a negative COVID PCR test (received within the past 48 hours) to enter Asbury Hall. If vaccinated, please sign up for the NY State Excelsior Pass Application for easy access on your phone. We will also accept your physical vaccination card or a clearly legible photo of your vaccination card on your phone. If unvaccinated please bring printed or digital proof of your recent negative PCR test.Thank you for your understanding and for helping keep one another safe.
A MESSAGE FROM BIG THIEF:
Dear Fans,
We are touring in uncertain times yet we are so excited to be able to play music with you again and get back to doing what we love. Our intention is to return to tour as safely as possible for everyone at the shows. We will require proof of vaccination or a negative PCR test within 48 hours and that people wear masks to attend our upcoming shows. As a band, we have been anticipating this for a really long time but we are not sure how this will feel. All we can do is take it day by day. We're grateful to be able to give it a shot and be on this journey with you all.
Love,
Big Thief
***Big Thief has partnered with PLUS1 so that $1 per ticket goes to supporting Fugees Family and their work empowering refugees to integrate successfully into their new country by providing them the support and structure they need to realize their vast potential.***
30 miles west of El Paso, surrounded by 3,000 acres of pecan orchards and only a stone's throw from the Mexican border, the band Big Thief (a.k.a. Adrianne Lenker, Buck Meek, Max Oleartchik, and James Krivchenia) set up their instruments as close together as possible to capture their most important collection of songs yet. The band had only just finished work on their 3rd album, U.F.O.F. -"the celestial twin"- days before in a cabin studio in the woods of Washington State. Now it was time to birth U.F.O.F.'s sister album -"the earth twin"- Two Hands.
In sharp contrast to the wet environment of the U.F.O.F. session, the southwestern Sonic Ranch studio was chosen for its vast desert location. The 105-degree weather boiled away any clinging memories of the green trees and wet air of the last session. Two Hands had to be completely different— an album about the Earth and the bones beneath it. The songs were recorded live with almost no overdubs. All but two songs feature entirely live vocal takes, leaving Adrianne's voice suspended above the mix in dry air, raw and vulnerable as ever. Where U.F.O.F. layered mysterious sounds and effects for levitation, Two Hands grounds itself on dried-out, cracked desert dirt.
Anybody who has borne witness to Big Thief in the wild will find songs they recognize here. Much of the album's tracks ("The Toy", "Those Girls", "Shoulders", "Not", "Cut My Hair") have been live staples for years. "Two Hands has the songs that I'm the most proud of; I can imagine myself singing them when I'm old," says Adrianne. "Musically and lyrically, you can't break it down much further than this. It's already bare-bones."
Lyrically this can be felt in the poetic blur of the internal and external. These are political songs without political language. They explore the collective wounds of our Earth. Abstractions of the personal hint at war, environmental destruction, and the traumas that fuel it. Lyrics like "And the blood of the man who killed my mother with his hands is in me/ it's in me/ in my veins" are genuine attempts to point the listener towards the very real dangers that face our mother planet. When Adrianne sings "Please wake up," she's talking directly to the audience. "Attention is power," she says. "I believe you can manifest something on the other side of the world just by using your power well."
Engineer Don Monks and producer Andrew Sarlo, who were both behind U.F.O.F., capture the live energy as instinctually and honestly as possible. The journey of a song from the stage to the record is often a difficult one. Big Thief's advantage is their bond and loving center as a chosen family. They spend almost 100% of their lives together working towards a sound that they all agree upon. A band with this level of togetherness is increasingly uncommon. If you ask drummer James Krivchenia, bassist Max Oleartchik or guitarist Buck Meek how they write their parts, they will describe—passionately—the experience of hearing Adrianne present a new song, listening intently for hints of parts that already exist in the ether and the undertones to draw out with their respective instruments. It is an honor to give life to these intricacies.
With raw power and intimacy, Two Hands folds itself gracefully into Big Thief's impressive discography. This body of work grows deeper and more inspiring with each new album. While you listen, let your own two hands rest in front of your body with palms facing inward and see what power grows between them.
Buck Meek opens the show!
The first word on Buck Meek's new record, Two Saviors, is 'pareidolia.' It is a word about recognizing shapes where none were intended to exist— like searching for images in the clouds. It is an uncommon word, with a beautiful sound, and serves as an apt guide through these new songs of Buck's, which are themselves uncommon and beautiful, and which invite a deep, cloud-gaze state of attention.
The record was made in Louisiana, but it is important to start with Texas. It is the hidden point of dilation that makes all of these songs cohere, gel, carbonate. Think about the Texas flag; one red stripe, one white stripe, a field of blue and the lone star— the base unit of the American formula.