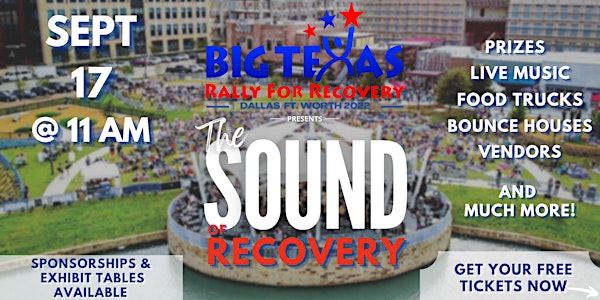 Big Texas Rally for Recovery DFW 2022: The Sound of Recovery
Join Us On September 17, 2022, friends and family as we connect in RECOVERY across the great state of Texas. #BTRR2022 #TheSoundofRecovery
When and where
Location
The Sound at Cypress Waters 3111 Olympus Blvd Dallas, TX 75019
About this event
Big Texas Rally for Recovery 2022
"The Sound of Recovery"
What is recovery?
"Recovery is a process of change through which individuals improve their health and wellness, live a self-directed life, and strive to reach their full potential." - SAMHSA
On September 17, 2022, friends and families across Texas will gather at the Sound at Cypress Waters, for a day filled with fun, family and friends as we celebrate the 33th Anniversary of National Recovery Month.
This year marks the 13th Anniversary of the Big Texas Rally for Recovery. The Big Texas Rally for Recovery was originally initiated by Texas Recovers, a coalition of 8 Recovery Community Organizations across the state. The Rally was originally held on the steps of the Texas State Capitol in Austin, but has "traveled" over the last few years and this year will be held in 5 cities throughout the state. -- www.bigtexasrallyforrecovery.org
Every September, the Substance Abuse and Mental Health Administration (SAMHSA) promotes National Recovery Month to celebrate people in all paths of recovery, those who serve them, and the community at large. On September 17, 2022, the Big Texas Rally for Recovery Dallas Ft. Worth will serve as the culmination of many activities that take place during Recovery Month.
This is a free community event! Reserve your tickets today!
There will be:
Entertainment
Guest Speakers
Grand Prizes
Food Trucks
Lakeside Restaurants
Children's Activities
Catch and Release Fishing
And, much, much more!
Please share with friends, family, parishioners and others. There will be thousands on hand to beam a light on what Recovery looks and sounds like!
Can we count on your support to make this the best year ever?
We look forward to having you join us as we celebrate our friends and families across Texas. Together We Are Stronger! Please contact us for details on how you can lend your support, volunteer and help us get the word out.
Sponsorship opportunities are still available: Please contact: Bigtexasrallyforrecovery@gmail.com for sponsorship opportunities.
For information about National Recovery Month visit www.recoverymonth.gov.
To see how much fun we had last year visit: https://bigtexasrallyforrecovery.org/