Description
Join locally renowned Trail Guy Malcolm MacGregor and Wildlands Trust staff for an ambitious 11-mile trek from the Wildlands Trust headquarters at Davis-Douglas Farm to Abner Pond (Cachalot Scout Reservation) in the Myles Standish State Forest. This is the second half of the Big Ramble 2018, a 22-mile hike through protected lands in Plymouth. Part 2 will traverse varied but mostly flat terrain through conservation areas protected by the the Massachusetts Department of Conservation and Recreation and Wildlands Trust. Hikers are invited to join either Part 1 or 2 or both - you do not have to hike Part 1 to register for Part 2. Part 1 will be the previous Sunday, June 10 (separate registration).
This hike is for experienced and ambitious adult hikers - you must have experience hiking 10 miles or more over varied terrain. You MUST register by 8:00 pm on 6/16/18. Must be 18+. Please read all rules of the Big Ramble before registering.
Meet at Cachalot Scout Reservation no later than 9:00 am and carpool to Wildlands Trust. From MSSF entrance at Long Pond Rd., follow signs for Cachalot - you'll see Wildlands Trust vehicles parked near the gate and kiosk when you arrive. Drivers parked at Cachalot will be asked to bring carpool drivers back to their cars afterwards - about a 15-minute drive.
Rules for the Big Ramble:
- You must be at least 18 years of age to register for this program.
- Pets will not be welcome on the Big Ramble.
- This program is limited to 15 participants. You MUST register in advance, and all participants must register for themselves - a maximum of 1 ticket per attendee.
- You must come properly prepared (see below). For the safety of the group, we reserve the right to refuse hikers who show up underprepared.
- Medical disclosures: You are responsible to disclose any medical issues, allergies, or other issues that could complicate your ability to safely participate in this event or affect any First Aid treatment in the event of an emergency. You must convey this information on the Big Ramble Participant Information form. You must also include an emergency contact who is not on the hike. This form will be provided on the morning of the hike and will be carried by a staff member during the hike.
- Liability and Publicity: You will be asked to sign a liability and publicity consent form on the morning of the hike. Failure to do so may result in dismissal from the program.
- Positive attitudes and cooperation: This is a social experience. We hike together & stick together as a group at the pace of the slowest member. Positive & cooperative attitudes only.
- Rain or shine event. Difficult weather may cancel and/or modify the event. We will notify registered participants of any changes as decisions are made.
What to Bring:
Please review the updated "ten essentials" for hiking.
Your pack MUST at a MINIMUM be equipped with:
Hydration - at least 2 liters of water!
Nutrition - lunch and snacks - high protein and carb foods! We'll stop halfway through for lunch.
Insulation - you must carry a rain shell!
Sun Protection - sunscreen and sunglasses/hat.
In addition, we recommend:
Sturdy, waterproof hiking boots are strongly recommended. Unsafe footwear such as flip-flops will not be allowed.
Long pants to protect yourself from TICKS, poison ivy, scratches, and sun.
Bug spray.
Electrolyte tablets to add to water.
For the safety of all, we reserve the right to refuse any participants who arrive unprepared.

To round out the "ten essentials", Wildlands Trust staff will carry:
Navigation - map of the planned route and surrounding area and compass. In addition, Malcolm will hike the trail beforehand.
First-aid supplies - Malcolm and the Wildlands staff will have fully equipped first aid kits and are CPR/First Aid certified.
Nutrition - Wildlands staff will carry extra food and electrolyte tablets.
Sun protection - Wildlands staff will carry extra sunscreen and bug spray.
Illumination - staff will have headlamps if needed.
Tools of choice for staff member.
Emergency supplies - Wildlands staff will carry emergency blankets, whistles, etc.
Questions? Contact Rachel Calderara at rcalderara@wildlandstrust.org, 774-343-5121 x108.
Big Ramble - Part 2, 11 miles: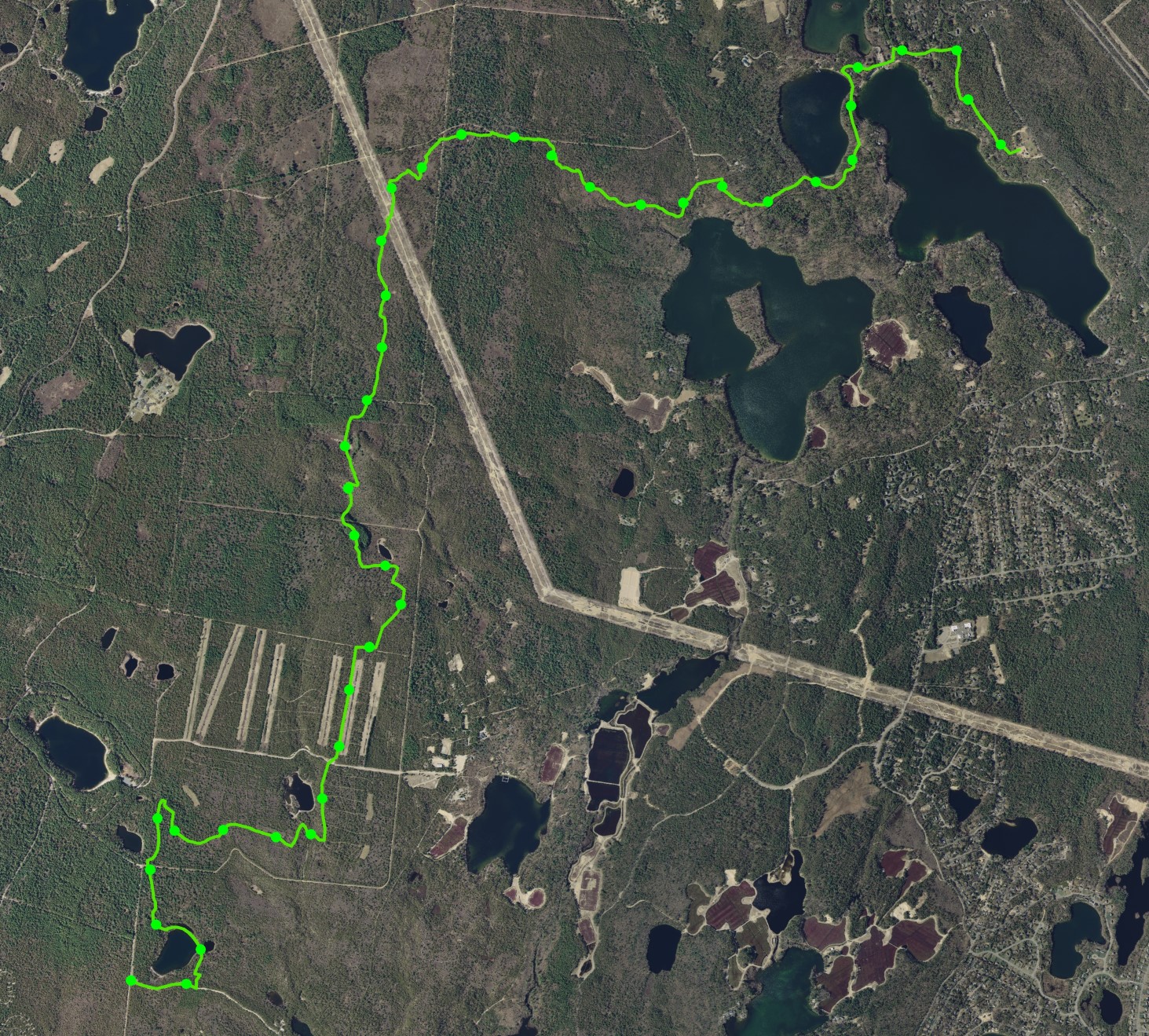 Big Ramble 2018 - 22 miles: