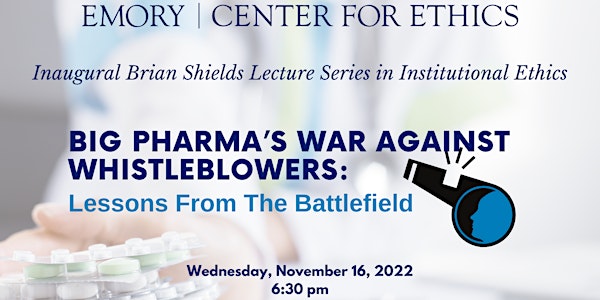 Big Pharma's War Against Whistleblower: Lessons from the Battlefield
Join the Center for Ethics as we host the inaugural Brian Shields Lecture Series in Institutional Ethics.
When and where
Location
Emory University's Goizueta Business School 1300 Clifton Road Atlanta, GA 30322
About this event
Join the Center for Ethics as we host the inaugural Brian Shields Lecture Series in Institutional Ethics.
Brian Shield's experience is a real life lesson in the ethical challenges facing those involved in the health care industry—including pharmaceutical corporations. Preventing the issues he confronted in his previous work environment, and providing strategies for students as they prepare for careers in business, is a personal mission for Shields.
This event will feature not only Shield's story, but that of Jeb White as counsel to whistleblowers and Bill LaCorte, who has successfully fought fraud within the pharma industry. The conversation will be moderated by Dr. Paul Root Wolpe, Raymond F. Schinazi Distinguished Research Chair in Jewish Bioethics; a professor in the departments of medicine, pediatrics, psychiatry, neuroscience and biological behavior, and sociology; and the director of the Center for Ethics.
More information on our panelists below.
This event is free and open to the public. Light refreshments will be served.
Brian Shields (02B) was the whistle blower in a massive case against Genentech and the drug Tarceva, settled in June 2016. Brian worked as a pharmaceutical sales rep and filed the lawsuit against Genetech in 2011. The basis of the claim was that Tarceva was marketed en-mass as an effective cure for lung cancer when in reality it was scientifically proven to only impact a very specific population with a specific genetic mutation.
Jeb White is one of the country's leading advocates for whistleblowers. He has represented the interests of whistleblowers before the United States Supreme Court and in the lower courts throughout the country. He has been whistleblower counsel in a variety of actions, with allegations ranging from fraudulent hospital systems to corporate kickback schemes. As a tireless advocate of corporate ethics, he has testified in front of the United States Congress and nearly a dozen state legislative bodies. As a trusted authority of the law, Mr. White has penned amicus curiae briefs in five United States Supreme Court cases; and has he been a trusted source for the Department of Justice and other officials in need of whistleblower and corporate compliance expertise. He is the host of the YouTube show and podcast FRAUD IN AMERICA.
Dr. William LaCorte is a practicing Geriatrician and Internal Medicine doctor. He has successfully blown the whistle on several pharmaceutical companies for fraud.
For more information, please contact Natasha Lebowitz (natasha.lebowitz@emory.edu) or Alison Kear (akear@emory.edu).