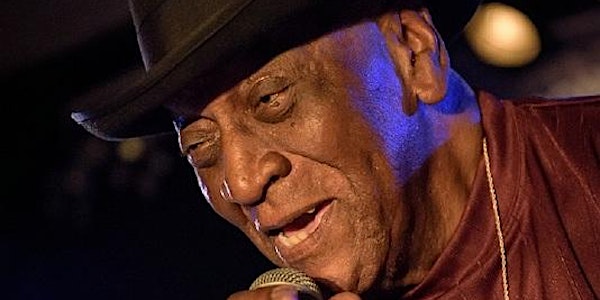 Big Pete Pearson King of Blues
Doors Open: 6PM. Doors Close 1AM . Cover Charge $20 There is a 2 drink minimum per guest (alcohol or non-alcohol)
Date and time
Friday, May 12 · 7:30 - 11:30pm MST
Location
Westside Blues & Jazz 17045 North 59th Avenue Glendale, AZ 85308
Refund Policy
Contact the organizer to request a refund.
About this event
Premium seating reservations only held until start of music. Open seating after the start of music. Please arrive early and no refunds.
Please note there is a 2 drink minimum per guest (alcohol or non-alcohol)
Born in Kingston, Jamaica on October 4, 1936, Big Pete Pearson landed in Phoenix, Arizona in the 1950's by way of Austin, Texas. He was raised by his grandparents in St. John's Baptist community just outside Austin. His grandfather was a minister and his grandmother was a missionary. Big Pete was only 9 years of age when he gave his first performance at a local bar. He was a regular at juke joints such as the Victory Grill, Charlie's Playhouse, Big Mary's Bar & Grille, Ernie's Chicken Shack and Sam's Showcase. "Playing in these juke joints was dangerous, real dangerous", says Pete. "But I played them anyway and those were my growing up years." Big Pete has not left the stage since and is a veteran performer/song writer of 71 years and has been on countless festival and club stages throughout the world.
In the 1950's Pete came to Phoenix and has ruled the Phoenix blues scene ever since. His physical stature and overwhelmingly strong voice commands attention. He is a father figure to many bluesmen and women who have cut their teeth playing in his band. Though he is a local legend, being inducted in the Arizona Blues Hall of Fame in 1995, Big Pete's greatness is known throughout the world and these days spends more time performing in Europe than in the United States. In the last couple of years Big Pete has become a European household name performing with his European band, The Gamblers. (You are invited to go to youtube.com and type in, "Big Pete Pearson and the Gamblers". There you will see some of his many performances in France). While in the States he performs with his other band, The Big Pete Blues Band.
Over the years Big Pete has worked with legends such as Ray Charles, B.B. King, Muddy Waters, John Lee Hooker, Tina and Ike Turner, Big Joe Turner, Etta James, Aaron Neville and the Neville Brothers, Koko Taylor, Gate Mouth Brown, Johnny Ace, T.D. Bell, Big Mama Thornton, T-Bone Walker, Screamin' J. Hawkins, Pinetop Perkins, Joey DeFrancesco, Buddy Guy, Janiva Magness, Erbbie Bowser, Blues Boy Hubbard, Candye Kane and an endless array of others.
Big Pete has created and written many albums but his most memorable CDs include, "One More Drink", "I'm Here Baby" (which hit # 1 worldwide and won Best Blues Album of the Year at the Independent Music Awards in 2007) "Finger In Your Eye", his 2009 release, "The Screamer". Since the Screamer's release it has hit #1 worldwide on the blues charts.
In April of 2012, Big Pete released his newest album entitled, "Choose", his first album recorded with celebrated Italian blues band, The Gamblers. Today, Big Pete can be seen, more often than not, performing live in Europe with the Gamblers.