NETWORKING & BOOK PRE-LAUNCH EVENT ~ For Creatives, Entrepreneurs & working on BIG ideas. Produced by Sharee Lewis and Trevor Blackman
About this event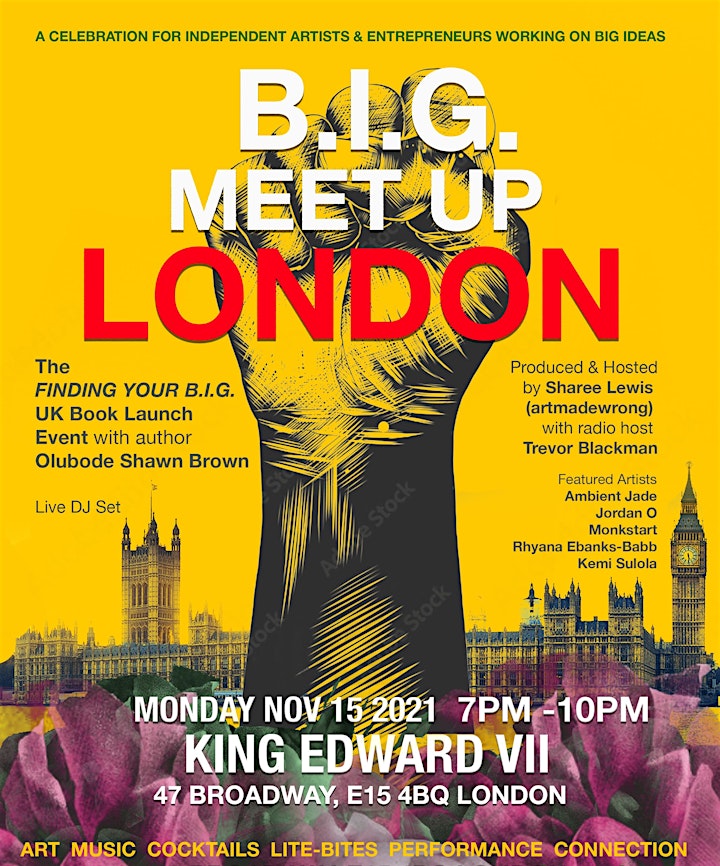 B.I.G. MEET UP ~ London
ART • MUSIC • COCKTAILS • LITE-BITES • PERFORMANCE •CONNECTION
B.I.G. MEET-UP ~ LONDON is a Celebration For Independent Artists & Entrepreneurs Working on BIG Ideas.
This event is the UK book pre-launch and signing of Finding Your B.I.G. by New York based author Olubode Shawn Brown the founder of BLOOM ~ A Global Collective For Visionaries & Change-makers. It is the second in a series of events happening in New York, London and Accra.
Creatives and entrepreneurs are invited to BRING YOUR BIG TO THE TABLE!
The evening will take the form of a conversation with the author, guided by creative Sharee Lewis, of artmadewrong and award-winning radio host, Trevor Blackman. We will share our stories, processes and creativity.
With Featured Artists:
Ambient Jade, Surreal Visual Artis, Jordan O, Singer Song-writer, Poet & Creative Writer, Rhyana Ebanks-Babb, founder of P.L.A.N.N Wholesome Empowerment Group, and Kemi Sulola, Singer Song-writer and Monkstar.
This is event offers creatives & entrepreneurs:
A platform to tell your story and be heard
A new experience, new information and insight
A space to show, tell and share your work
Connection to a global network of creatives
Attendees are asked to:
Bring a sample of your work to show & tell.
Bring your circle of friends who are also up to BIG things.
Purchase at least one item for sale during this event.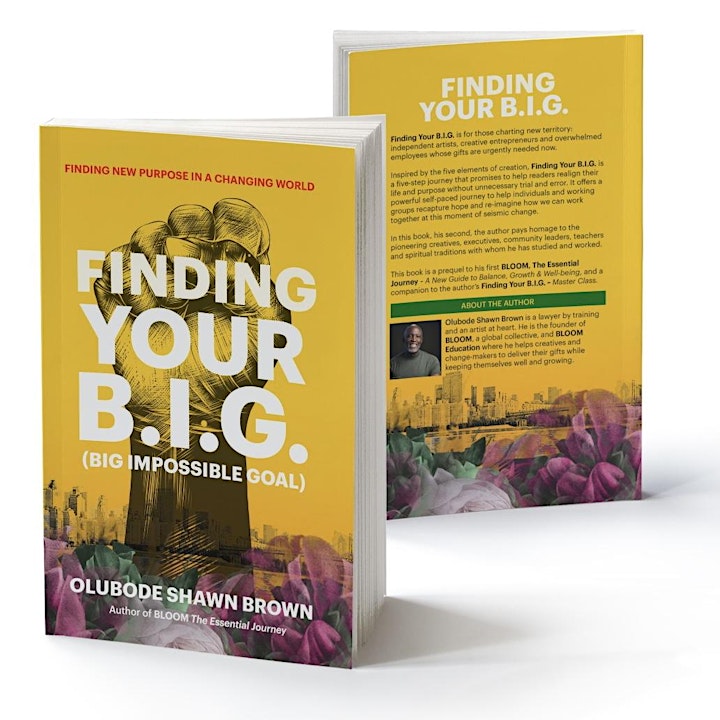 FINDING YOUR B.I.G. offers a powerful five-step journey, inspired by the five elements of creation. It is a journey to re-align our lives and purpose in these rapidly changing times for greater empowerment, simplicity, freedom and fulfillment.Signed color illustrated pre-launch copies will be available at this event.