Big Impact Experience: Grow Your Business With Public Speaking
About this Event
Learn Our "Signature Talk Marketing" System to...
Get more speaking gigs and speak more often
Position yourself to instantly stand out as an expert
Make a bigger difference and impact more lives
Reduce your sales cycle and increase conversion
Attract high paying clients


You'll discover the power and simplicity of adding public speaking to your business. You'll learn how to get more speaking gigs, rock your talk and attract a flood of qualified leads to your business.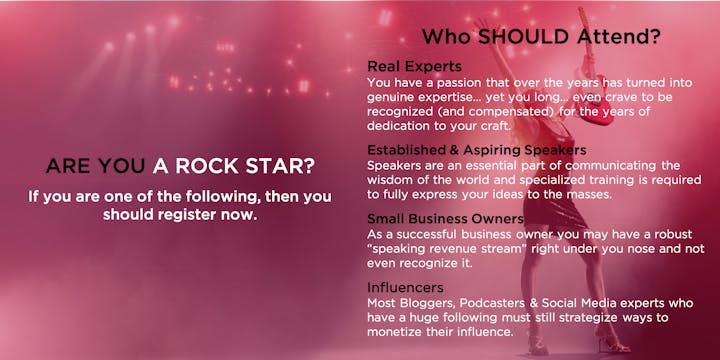 Like Never Before... Your Voice Matters
The truly brilliant among us are honoring the call. Experts, Speakers & Influencers from all over the world find their way to "Big Impact Experience where your power is unleashed through the platform of public speaking.


DAY #1: Clarity - You'll experience more "value bombs" than you can possibly remember as we lay out, step-by-step, how to use public speaking as a predictable system within your business.


You'll learn how to...


Attract clients every time you take the stage
Communicate and present persuasively
Secrets of the Speaking Industry
Effectively focus on the things that grow your business
Optimize performance with powerful states of consciousness


You'll learn how to create consistent income without overwhelm.
-------------------


DAY#2: Power - Your "inner-game" overhaul. You'll access a powerful psychology to help you manage overwhelm and stress. This is where we address the inner patterns, doubt, fears and old ways of thinking that in the past have limited your impact and income.


You'll learn how to...


Make business your spiritual practice and step fully into your calling
Abolish patterns that keep you locked in emotion
Go Pro - And walk the mastery path
Shift & improve your relationship to your own power
Incorporate "cause marketing" into your business


You'll learn to access the power within you to take new... bold actions!
-------------------


DAY #3: Leverage - You'll have epiphany after epiphany as you start to see public speaking as the ultimate leverage in your business. You'll see how to simplify your business model to attract a higher pedigree of client and how to leverage your expertise with the power of events.


You'll learn how to...


Leverage the power of "Tribes" to make huge leaps... FAST!
Get more speaking gigs and attract more stages
Get more exposure and visibility
Use the power of events to attract a flood of clients all at once
Use ceremony to build culture & communicate your brand


You'll learn how to leverage ALL of your expertise and exponentially improve your production, leadership and ability to communicate persuasively.
-------------------


Join us for what is truly the best business event in the transformational industry and discover what it means to have a Big Impact Experience.
Your stage is waiting.
Go for it.