Big Girl PAJAMA JAMMIE JAM Club Swerve Friday Night 8/22

Friday, August 22, 2014 at 9:00 PM (PDT)
Event Details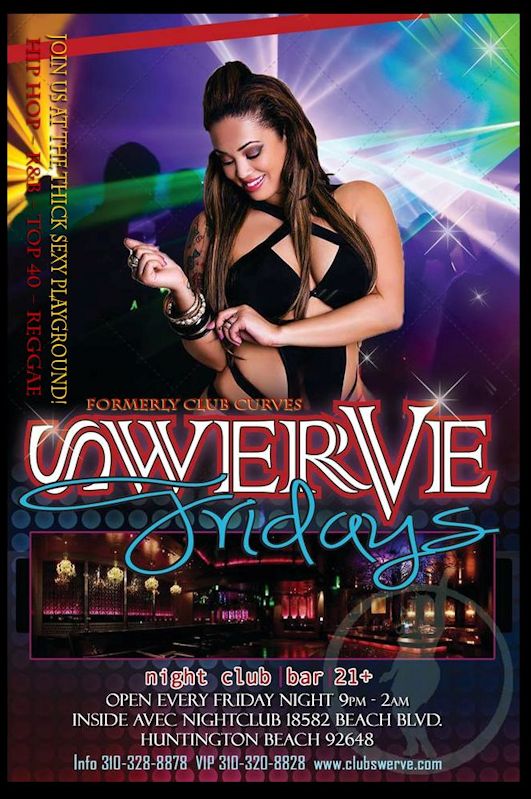 Buy your ticket in advance and get FREE FRONT OF THE LINE ENTRY!  Buy your ticket here, print out the ticket and bypass the line for direct entry. Come directly to the doorman, show your ticket and your ID and you are IN! 
---
We expect this event to reach capacity early in the night but your prepaid ticket GUARANTEES your entry into the hottest event in town!! 
EVEN if we DO reach capacity, you are FRONT OF THE LINE and IN THE DOOR!!
PAJAMA JAMMIE JAM AND BOOTY SHAKIN CONTEST FRIDAY 8/22
ITS PAJAMA JAMMIE JAM TIME!
This Friday 8/22 the first ever Swerve PAJAMA JAM is goin down in our gorgeous new venue! Finally we get to see that sexy lingerie, those cute jammies and maybe T-Shirt and panties? So fellas br...eak out those silk robes or um Batman jammies because its gonna be a smooth night....... Oh yeah i forgot one small thing it's Swerves First EVER BOOTY SHAKIN Contest EVER and we are gonna make it rain $$100$$ on the first ever Swerve Booty Shakin Queen! Will it be YOU? Come be a part of history or maybe even make it either way you don't want miss this night (must be in lingerie or jammies to participate in the contest). So its time to turn up and dress down because right after the club its BEDTIME. $$ Discount all night with my password OSOFOXY.

PREPAY YOUR TICKET $10 - GUARANTEE ENTRY AND FRONT OF THE LINE Available only until noon on Thursday so don't delay. www.clubswerve.eventbrite.com

DRINK SPECIALS $5 Well Drinks and 16oz Beers and $6 Long Islands til 10:30!!
PAJAMA JAMA PARTY BUS $45 Round Trip Includes Drinks on the Way, Front of the line VIP entry AND VIP seating at the club! www.pjpartybus.eventbrite.com
To Book VIP events call 310-320-8828
310-320-8828 or visit our website at www.clubswerve.com.

PAJAMA JAM THIS FRIDAY 8/22
Inside the Beautiful AVEC Nightclub 21+
18582 Beach Blvd Huntington Beach 92648
Off the 405 Fwy at Beach Blvd 2 Miles South to Swerve - The Evolution of Club Curves
Pajamas or Lingerie are NOT required but if not in theme you must be in dress code.
Info Line 310-328-8878
310-328-8878
VIP 310-320-8828
310-320-8828
www.facebook.com/clubswerve
www.instagram.com/thebiggirlclub
www.twitter.com/thebiggirlclub
www.flickr.com/thebiggirlclub
www.youtube.com/thebiggirlclub
For more information or to book a party visit
www.clubcurves.com
or call/text 310-328-8878. 
When & Where

Club Curves the Big Girl Club Swerve
18582 Beach Blvd
Huntington Beach, CA 92648


Friday, August 22, 2014 at 9:00 PM (PDT)
Add to my calendar
Organizer
The Big Girl Club / Shadoe Gray
Big Girl PAJAMA JAMMIE JAM Club Swerve Friday Night 8/22