Description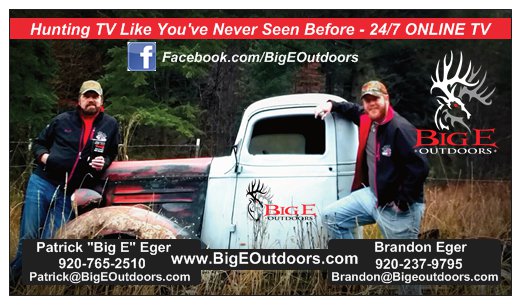 Big E Outdoors Spring Fling!
Good Day Folks it is time to begin making reservations for the ANNUAL Big E Outdoors SPRING FLING!
What is the Spring Fling? It is a Pro-Staff Retreat for BEO Staff members, Fans, Wanna Be Pro-Staff, folks looking for great deals on hunts and an idea sharing event! Basically for EVERYONE connected to Big E Outdoors Regardless of your interests! We do the Spring Fling once a year and the FALL Blast also once a year!
In short, it is an event CENTERED around the Outdoors, how to earn money in the outdoors, how to get your hunts filmed if you wish, How to share your experience with MORE friends and family and how to enjoy the rewards to the MAX!!!!!!
Instead of having a 1 day event that all of you fly in, rush through a meeting and fly out… BIG E is changing it up a bit.
MAIN EVENT: The Meeting is Saturday May 13, 2017. LUNCH is included in your registration! As well as some EXTRA bonuses! The event and rooms in our block are at the GREAT Kalahari Resort. This venue contains an indoor waterpark (one of the largest in the world), Restaurants, a casino just down the road, shopping, indoor mini golf and games, Bowling, and a 15 screen movie theater! Included in your room stay are wristbands for use of the waterpark for each person in the room! SO BRING THE FAMILY, BRING THE KIDS, let them have fun, enjoy the weekend and learn some cool things as well… after all, we do this to spend more time with our families, right? So, let's start here!!!!!
We will have a great selection of speakers and motivation planned. This is gonna be fast paced, FUN and did I mention FUN?! We are here to learn, share success tips and meet some great people. This will occur twice a year folks and it is DESIGNED specifically for those looking for the OUTDOOR benefits of the A.L.L. membership.
Saturday Eve: The evening after the event, Join The Big E TV Crew and other Surprise guests At the Steakhouse for a great meal if you wish to join us!
Before and After: BUT WAIT FOLKS THAT is not all. The Big E Group has lined up activities for the day before and Day After that you can choose from! So, get here EARLY, get the kids into the waterpark and let's go have some OUTDOOR FUN!
SCHEDULE -
Friday May 12th : Available at The Big E Group Rates - Join us for an afternoon of Sporting Clays or 9 holes of golf in a four man scramble fun competition! Win some cool prizes from the Big E Outdoors Gang!
Join us for Dinner on your own, with raffles, free drawings and prizes!
If you want to explore the Great Wisconsin Dells on your own Friday Evening, check out Go Kart Tracks, museum's, Theme parks and more!
Saturday May 13th: ALL INCLUDED IN YOUR REGISTRATION - The Big E Outdoors meeting starts at 8 a.m. and goes to 5 p.m. The day will consist of training and ideas on how to build yourself as a business in the outdoors, spend more time doing what you enjoy most, earn gear, money and get free hunts and fishing trips. Monetize YOUR following, create residual income, Meet Outfitters from around the World, Speak directly to Bobby Hart about shooting tips and many more great topics by MANY great speakers and trainers. Lunch is included in your registration fee.
After the event: at a time to be announced the Big E TV gang will be headed to the adjacent Double D Steak House where you are invited to join us (Dutch treat) for an evening of great food and fun! Meet surprise guests and Outfitters that partner with Big E Outdoors!
Door Prizes, Raffles and Prizes the day of the event!
Sunday May 14th: Available at The Big E Group Rates - The Day after you can choose to take part in the HART Custom Rifles LONG RANGE SHOOTING SCHOOL. Learn to shoot long range with a custom hunting rifle OR with your own deer hunting favorite. Have you always wanted to take that long shot on a trophy that just won't get close???? We will learn how to do that from a WORLD Champion Long Range Shooter! Mr. Bobby Hart himself. Want a DEAL on that gorgeous custom rifle of a lifetime??? Hart Custom rifles will be taking orders during the convention to accurize your old favorite, or build you a NEW custom Rifle just for you at a Members only price for that weekend only!
we will also have Sporting Clays available as well as a Round of GOLF in the fun style of a 4 person scramble. Lots of prizes available for that as well. If you don't like either of those, there is Mini Golf, Shopping, Golf Carts tracks and Casino's all nearby!
These extra activities will be available at the group rate that is forwarded to Big E Outdoors without any mark up. It's about having fun, enjoying the outdoors and enjoying the family!
Your Registration Fee will include the Main event, Lunch at noon on Saturday, tickets to a special GUN RAFFLE, a hat and T-Shirt from Big E Outdoors! So, what are you waiting for? Get booked TODAY!
During the event, certain PREMIUM Hunt locations will be on hand to offer SPECIAL pricing on Outdoor Packages that weekend ONLY! So, bring your calendar for the next couple years! We will have multiple raffles, drawings and some great causes on location!
FLY In - to Madison Wisconsin Airport (CWA) and we will have a limo pick you up and bring you to the Kalahari – Fly In Thursday Evening or Friday Morning and stay THROUGH Sunday! Stick around, enjoy it all, make friends, and ENJOY all that we have to offer!
Event Registration – Pre Reg, (march) = $95 per person. (April registration = $110, At the door = $125.
Rooms at Kalahri = $119 Friday Night, $129 Saturday Night. Each night of stay allows you FULL access to the waterpark!
Shooting School, Sporting Clays and Golf will be posted as soon as we get confirmation.
HINT: start planning for our FALL BLAST! In November or early December…. This will be at a HUNTABLE location!!!
To get registered, send Big E a Private message or an email at bigeoutitters@yahoo.com NOBODY in the Big E Outdoor following will want to miss this!