Big Data Cloudification Bootcamp

Multiple Dates
Event Details
Overview
With the landscape of big data and cloud computing still evolving and maturing, it is a very challenging and complex endeavor to deal with the assessment, justification, adoption, planning, selection, verification, and formation of a feasible path to the confluence of big data and cloud in a systematic and rightly-paced manner.
The Big Data Cloudification Bootcamp is an intensive content-packed workshop to effectively jumpstart or accelerate the big data cloud awareness, understanding, ramp-up, knowledge, and retooling for attendees. It aims to equip the participants with the in-depth know-how and field experience about the big data and cloud concepts, characterization, business values, terminologies, usage scenarios, evolution history, major players, platforms, taxonomy, standards, roadmapping, transformation, operationalization, modeling, design, engineering, solutioning, development, implementation, lifecycle, governance and management.
The hands-on sessions bridge the current IT knowledge assets with big data and cloud, facilitate the retooling of existing skillsets of IT stakeholders and accelerate the transition with boosted cloudification readiness of resources. The working examples and case studies demonstrate the practical use of big data in cloud in the real-world projects with best practice guidelines and lessons learned, which helps the participants quickly learn how to apply what is covered in the camp to their daily work.
What
Course Objectives:
Cover the foundational aspects of Big Data and NoSQL

Present an end-to-end lifecycle model for strategic adoption and pragmatic roadmapping

Explain a comprehensive categorization scheme for NoSQL products and packages

Walk through a reference architecture with a platform stack

Introduce the basic and advanced methods for NoSQL solutions

Study the high-level architecture design and considerations in Big Data solutioning

Explore emerging disciplines and forward-thinking outlook

Discuss the best practices from the real-world use cases and innovative implementations
Part I: Introductory – 3-day class
This course introduces the basic concepts and fundamental principles of big data and NoSQL. Learn about the big data lifecycle and adoption. Examine the step-by-step strategization and operationalization of big data and NoSQL technologies. Familiarize with the NoSQL landscape and classification of a variety of products and packages in the market. Study the basic methods and techniques. Dive deep to the Hadoop stack and internal components. Look into the CAP Theorem. The class also discusses real-world case studies in great details with multiple hands-on exercises every day.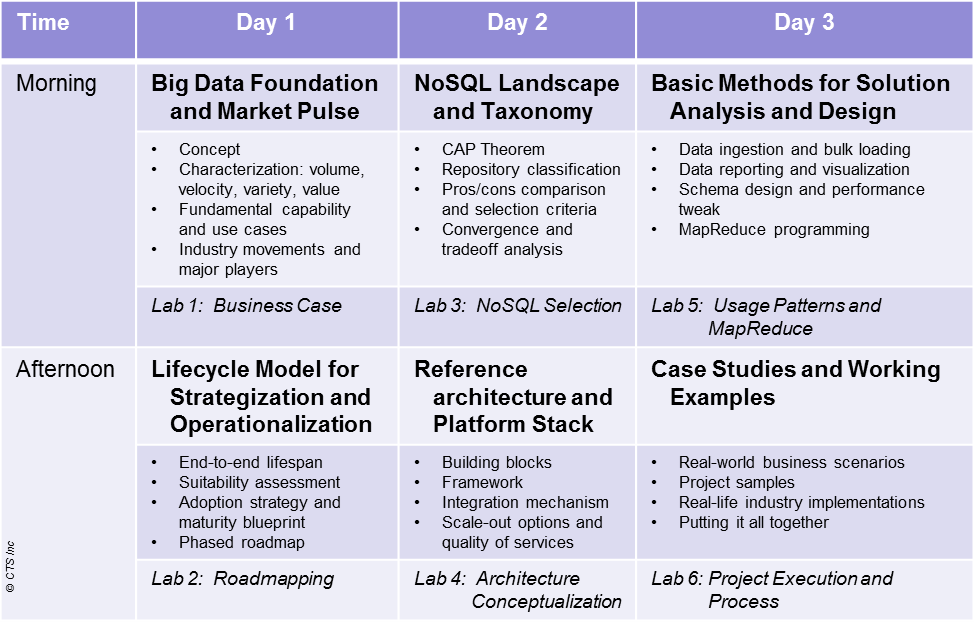 Part II: Advanced – 3-day class
This course covers the advanced methods and disciplines of big data and cloud. Understand the reference architecture and platform stack. Learn the advanced methods and patterns. Study the high-level cloud-based architecture design and considerations in big data solutioning. Explore the synergy of big data with cloud service and deployment models. Investigate the disciplines of big data engineering and applied cloud engineering. Walk through predictive analytics solutions. The class also covers leading-edge practices and future trends, coupled with real-life use cases and hands-on labs.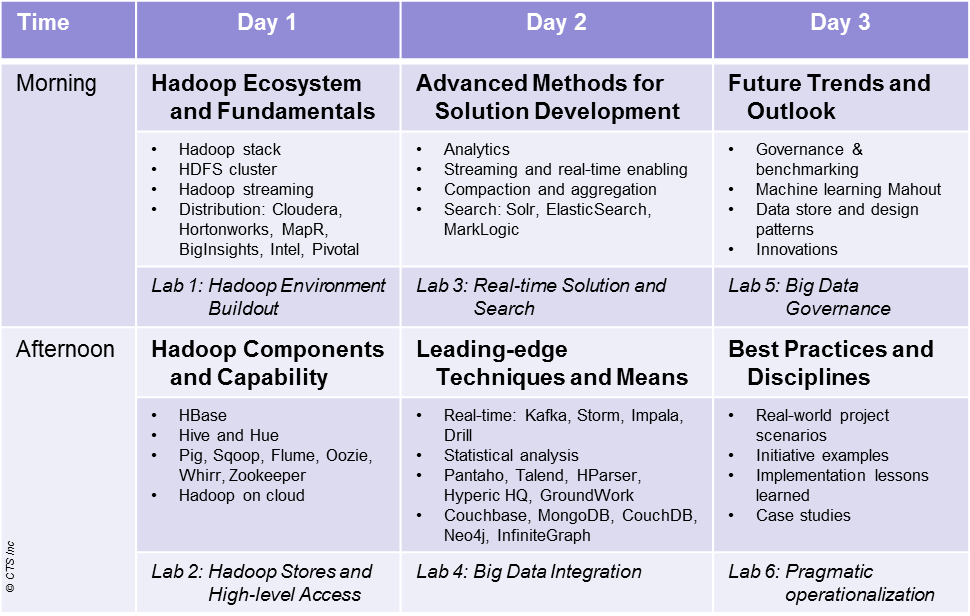 Why
After the training, the attendees will be equipped to identify the key features, benefits, impacts and use cases of the big data solutions and NoSQL databases on-premise or off-premise. They will be able to explain the terms and best practices related to NoSQL and recognize key considerations and tradeoffs, which they should keep in mind, while designing cloudified big data applications and NoSQL data stores in a systematic fashion. They will be capable of applying when they have learned to the implementations of big data solutions and cloud deployments in production environments.
The bootcamp is technically sponsored by Services Society. The classes are taught by seasoned practitioners who have been pioneering innovations in emerging technology areas such as Big Data, Cloud, Social, Mobile, SOA.
Who
This introductory training is intended for junior and senior professionals with little or some years of development and implementation of IT solutions. The advanced class may be taken by well-experienced practitioners directly, or by junior/senior professionals after completing the introductory-level session.
General understanding of distributed applications and solution development lifecycle are expected for the participants, but there is no prerequisite to attend.
When
Part I: Introductory class – June 27-29, 2013. 9:00am-4:00pm PDT
Part II: Advanced class – June 30-July 2, 2013. 9:00am-4:00pm PDT
Where
The bootcamp is co-located with IEEE Big Data Congress and Cloud Computing 2013. The event address is:
Santa Clara Marriott
2700 Mission College Boulevard
Santa Clara, CA 95054
Tel: +1 408-988-1500
How
Instructor-led workshop with lectures, labs, team exercises and group discussions

Style: public class

(at least 1 attendee will win an iPad upon completion of training)

Registration: Pre-registration is required at

http://bigdatabootcamp.eventbrite.com

. Communications will be followed with those who have registered here for different payment options to complete the enrollment.

Class fee: standard rate - $1688/head for each class.

Early registration deadline: May 31, 2013

More info or question:

hadoopify@cloudmaturity.com
Where

Santa Clara Marriott
2700 Mission College Boulevard
Santa Clara, CA 95054


Multiple Dates
Add to my calendar
Organizer
Computing Technology Solutions (CTS) Inc. is an IT development, consulting, advisory, and training firm that helps businesses to innovate and IT to transform by harnessing the power of emerging technologies and advanced disciplines.
Our instructors are well-experienced certified professionals in the big data, cloud. IoT, SMAC, EA, and Microservices areas with at least 30 years of real-life project work in large organizations. They are published authors of books, research journals, and IT magazines, with thought leadership and practical field expertise. They are teaching in a truly practitioner-to-practitioner fashion by sharing in-depth knowledge and hard-earned real-world practices of how to pragmatically solve complex business problems with leading-edge technologies.
CTS has trained and mentored professionals from numerous organizations in public and private classes through the last 25 years. In addition to chairing panels and running tutorials, our instructors have also been presenting talks on leading-edge technologies in hundreds of international industry conferences like Big Data Expo, Data Summit, Big Data Techcon, NoSQL Now, Hadoop Summit, Spark Conference, Big Data Congress, OpenStack Conference, etc.