Big Data and Social Physics: Big Changes Coming for Planning and Policy
About this Event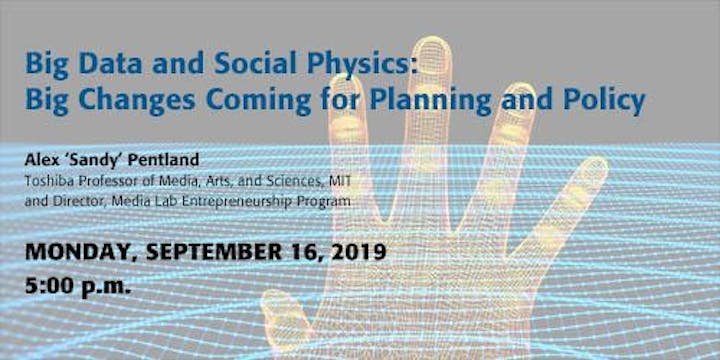 Big Data is about finding connections––connections with the people around you, and connections between people's behavior and outcomes. Understanding these connections between people is the core to making transportation systems work well, making energy grids work efficiently, making financial systems stable, and making future social systems safe. The challenge is how to analyze these connections and develop new ways of building safe, inclusive, and effective systems based on understanding these connections. In this discussion, Dr. Pentland will discuss new resources becoming available that––together with advances in computational social science––will transform planning and policy decisions for the future.
Alex Pentland was co-creator of the MIT Media Lab, founder of the MIT Connection Science and Human Dynamics Labs, and leads the Media Lab Entrepreneurship Program. His work focuses on using "big data" and advanced analytics to understand human behavior at scales from individual to countries. One of the most-cited authors in the computational sciences and a member of the U.S. National Academies, he is also influential in national policy and is currently advising the EU, China, the United States, and several developing countries. He is also a member of the Board of the UN Global Partnership for Sustainable Development Data.
The Bloustein School is located in downtown New Brunswick. Parking for guests is available throughout the city, by either parking curbside, metered, or in a municipal parking garage.
The Civic Square Deck, situated underneath the Bloustein School's Civic Square Building, is not open to the public on weekdays during the hours of 8:00 a.m.-5:00 p.m. Permits and access cards are required for entrance during these times. The Civic Square Deck is owned and operated by the New Brunswick Parking Authority. All questions regarding parking, rates, fees, tickets and more may be found on the website or by calling (732) 545-3118.
Two municipal parking lots are approximately a one block walk to the Bloustein School's Civic Square Building:
The Morris Street Deck is located at the corner of New and George Streets (GPS address 70 New Street, New Brunswick, NJ)
The New Street Deck is located on the corner of New Street and Joyce Kilmer Avenue (GPS address 134 New Street, New Brunswick, NJ).
Both parking decks are hourly rated and operate 24 hours per day, 7 days a week. For a map of municipal parking lots, information about other lots, lot capacity, clearances and rates please visit the New Brunswick Parking Authority website https://www.njnbpa.org/parking-locator/.