Sales Have Ended
Ticket sales have ended
We look forward to seeing you! Please join our Facebook Event page for the latest event updates like which companies will be represented, special guest speakers, and much more!
Sales Have Ended
Ticket sales have ended
We look forward to seeing you! Please join our Facebook Event page for the latest event updates like which companies will be represented, special guest speakers, and much more!
Description
THE BIGGEST BABY SHOWER EVER™
Wednesday, May 24th, 5:30pm-9:30pm
5:30pm entry: Ultimate + Super Pass Holders
6:00pm entry: Standard Pass Holders
6:30pm entry: Basic Pass Holders
Welcome to the original and largest event for expecting and new parents! Learn, shop and demo all the latest baby products on the market and learn from the experts and other new parents about what to expect.
ALL attendees receive full access to the show floor, lounges, samples, seminars, lite bites, and the chance to win prizes like strollers, carriers, and other baby gear. Be sure to join our Facebook Event page to see the most updated list of companies, panelists, and other event news! Purchase your tickets early as quantities of our Signature Biggest Gift Bag Ever are limited!

---
What to Expect
Lots of Baby Gear: Touch, feel, and receive demos on the latest baby gear on the market. We work with over 100 brands including 4moms, Tula, Bugaboo, Ergo, Stokke, and Motorola. Many of our vendors sell product directly on the show floor so come prepared to shop

Education and Seminars: We offer four, specially curated, educational seminars with expert panelists discussing the important topics like baby safety, feeding, sleeping, and nutrition


Networking: Our events attract hundreds of expecting and new parents and are a great way to meet people in the same life stage right in your own city. Lifelong friendships have formed at our events so don't be shy to hi to fellow attendees!

FUN! Big City Moms and our partners have worked hard to make sure you enjoy a fun evening of product sampling, education, lite bites, raffles, and prizes with your partner, friends, family and the entire Big City Moms community!
---
Photos From Our Past Events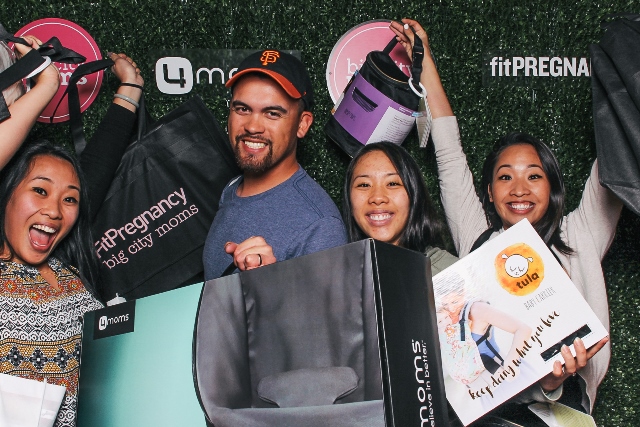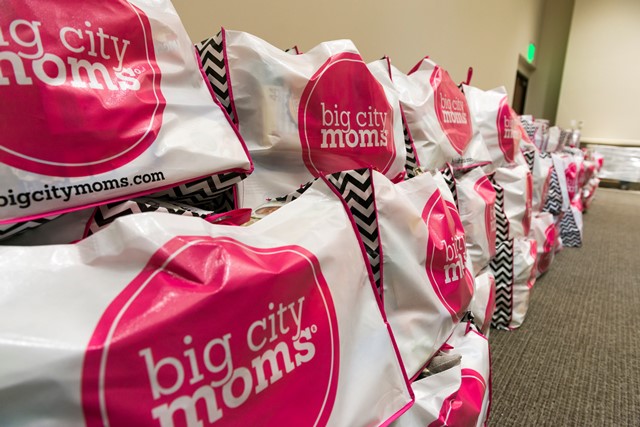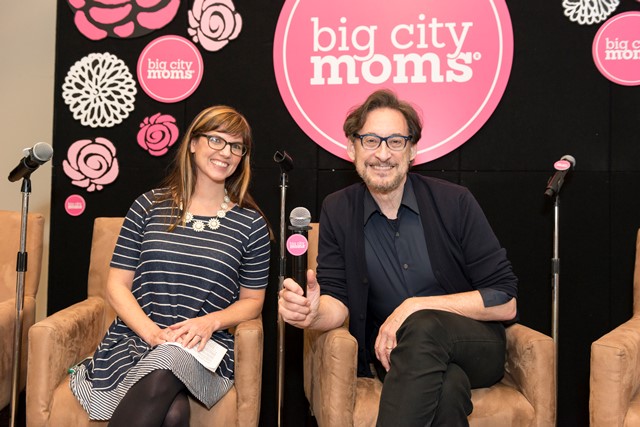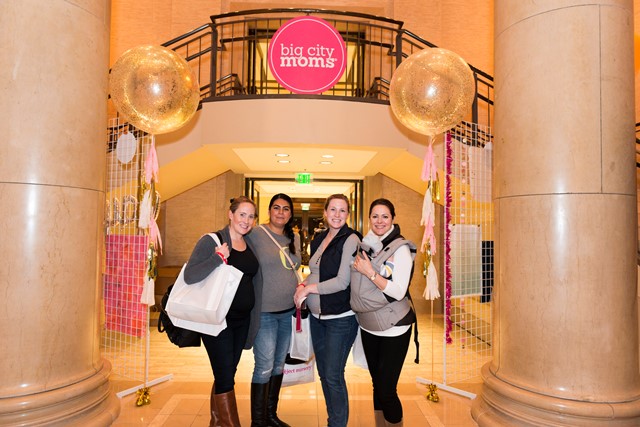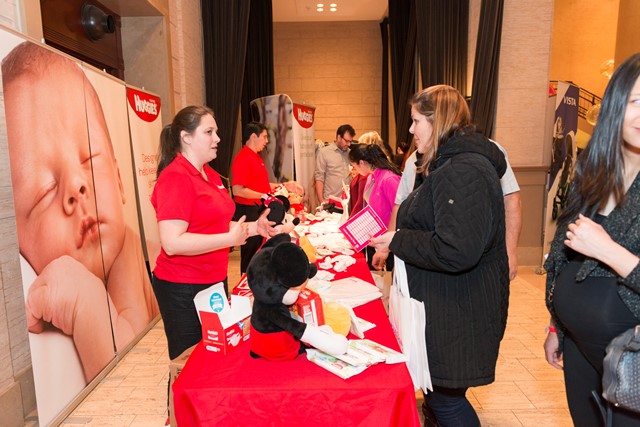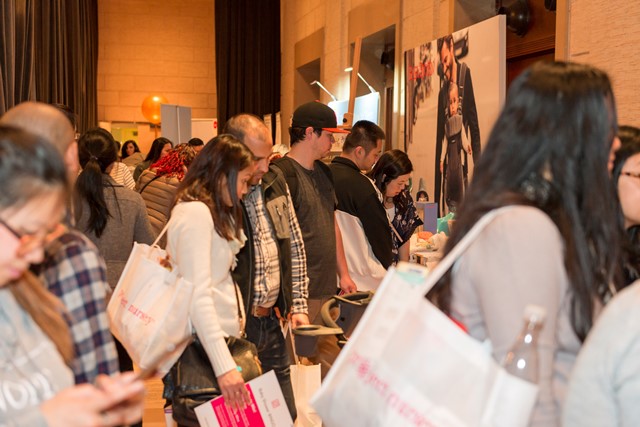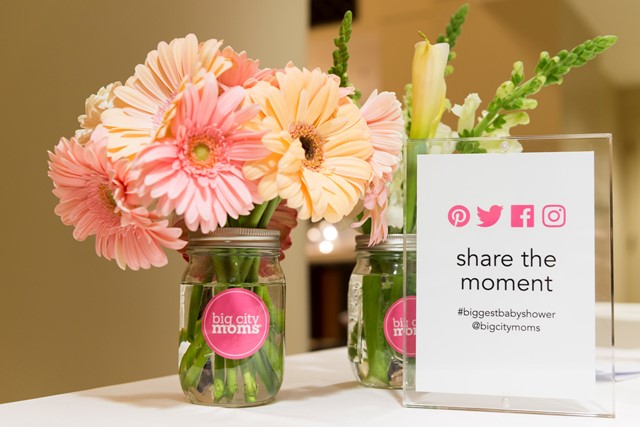 ---
FAQs (PLEASE READ)
What is the difference between the Ultimate, Super, Standard, and Basic Passes?
Before purchasing, please read the ticket description carefully as the differences are clearly stated in the descriptions. Please note that if you purchase a ticket with a product you MUST claim your product that evening. Items will NOT be shipped or delivered to you and you will forego any product not picked up on event day.
Can I bring my partner / friend / family member?
Absolutely! The more the merrier and there is plenty for everyone to see. Please take advantage of our special couples ticket pricing. It's also helpful to have an extra set of hands to help carry all the gifts and samples you will get!
What is the refund policy?
Full refunds on ALL ticket types are allowed up to 14 days ahead of the event. For example, if our event is on January 15th, you may request a refund up to midnight Jan 1 EST for a full refund. NO EXCEPTIONS.
Are strollers allowed?
Unfortunately, due to fire hazard policies at our venues, strollers are NOT permitted unless explicity stated otherwise.
Who receives the Signature Biggest Gift Bag Ever and what is in it?
All Ultimate and Standard Pass holders receive a Gift Bag (Basic Passes DO NOT receive a Gift Bag and Couples Passes receive ONE gift bag per couple). The Gift Bag is comprised of full size products as well as samples, food treats, and some coupons.
Can I return or exchange products in the Gift Bag?
No. All products and coupons in the Gift Bag were generously provided by our sponsors and cannot be returned or exchanged.
If I can't make the event, how can I get my Gift Bag?
You MUST pick up your Gift Bag on event day or arrange for a friend or family member to pick it up for you. Any Gift Bag not claimed by the end of the event will be foregone.
What is the Bingo card?
Depending on the ticket type you purchase, you will receive a Bingo card upon entry which makes you ELIGIBLE to win one of 100 raffle prizes to be distributed that night. Please read the instructions on your Bingo card carefully.
Are there contests that take place during the event?
YES! Many companies will hold individual contests at their tables. Please note: these contests are not managed by Big City Moms - therefore anything won or any prizes uncollected from the contest should be worked out directly with the company. Big City Moms will not be held responsible for defective or uncollected winnings.
Is my registration fee or ticket transferrable?
Yes, you may transfer or gift your ticket to a friend without notifying Big City Moms.
---
Disclaimer:
Big City Moms will not be responsible or liable in any way for refunds, returns, damaged or expired products in connection with merchandise offered or won at the Event, sold or distributed by Event sponsors/exhibitors/presenters, included in gift bags, or sold as part of a ticket package. Big City Moms makes no express or implied warranties or representations whatsoever with regard to any goods or services provided by our sponsors/exhibitors/presenters. Big City Moms will not be liable for any costs or damages arising directly or indirectly from such transactions. Big City Moms does not assume any responsibility or liability for the actions, omissions, products, services or content offerings of sponsors/exhibitors/presenters. Communications or disputes regarding products or services received at the Event are solely between the sponsor/exhibitor/presenter and you. Big City Moms reserves the right to substitute ticket package items.